What's worse than see your precious kid coming back hurt from school. On March 10th, Claudia Kwan wrote a long paragraph on Facebook stating how her daughter has been physically abused by her teacher at Bethesda (Ang Mo Kio) Kindergarten located in Singapore.
A normal school day turning into hell
Claudia sent her baby to preschool the 14th of February with a light heart, knowing that her kid will have a nice day surrounded by her friends and caring teachers. However, when Claudia's husband came to pick up their baby girl, he saw that something was a bit odd in his child's comportment. After taking a proper look at her he noticed a huge abnormal bruise on her ear. After reaching home her mother rapidly checked her daughter. Then spotted the horrific bruises right away,  she added: "my heart bled and when I asked my daughter about what had happened, she lost control and just broke down into tears and cried."
What happened?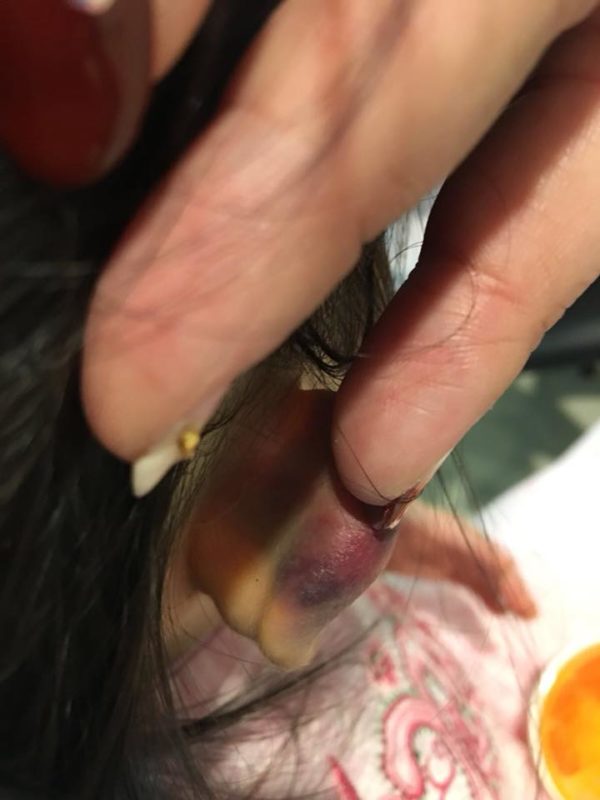 After consulting two different paediatricians who both concluded that the bruises were not accidental or caused by insects. Claudia had an investigation opened by the local police and tried to reach the teacher and the preschool principal. However the local police investigation is long to conduct, and they're refusing to show Claudia CCTV footages of the incident. The school principal brushed off the mom's accusations. He affirmed that all the teacher are religious, so incapable to commit anything suchlike. And the accused teacher declared having no idea about the incident and not being involved in any kind.
The mother statement questioned by school officials?
Because Claudia's Facebook post immediately went viral among parents' communities and Singaporeans. The school notoriety being called into question had to respond. In a statement, the school issued the fact that during routine morning health checkings, Ms Kwan's daughter already had a bruise on the cheek. In addition, the school maintains the fact that the little girl behaved perfectly normally this day and the day after, celebrating Chinese New Year with her comrades.
Later on, the Mom quickly replied in another Facebook status. She told the general opinion that her little girl "accidentally bumped into her brother while he was exercising. The bruise was so faded that it's not very obvious. It's very different from the fresh horrific bruise on her ear."
What is the situation now?
Claudia is continually receiving advice from Facebook users and support messages. Nevertheless, her situation is critical. She's dealing with a high amount of stress since her little girl is heavily traumatized by the event. ("Every time we mentioned her form teacher's name, she would shiver in fear and break into tears." / "When she heard minor renovation noises from my neighbour's flat, she would say that it was the sound of her teacher coming to pull her ear once again and she would break into tears!"). Moreover, her condition is worsened by the overall slowness of the procedure and dealing with her husband being in a recovery state of a stroke occurred in December 2017.
We are sending our profound best wishes to Claudia and her family.
Parents don't hesitate to comment if something similar happened to your child at school and how you handled it. Visit Motherhood.com.my to find how to care for your child with exclusives products and articles.