Recently, Malaysia has been going through bouts of hot and dry weather, with some states affected by hazy conditions. Parents, do take the proper precautionary measures and ensure that your child stays hydrated. For those staying in the areas that are recording unhealthy air quality or hot weather, the Health Ministry has advised people to take following steps:
Reduce physical activities that increase breathing rate or body metabolism. This situation could increase the risk of illnesses due to haze and hot weather.
Stay indoors, and if necessary to be outdoors, use a suitable face mask as well as umbrellas or hats
Shut the windows to prevent haze from entering the house or building. Avoid activities that can increase air pollution in houses or buildings by not smoking and always maintaining a clean interior environment.
Choose the air recirculation mode while using air conditioning in the car
Drink more plain water even when not feeling thirsty (at least eight glasses a day). This is to maintain the level of hydration and to control body temperature.
Take baths often to cool down the body. Avoid wearing thick, tight, or dark-coloured clothing to help in the process of releasing heat from the body.
If possible, install high-efficiency air-conditioners and air filters or purifiers at home to filter tiny particles and prevent polluted air from entering from outside.
Seek immediate treatment at the nearest health facility if there are any signs of illness.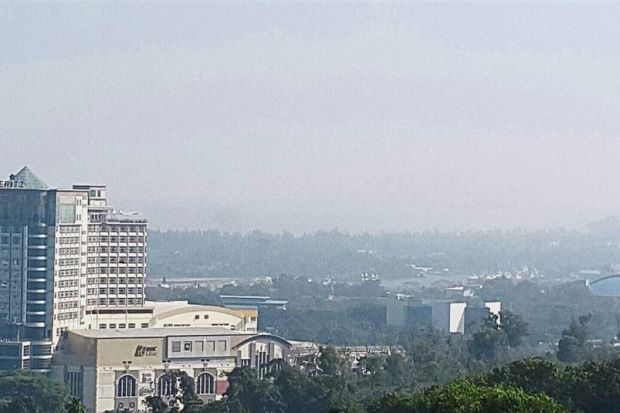 Staying Updated on the Hot Weather and Haze
In the statement, Health Director-General Datuk Dr Noor Hisham Abdullah advised members of the public to get the latest updates about the Air Pollutant Index from the Department of Environment website here.
You can also get more information on preventative measures to lower the negative health effects of haze and hot weather through the website of the Ministry of Health Malaysia as follows
Based on today's monitoring by the Malaysian Meteorological Department (MetMalaysia) and the Ministry of Energy, Science, Technology, Environment & Climate Change (MESTECC), 11 areas in six states are reported to be at the alert level of Stage 1 with the weather reaching between 35°C to 37 °C.
The public is advised to get the latest updates on the status of the heatwave on the Malaysian Meteorological Department website here.
For more information about parenting and family, please visit Motherhood.com.my.