Our Prime Minister, Tun Dr Mahathir Mohamad marks his 94th birthday today.  Looking distinguished as always and still as handsome as ever, Tun M smiles at the camera and thanks all of his followers for their birthday greetings and warm messages posted to his social media accounts.
He may be an octogenarian but Tun M is savvy on social media and has several social media accounts on Facebook, Instagram and Twitter. He often posts using his iPhone, reportedly an iPhone 7 Plus as pointed out by a tech media company SoyaCincau.
Today, on one of his official Facebook pages under the name CheDet ─ the name of the blog he started in 2008 ─ he sends out his birthday reply.
"Thank you for all the birthday greetings I received today. My birthday wish is very simple, that I can finish my work setting Malaysia on the road of recovery. It is a privilege and honour to serve this country."

Tun M is Malaysia's seventh Prime Minister after serving as the country's fourth Prime Minister from 1981 to 2003. He also has the distinction of being the oldest prime minister in the world, listed in the Guinness Book of World Records.
Love Everlasting
Beyond birthdays, politics and premiership, however, one of the most endearing things that Malaysians have not failed to notice of the man they chose to lead their country yet again, is the enduring love story and marriage between him and the woman beside him throughout it all ─ his ever-supportive wife, Tun Dr Siti Hasmah Mohd Ali.
Their love story began in 1947 when they met as students in King Edward Medical College in Singapore in 1947. After a courtship where Tun M helped Tun Siti Hasmah with her revisions, the couple got married in 1956.
Quoted from the website, The Merlion, Tun M was said to have said, "She was the only Malay female student, maybe that is why I fell for her. There were six other male students, all of whom were always willing to help with her bags.
"I was raised in a family of majority men, so I do not know how to attract a woman. I look at my friends helping her with her bags, I joined in too. But I always teach her (lessons; revise), maybe that was what made our relationship close."
Sixty three years later, their relationship is still close and getting even closer by the day. The couple, as everyone can see, is still as deeply in love as they were in 1956. Not only is Tun Siti Hasmah by her husband's side at all official and unofficial events, through the ups and downs and the good and bad, they make the time to spend with each other, still going on dates, sometimes holding hands. It is like a love story of the century.
In the Malay Mail report today, Tun Siti Hasmah is said to be her husband's personal planner. Only she ensures that her husband does not over extend himself at work (because he tends to as he is a workaholic) and only she ensures that his weekends are off, and that he attends only events where he can mostly "relax".
A Couple that Laughs Together Stays Together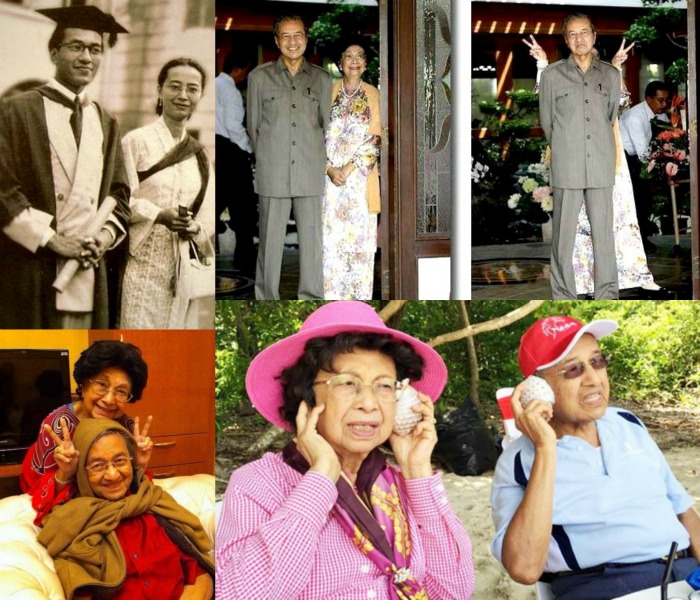 But it is the laughter and the fun they have together that makes us all go mushy and want to root for them. Last year, in conjunction with Tun M's 93rd birthday, Tun Siti Hasmah was asked about the craziest thing her husband ever did by 10-year-old interviewer Kashika Selvam in a lighthearted Astro programme.
Without missing a beat, Tun Siti Hasmah replied: "Marrying me," after which "Malaysia's Most Favourite Couple" as Tun M and Tun Siti have been dubbed, burst out laughing.
Asked to pinpoint his "weakness", she quipped: "That would be his work, everyday it's all about work that he often forgets about me at home… but that is his duty so I must accept it."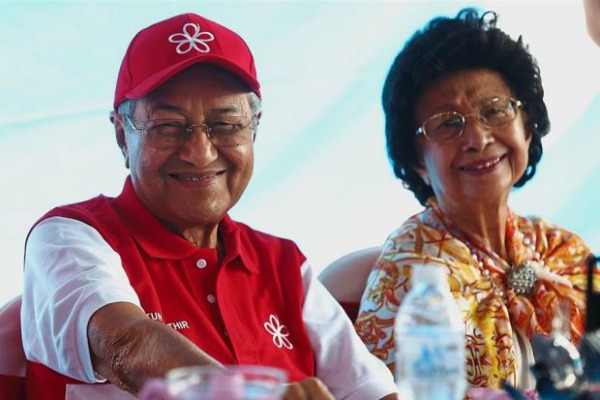 And this is perhaps the secret to their 63-year-old marriage: Knowing where the boundaries are between husband and wife, providing collaboration, respect for each other and being the quiet strength where the other is weak. That, and having a good dose of humour in between, is what makes a relationship go a long, long way.
It is the stuff of true love, it is what all marriages should aspire to and learn from.
"It helps that we are both doctors," she once replied when asked by The Edge's pullout Options about the secret to their long marriage, "but regardless of what job you have, you have to really love each other, you need to trust each other, and you have to see to each other's needs.
"Of course lah we fight, but they are over remeh-temeh things that can be solved straightaway. In Islam, tiga hari husband and wife tak bercakap tu berdosa (it is a sin for a husband and wife to not talk to each other for three days). All married couples fight, it is the making up that is fun, isn't it?" she was quoted as saying in the financial weekly.
Tun M himself has said: "If possible no matter where I go, Tun Siti needs to be by my side."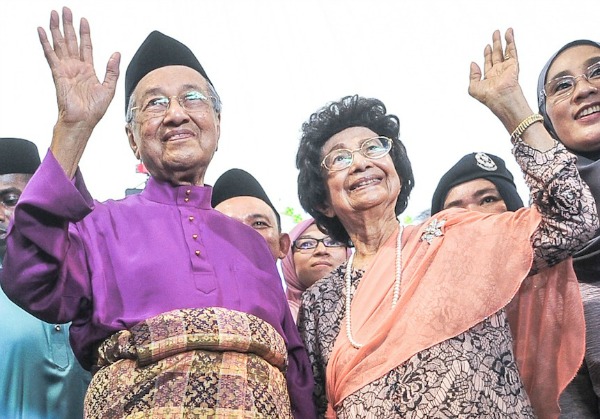 Tun M also told Bernama in an interview last year, his secret for maintaining a marriage is to accept one another's differences as a couple.
"[As] you grow older you realise that you cannot change your partner very much and she cannot change me very much and we learn to accept that this is what the person is like."
"This Couple is an Example to All Married Couples in the World"
But perhaps the hottest thing that is making its rounds in the Internet today is the post that Prem Kumar Panjamoorthy, shared on his Facebook in June this year.  Prem Kumar who is associated with the Nikkei Asian Review, was interviewing the prime minister in Tokyo, Japan when he witnessed a cute, unexpected but nevertheless heart-warming moment between Tun M and his wife.
This is his account.
I have never shared this much pictures of Dr Mahathir but this will be a sin if I don't share it. So I was…
Here is the account in full. He said Tun M looked at his wife with tenderness in his eyes as she held his hand. And when she walked away, he giggled like a young lover boy.
Like a Young Lover Boy
"I have never shared this much pictures of Dr Mahathir but this will be a sin if I don't share it. So I was interviewing Dr Mahathir in Tokyo recently, and because he was fasting, we decided to break the interview into two parts and a five minutes break in between.
During the break, Dr Mahathir's aide-de-camp rushed into the interview room in Imperial Hotel saying that Tun Dr Siti (Hasmah Mohd Ali) is coming into the room. Dr Mahathir was shocked and asked: "Dia nak mai sekarang ka? (Does she want to come in midst of this?).
The ever humble Tun Siti, who is turning 93 soon, entered the room and first said sorry to us for interrupting the session. While saying she is never an interruption, I offered my seat to her.
Seating closely to Dr Mahathir, she first whispered something to her husband but he couldn't hear. So she giggled and said: "I'm going to take some rest in the room (they were staying in same Imperial Hotel). You have not taken any rest since this morning. So please take some rest after this." After saying this, she held Dr Mahathir's hand before leaving the room, again saying sorry to us.
Dr Mahathir just quietly, with full of love in his eyes, watched his wife walk out from the room while giggling like a young lover boy!
Almost everyone in the room was shocked to see this, while I regained some consciousness to take this out of focus pictures.
I cannot believe this is a 63-year-old marriage and 71-year-old friendship since they were university mates! This couple is an exemplary for all married couples in the world. Our parents could be a fine example on how we would like to shape our future but Dr Mahathir-Dr Siti Hasmah life is an encyclopedia of relationship. 
---
"Behind every successful man is a woman" as the saying goes.
But the most loving couple in Malaysia have another version:
Here it is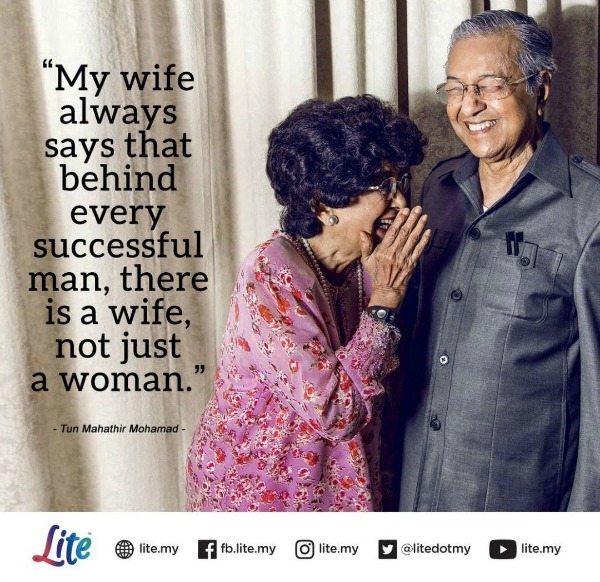 This is key to why we Malaysians are so lucky to be able to wish our Prime Minister Happy Birthday today.