About 14% of special-needs children are registered in special education programmes in government schools, according to the Education Ministry.
However, this is considered a low percentage, said Deputy Education Minister Teo Nie Ching. Based on United Nations estimates, 10% of the population in each country around the world comprise of special needs persons.
Teo hopes that the number of children being enrolled will increase soon, as this is in line with the ministry's 'zero reject' policy of ensuring that no children are left out of receiving a proper education.
It is important to encourage parents to send their special-needs children to school to ensure that these children also have the chance to receive the education they need, she added.
One of the main reasons why parent do not send their special-needs children to school is due to the social stigma attached. Parents also do not like them to be labelled as special needs persons.
Some parents may find it hard to accept the facts and be in denial. Thus they may not even be aware that government schools provide education for these children, said Teo, according to The Star.
She stressed on the importance of publicity and awareness, adding that parents need to know that they do not have to give up on their special-needs children. Special-needs children also have a right to education.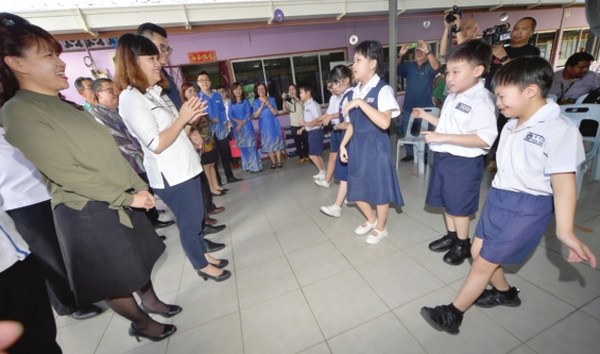 Teachers to Receive Training
The ministry is taking steps to train more teachers in special education and to raise awareness among parents about the importance of sending their special-needs children to school.
Teo also added that the ministry was working with Permata to design online courses for mainstream teachers to equip them with the necessary knowledge to handle children with special needs in their classroom. These online courses would be launched soon.
The ministry wants to take in more special-needs children, and to do so, it intends to ensure that there are appropriate facilities and teachers available and capable to take care of them. Hence, more teachers will be need to be trained in special education.
This year, the Education Ministry has an allocation of RM140 million as allowance for Special Needs Students (Murid Berkeperluan Khas – MBK) in the country, with each registered student receiving RM150 a month, reported The Borneo Post.
As of 31st Jan 2019, there are 83,039 special-needs children registered in government school throughout the country.
In Sarawak alone, there are 5,804 registered special-needs children in government schools, up from 5,766 last year. From that number, 147 are in Sekolah Pendidikan Khas, 4,432 are in the special education programme (PPKI) while 590 are in the inclusive education programme (PPI).
In the PPI programme, special-needs children are placed in mainstream classrooms. The government believes that this can help the special-needs children in building up their confidence, as well as allow students from mainstream classrooms to appreciate and learn about those with different abilities. Teo also urged everyone to help in creating a friendly environment for all.
For more information about parenting and family, please visit Motherhood.com.my.