The web television series that made its debut in 2016 is now in Malaysia for the first time ever!
Barbie Dreamtopia is a series which appeals to young pre-schoolers and it has garnered more than 11 million views on YouTube.
Chelsea, the youngest sister of Barbie goes on a journey of learning and self-discovery. She embarks bravely on the fantastic journey from real life to the land of dreams with Barbie guiding her along the way. The sisters go on amazing adventures as they discover new lands and important life lessons, where ultimately,  endless possibilities await.
TLDR: We're talking about a world filled with mermaids, unicorns, rainbows, and cotton candy clouds in every colour imaginable. Watch your kids squeal in excitement and gush over the stories as they let their imagination run free with Barbie and Chelsea!
This Christmas, Paradigm Mall is home to Barbie Dreamtopia and it's got all sorts of activities lined up to entertain fans of all ages at Upper Atrium, Level UG.
Let imagination take flight as Barbie and Chelsea enter the magical world of Dreamtopia. Filled with mermaids and princesses, it's just a dream away!
To learn more about Barbie Dreamtopia, visit www.youtube.com/barbie.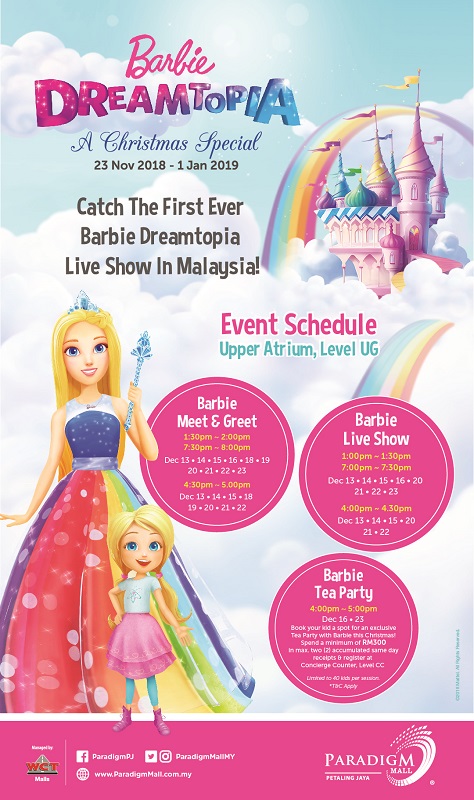 Bookmark this page and check back often because every December day is a surprise at Paradigm Mall!
Barbie Meet & Greet
1.30pm & 7.30pm | 13 – 16, 18 – 23 Dec
4.30pm | 13 – 15, 18 – 22 Dec
Get the kids dressed up to meet and cozy up to Barbie in December!
Barbie Live Show
1.00pm & 7.00pm | 13 – 16, 20 – 23 Dec
4.00pm | 13 – 15, 20 – 22 Dec
In the enchanted world of Barbie where dreams come true, experience the magic with the little ones on your lap. Encourage your tots to interact, sing and dance along during the LIVE show!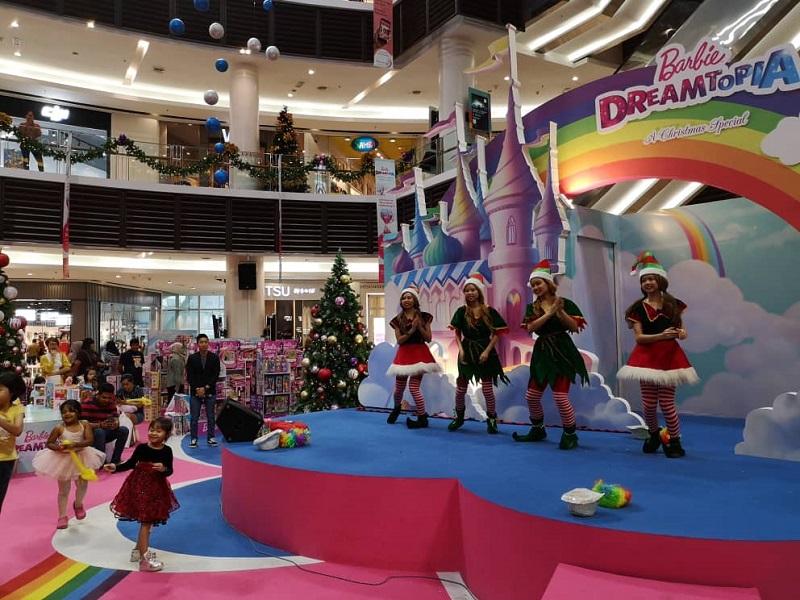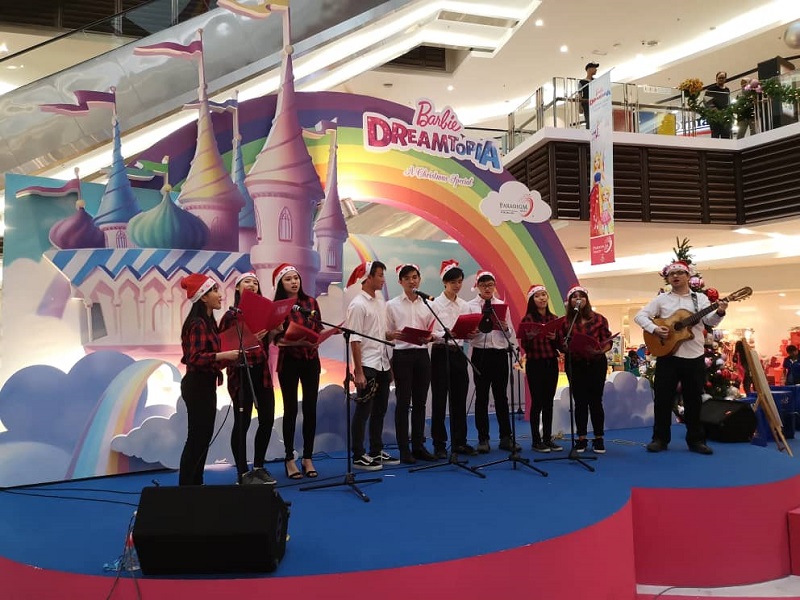 Barbie Tea Party*
You know what's better than watching Barbie on stage, LIVE? To attend a Tea Party hosted by Barbie herself! Surprise your child with an invite to the tea party by spending RM300 in no more than 2 same-day receipts. Only 40 spots are open so be sure to secure your spot early! Registration is open at Concierge Counter, Level CC.
Are you one foot out the door by now? Take a chill pill and look at the other highlights in December at Paradigm Mall. It does look like you'll be there all day, every day in December!
Be a Secret Santa this Christmas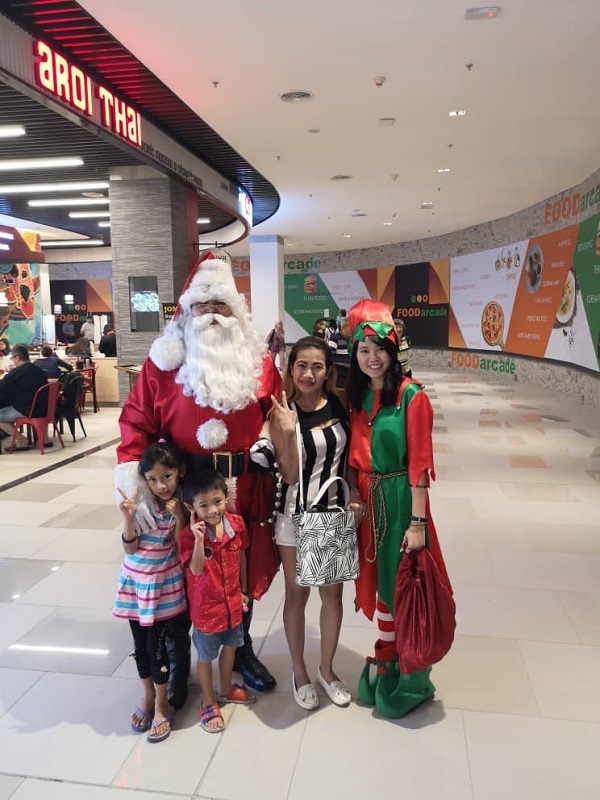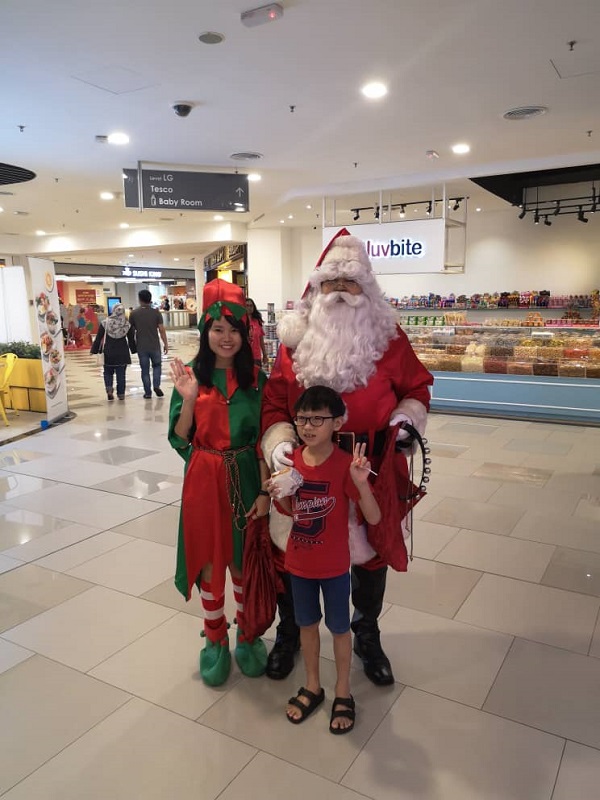 Spread the cheer and take the opportunity to teach your little ones to share and care.
     At the Upper Atrium on Level UG
     Dwells a Wishing Tree
     Adorned by Wish Cards
     Just waiting to be fulfilled
Simply pick a Wish Card from the Wishing Tree and fulfill the wish. Get your kids to pick a gift from one kid to another, and drop it at Concierge on Level CC. It would really cheer the children from Ozanam Edu Centre, Rumah Ozanam (Klang) Girls Home and Ozanam Service Centre, Sri Sentosa.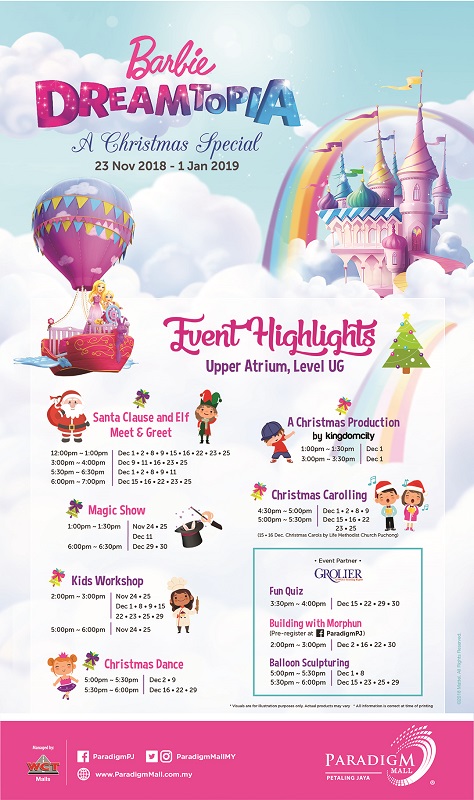 Christmas Redemption*
29 Nov – 1 Jan 2019
Redeem an exclusive gift bag when you spend a minimum of RM100 in one receipt.
For WCT Buddy members, get a complimentary limited edition "BARBIE NOTEBOOK" when you spend a minimum of RM300 in no more than 2 same-day receipts. 2 designs are up for grabs so hurry!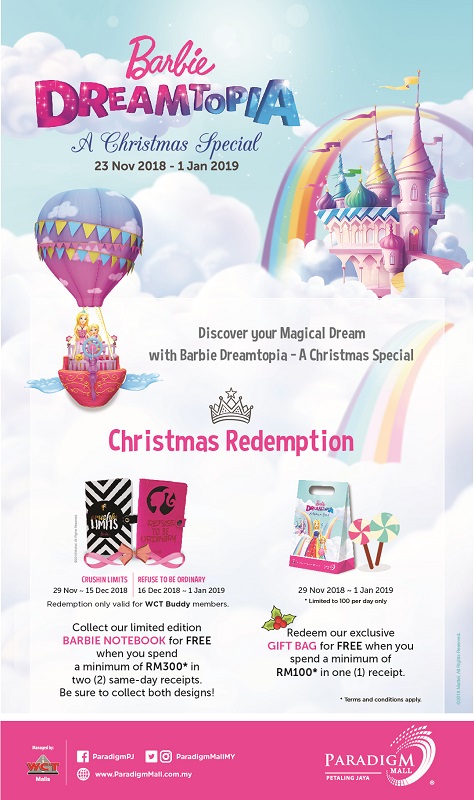 Like what you see at Paradigm Mall? Download "WCT Buddy", the Multi-store, Multi-mall Cardless Rewards Programme by WCT MALLS for free and start enjoying the benefits. For more info, visit paradigmmall.com.my or get the latest updates from their Facebook or Instagram today!
*Terms and conditions apply. All information is correct at time of publish and are subject to change without prior notice.
This story is sponsored by Paradigm Mall.