In the blink of an eye, it's that time of the year again where kuih raya orders, baju raya advertisements, and the evergreen tune Suasana Hari Raya are popping up everywhere. Colleagues and friends too, are comparing notes on which Ramadan Bazaars offer the most drool-worthy food! It is also without a doubt, one of the busiest times of the year for our Muslim parents, as I'm sure they have a long list of to-dos in preparation for the month-long Ramadan and the Hari Raya.
Well, parents, you'd want to take a deep breath and prepare yourself mentally as this coming holiday season, there will be lots of activities and shopping to do (psst, and prizes to win and redeem!), all under one big roof of Sunway Velocity Mall!
Gather Up & Let's Go!
Starting from 3rd May, shoppers can immerse themselves in a sea of beautiful Bougainvilleas and experience a festive Raya ambience at Sunway Velocity Mall's Bunga-Bunga Raya event. The bougainvillea flowers symbolizes celebration, passion, and liveliness; each new bloom is seen as a sign of fresh beginning as Muslims celebrate the end of Ramadan. And so, to bring out the essence of Hari Raya and the nostalgia of balik kampung, the mall is transformed into a rustic, suburban wonderland, adorned with giant, colourful bougainvillea flowers! A life-sized kampung house awaits your arrival to welcome you "home", large traditional malay pelita glistening from the ceiling, warmly draped with lights and more blooms, definitely elevating shoppers mood as we eagerly look forward to the festive holiday!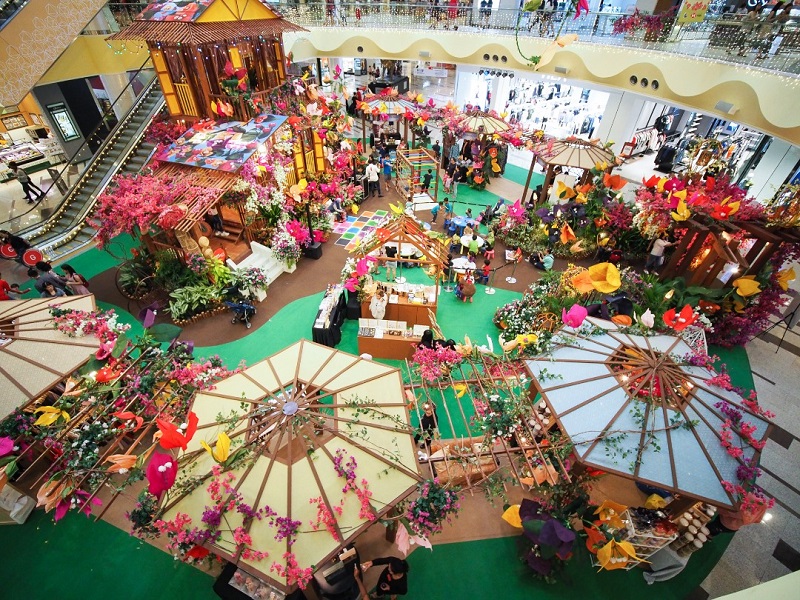 Remember to smile and snap for the 'gram! Raya shopping with the family will be a fun activity in such an upbeat environment. Oh, don't forget to keep your receipts for the redemption programme, too! There will be sets of beautifully designed Cenderahati Aidilfitri Packets, Exclusive 6pc Glass Bowl Sets, and Universal Traveller 20" Luggage Bags up for grab!
Weekends are jam-packed with a variety of children-centred and adult-friendly activities at the popular mall such as art classes, music performances, colouring contests, storytelling competitions, cultural fashion runways, raya kids catwalk contests, and many more to keep everyone entertained! Kids will be excited too for the Meet & Greet sessions with Ejen Ali, Boboiboy and Sesame Street characters.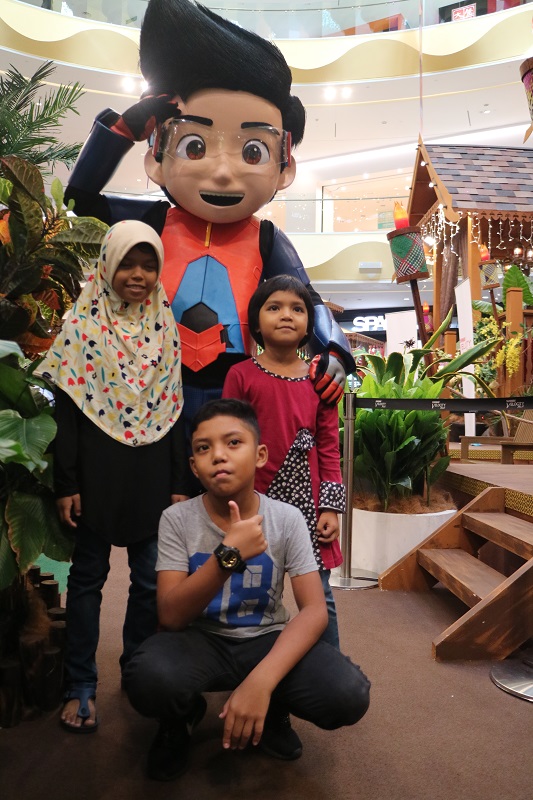 Little Adventurers' Paradise
As the school holiday draws near, Sunway Velocity Mall will take things up a notch and kids will be able to take part in awesome activities 7 days a week starting from 25th May to 9th of June, which grants ample time for the little ones to experience every single activity and workshop available!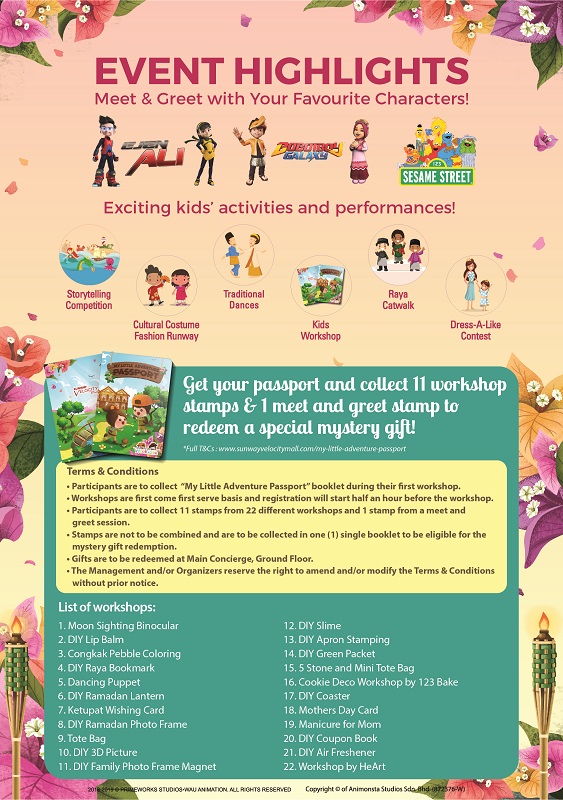 Besides the attractions above, there will be a series of interactive kids workshops-cum-school holiday programmes designed just for our little adventurers! Here are some of the workshops: making lip balms/tote bags/slime/air fresheners/3D pictures, decorating cookies, manicure sessions for moms, dancing puppets, and much more! These fun workshops make for a great bonding time between parents and children. At the child's first workshop, he or she will be given a "My Little Adventure Passport" to collect stamps; after completing a minimum of 11 different workshops (out of 22) and taking a picture with one of the cartoon characters at any Meet & Greet session, you will receive a mystery gift! Exciting much? My kids definitely think so!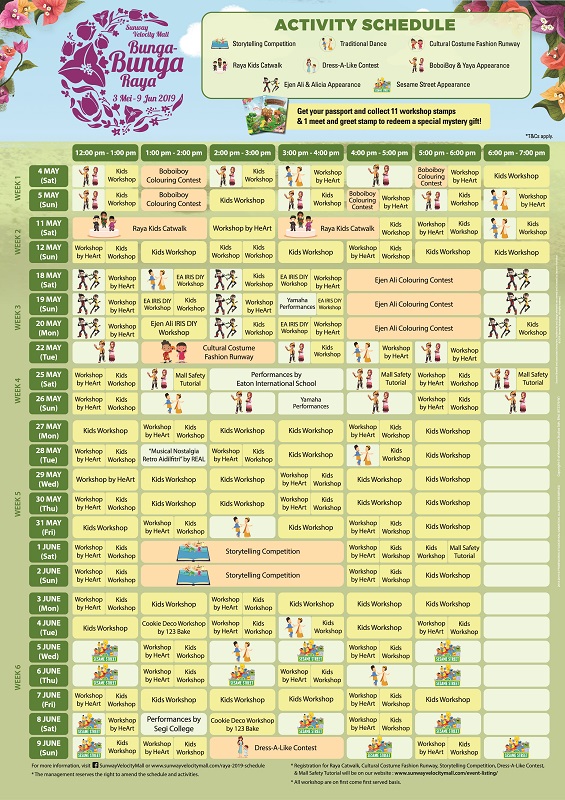 Chuck Chicken Is Back
1-2nd of June

(Preliminary Round)

8-9th of June

(Final Round)
Are your children ninja-wannabes or fans of Chuck Chicken? Then you are at the right place! For the second time in a row happening here at Sunway Velocity Mall, Chuck Chicken Junior Warrior (National Level) will be back in search of its fittest contestants. Children will test their physical endurance and compete with one another to conquer the inflatable challenges; winners will walk away with shopping vouchers, trophies, handsome cash prizes, and a chance to represent Malaysia at the International Level of Chuck Chicken Junior Warrior! Preliminary rounds will happen on the 1st and 2nd of June while the Finals will be held on the 8th and 9th of June! Registration fee is RM60 including an ultra cool race kit; you may want to plan your registration early though because the contest is only limited to 400 participants!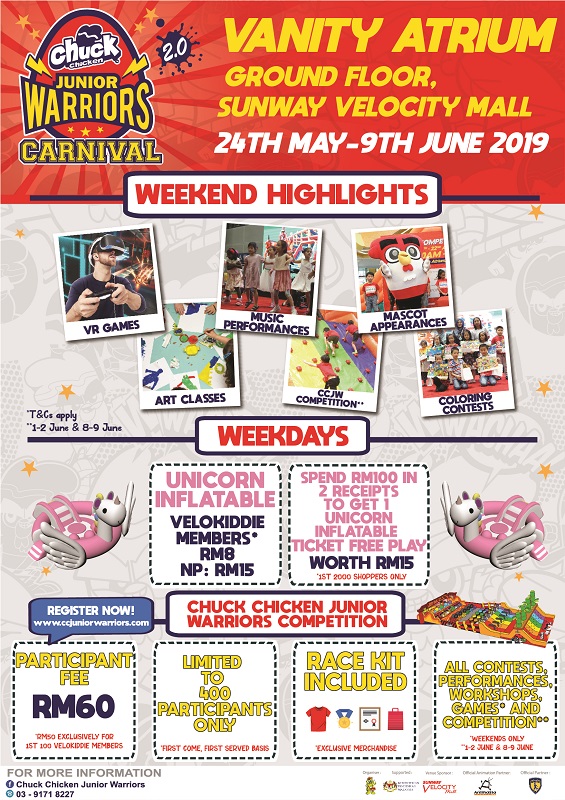 Let's Get Bouncin'
Parents, I hope you are taking notes so far, because there's more! While weekends seem to be where the excitement and happenings are taking place, weekdays at Sunway Velocity Mall are not any lesser. If your child is a VeloKiddie Member, then you are in for a treat! For only RM8 (NP RM15), your child can go bounce house-crazy at the Unicorn Inflatable; or simply spend RM100* to gain 1 free play entry at the Unicorn Inflatable. Lots of bouncing fun to be had here, definitely a great idea for a good night's sleep!
*Terms and conditions apply
Raya shopping? Check. Kids' holiday play time? Check. Family entertainment, savouring yummy Raya snacks and treats, keeping everyone in the family occupied and happy? Check. Check. Check! All at Sunway Velocity Mall, a friendly mall you can rely on!
Stay updated with this event and all the highlights this coming festive-cum-school holiday at Sunway Velocity Mall's "Bunga-bunga Raya".
Or follow their social media channels for the latest:
Facebook: @SunwayVelocityMall
Instagram:@sunwayvelocitymall