So as all my readers would know, Drypers is known for their high quality baby diapers. However, with high quality usually follows slightly higher prices. But fret not! At Motherhood.com.my, that's no longer an issue! You can now treat your baby to the highest quality comfort without breaking your bank! Not convinced? Here's some reasons on why you should by diapers from us!
1. Best Price Guaranteed
Highlighted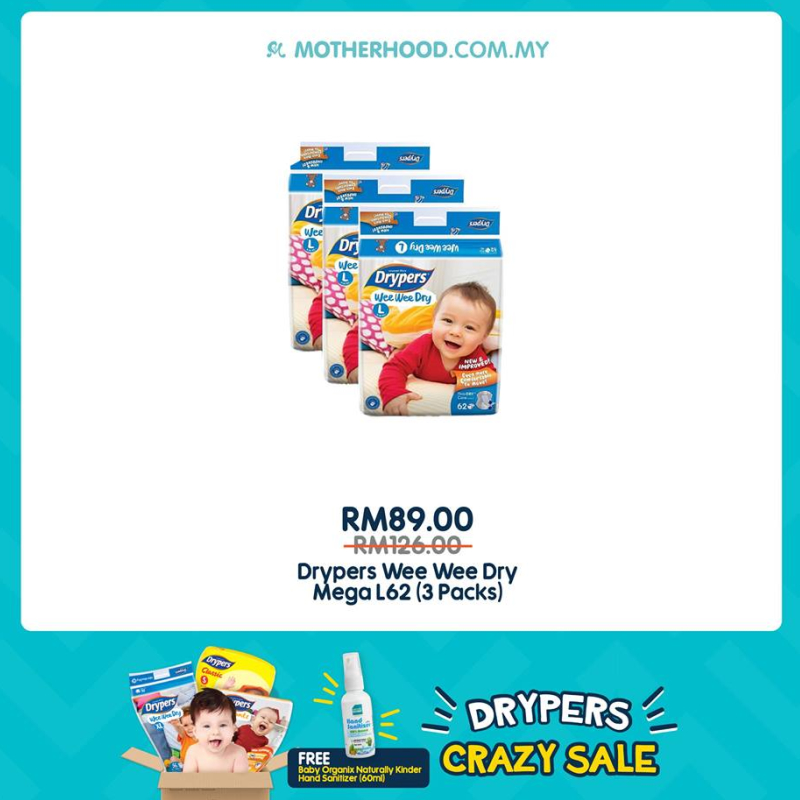 That's right! We have the best prices in town! Take the above picture, for example. We've reduced all the Drypers Wee Wee Dry Mega down from RM 126 to RM 89! You better believe it! Our prices are unbeatable, and comes with a best price guarantee on all our Drypers products. So if you're looking to stock up on the best diapers, now is definitely the time! If the price isn't a good enough factor to get you to start buying, here's one more major point: FREE. GIFTS.
2. Free Gifts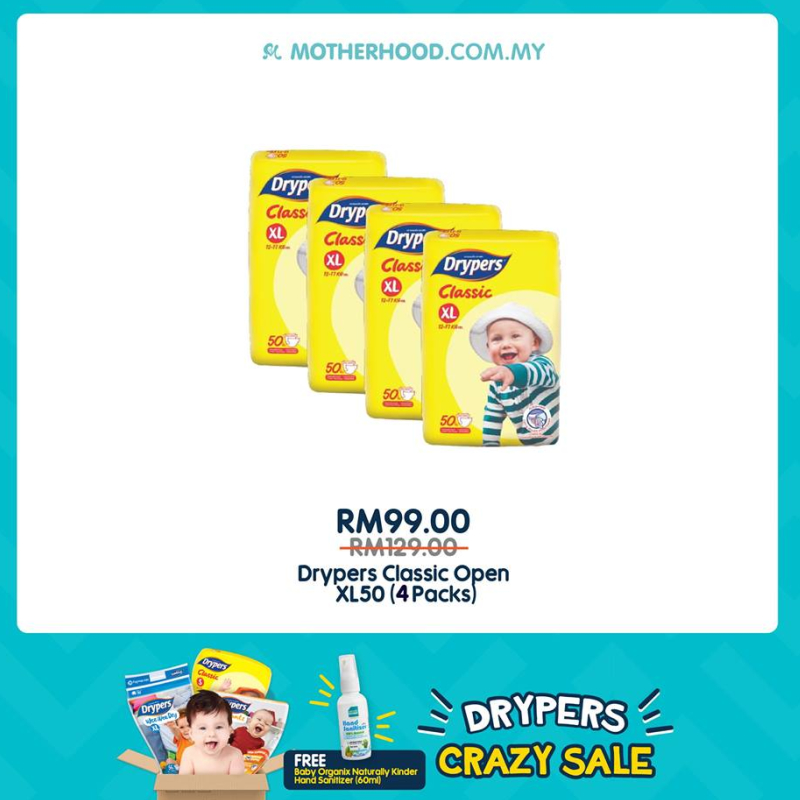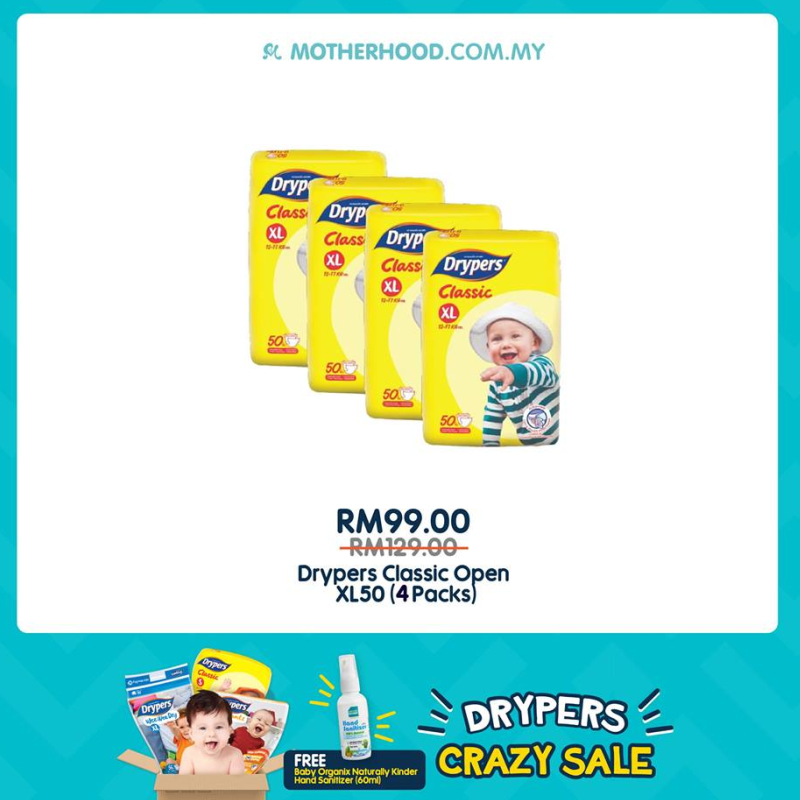 If cheap prices doesn't get you going, the free gifts definitely will! For every carton (3 packs or 4 packs) purchased, we reward you! What? That's insane! We will throw in a Baby Organix Naturally Kinder Hand Sanitizer for each carton puchased. That way, you can make sure that your hands stay clean after every diaper change! Not only that, this natural sanitizer can also be used on your baby to keep those pesky germs away. How great is that?
3. Real Cheap Delivery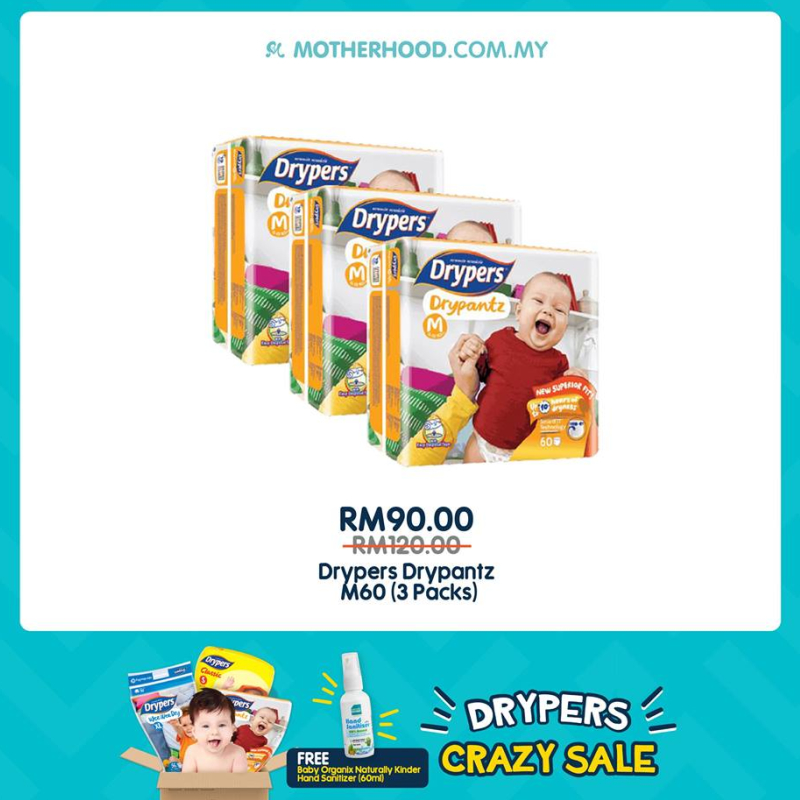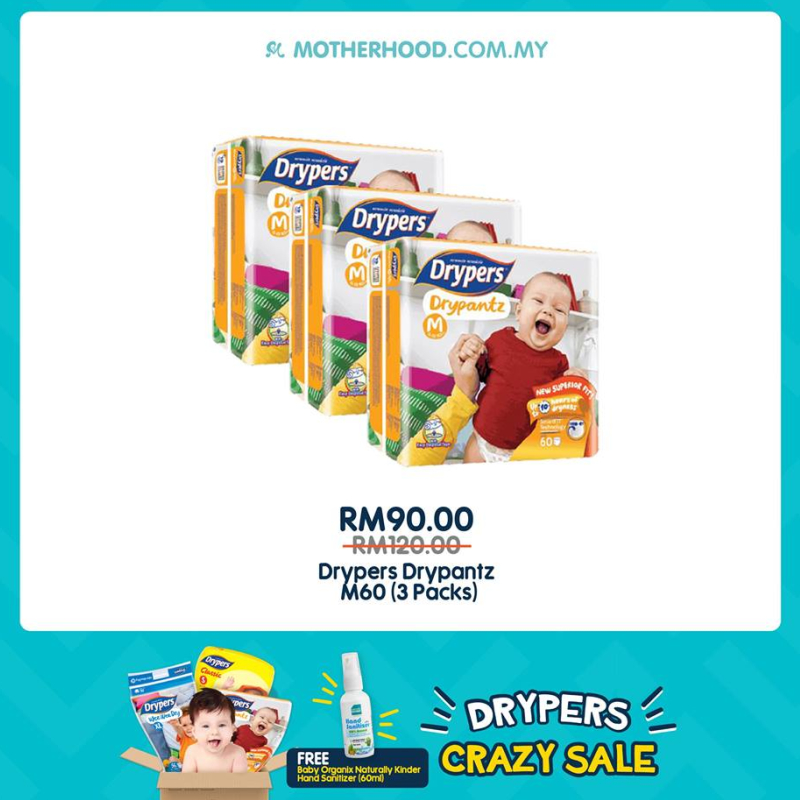 Yeap. One of the issues many have when buying online is the delivery costs. Well, worry no more! For every carton purchased, you will only be charged a measly RM 5 delivery fee for deliveries all over Peninsular Malaysia! What? That's right! What would normally cost more than RM 10, we're reducing it to just RM 5! That's delivery fees sorted. With good prices, free gifts, cheap delivery, what could be better? Well, I'll tell you what.
4. Win RM 500 Cash Vouchers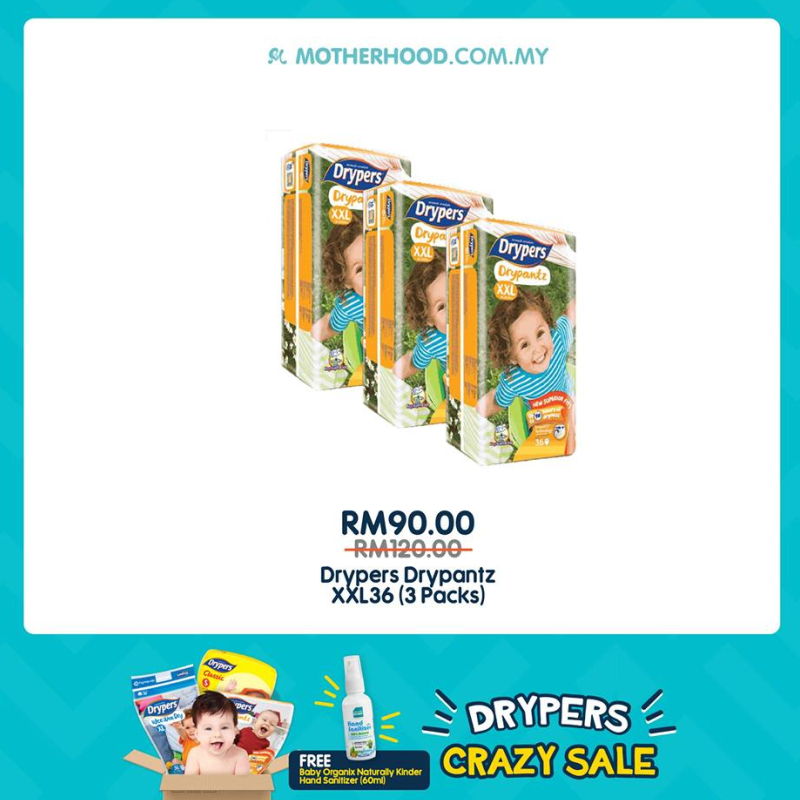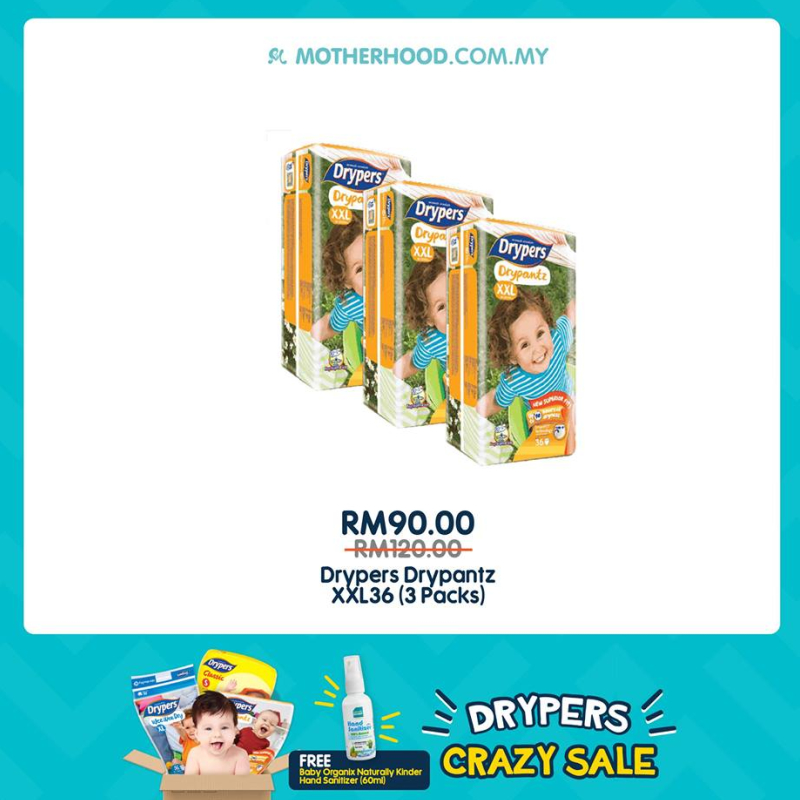 That's right! All you need to do is spend RM 100 in our store! Every time you spend RM 100 in our store, you will be put in the running to win cash vouchers worth RM 500! This contest is applicable for any products purchased in our store too. Not just diapers! So really, it's as good a time to start stocking up on all those baby products that you need now with us. After all, it's just more economical that way. To find out more about this contest, as well as the terms and conditions, click here.
5. Happy Baby, Happy Mommy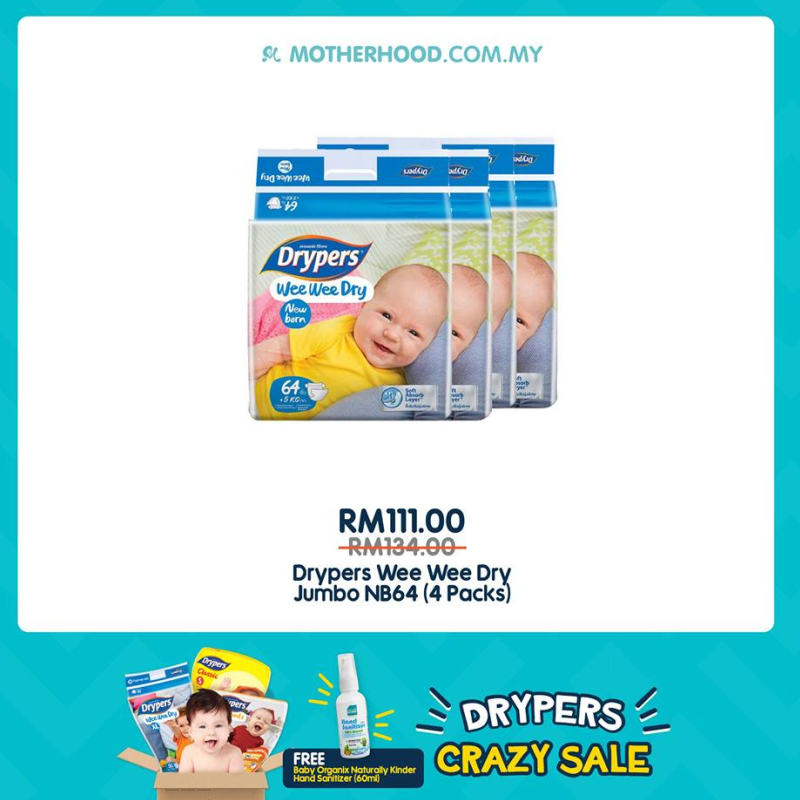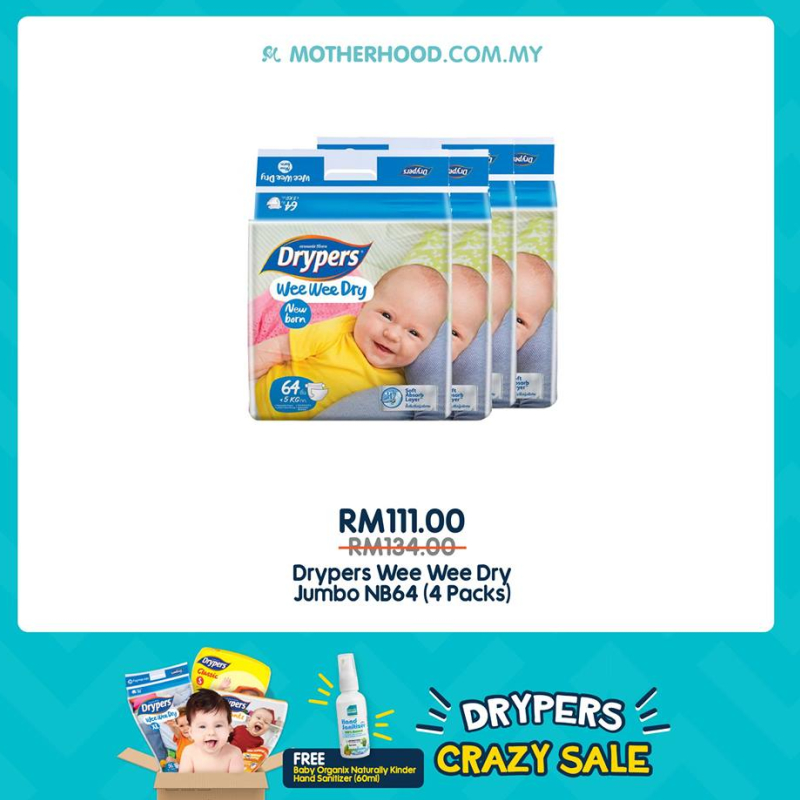 When you invest in good diapers like Drypers diapers, it means that your baby can stay comfortable and drier, for longer. This not only means that you will be able to further save more money, but it also means that your baby can stay happier for longer too. The less your baby cries, the happier the mom! After all, a comfortable baby is a happy baby. When your baby happy, you would be too!
So what are you waiting for? Click here now to start enjoying these massive savings! Not only will your baby thank you, your wallet will too. However, do note that each order is only limited to 5 cartons of Drypers diapers. If diapers really aren't your thing, don't worry, we have many other products as well. Just click here to explore our other incredible deals. Happy shopping!