Coming home to a clean and nice smell home is every mother's dream. After a tiring day at work, we just want to indulge in relaxation. However, it could turn into a nightmare if we come home to a funky smell inside the house. Oh, no!
Clorox is here to your rescue!
Recently, Clorox launched a new line of scented cleaners for the home, called the Clorox Scentiva! Specifically developed for the 'scent seekers' mothers, Clorox Scentiva helps you clean, disinfect and deodorize the home with great fragrances and strong cleaning efficacy.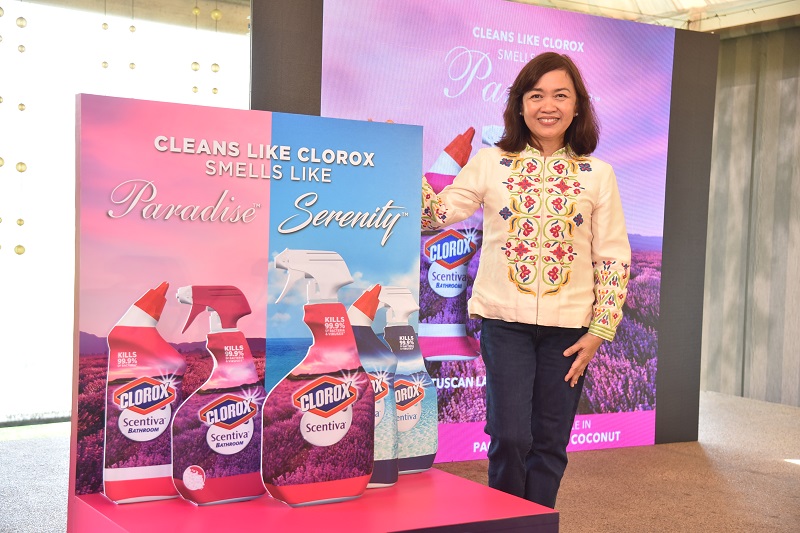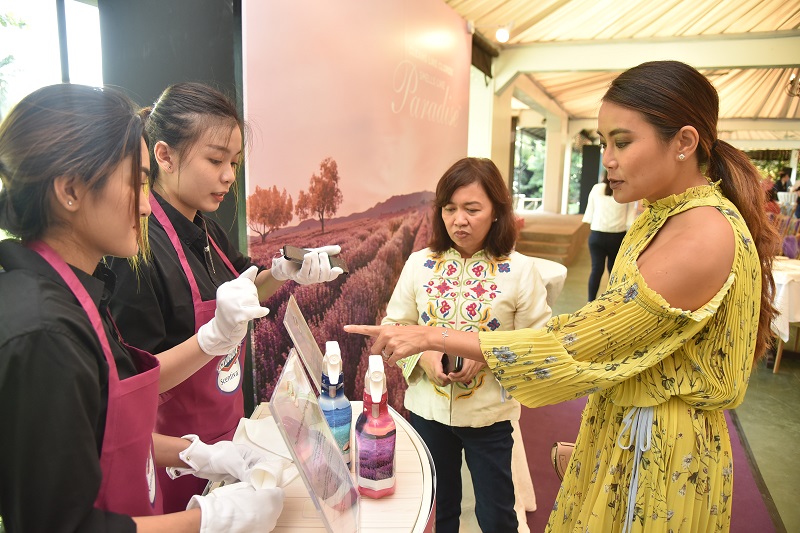 What is so special with Clorox Scentiva?
The new Clorox Scentiva comes with two special fragrances – Tuscan Lavender & Jasmine, and Pacific Breeze & Coconut.
Tuscan Lavender & Jasmine
Welcome yourself to a home of fragrances with the new Clorox Scentiva Tuscan Lavender & Jasmine. With a mild lavender fragrance, infused with a hint of jasmine, added with the fruity scents of peach, green apple, red berries and also the woody sweet mush of white sandalwood and vanilla, your home will smell like you are in a paradise!
You can get this new Clorox Scentiva Tuscan Lavender & Jasmine available in three forms – Toilet Cleaning Gel, Bathroom disinfecting Foamer Spray, and Multi-Surface Cleaner Spray.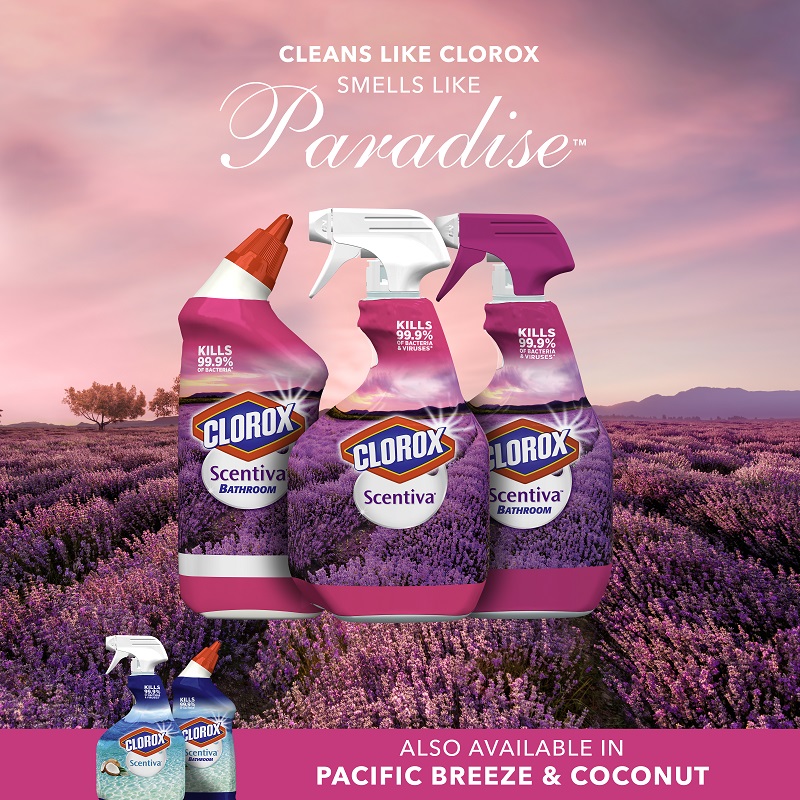 The scent of the new Clorox Scentiva Pacific Breeze & Coconut let you escape from the busy day to an oasis of a beautiful island. Specially made with the scent of fresh coconut, juicy pineapples, some hints of waterlily and peony, and balanced with the creamy vanilla and warm sandalwood, this scent will make you feel like you are on an island.
This soft scent is available in two forms – Toilet Cleaning Gel, and Multi-Surface Cleaner Spray.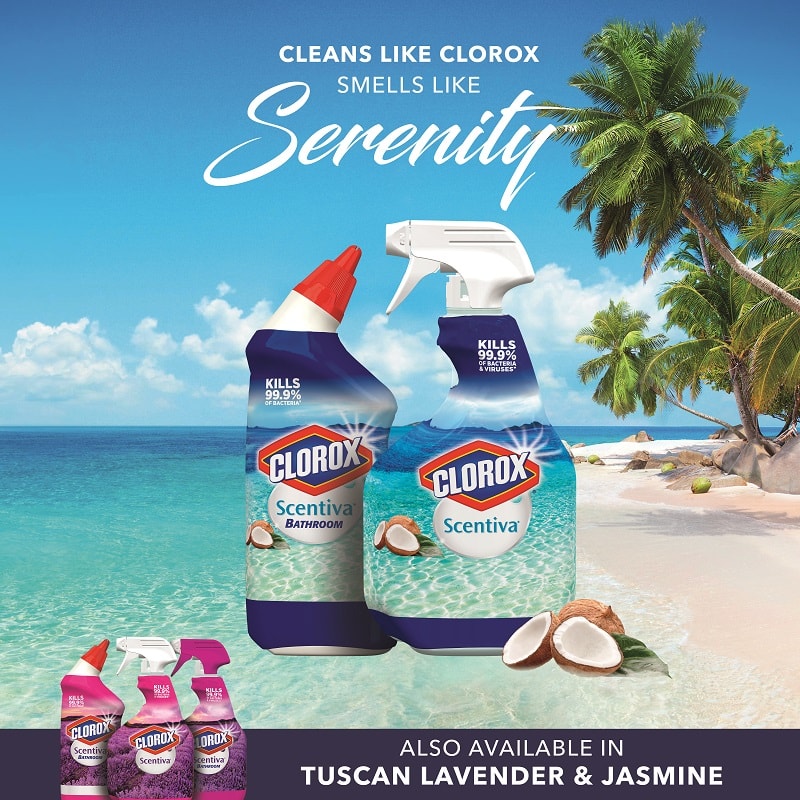 No more harsh chemical smell.
Often any cleaning products are associated with the harsh chemical smell. It may clean effectively, but exposure to a strong chemical odor can affect our health in the long term. The all-new Clorox Scentiva cleaners are bleach-free and kill 99.9% of bacteria while delivering a powerful cleaning experience with a pleasant smell around your house.
Both the new Clorox Scentiva are available in many forms:
Clorox Scentiva Multi-Surface Cleaner Spray
Safe to use on various surfaces, this multi-surface cleaner spray is very convenient for everyday cleaning. You can use this on synthetic marble, stainless steel, plastic, and glazed ceramic tile. Spray six to eight inches away from the surface and wipe clean with a dry paper towel or cloth.
Clorox Scentiva Toilet Cleaning Gel
This powerful cleaning gel leaves your toilet bowl sparkling clean, sanitizes and deodorizes your entire toilet. Simply apply to coat the inside of the toilet bowl, scrub with a stiff brush and allow to sit for five minutes before you flush away all the bacteria and germs. 
Clorox Scentiva Bathroom Disinfecting Foamer Spray
This spray kills 99.9% bacteria and viruses while powerfully delivering triple actions – cleans, disinfects and removes soap scum. All you have to do is spray six to eight inches from the surface, allow the product to sit for a few minutes to penetrate all the dirt, then wipe with a wet sponge and finally, rinse with water. 
With these new Clorox Scentiva, now everyone can have a clean, disinfect and deodorize home! Don't forget to get yours now!
For more parenting tips and events, visit Motherhood.com.my!