Here are more confinement drinks for you: Dang Shen Root Tea with black dates, ginger, longan, and goji berry as well as Rice and Ginger Bee Teh.
In the last confinement beverage story, only the "milder" version of teas were recommended. Although super nourishing in every way, they are not very heaty beverages but are suitable to be drunk during the pregnancy period up to the post pregnancy period.
Now it is time to turn up the heat.
This time, we use "poor man's ginseng" called Dang Shen root together with ginger (hot stuff this!), black dates, longan as well as goji berries.
This formulation of herbs and known heaty fruits is to keep the body "warmed" to replenish the "heat/qi" lost during child birth ─ a very Yin event with blood loss and all.
As mentioned in the last "qi-tea" article, Traditional Chinese Medicine (TCM) is all about rebalancing an out-of-balance or "Yin" body after childbirth. TCM is all about the balance of Yin and Yang and the two should ideally be in equilibrium for overall health and disposition.

Qi or ch'i (as it is pronounced) is believed to be the vital force forming part of any living entity. Qi translates as "air" or "material energy", "life force", or "energy flow". Qi is the central underlying principle in Chinese traditional medicine.
To ensure good qi, TCM classifies food into categories: Heaty (Yang/Male/Day), Cooling (Yin/Female/Night) and neutral (neither hot nor cold). Of course there are many levels of heatiness or coolness to each food.
Now some foods are higher up in the Hot/Yang section and Dang Shen, black dates, longan and ginger, will certainly turn up the heat level a bit more than just red dates and goji berries.
Here are two simple recipes to make confinement tea to restore your qi and rebalance your system. Both recipes are from Whattocooktoday.com.
Here are two more simple by effective recipes to make confinement drinks to turn up the heat so as to restore your qi and rebalance your system. Both recipes are from Whattocooktoday.com.
---
Dang Shen Tea (with black dates, ginger, longan, goji berry)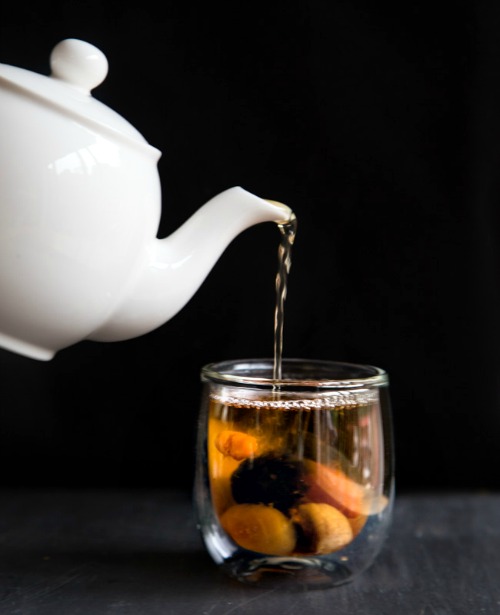 Nourishing Dang Shen Tea is suitable for women who are doing confinement or for normal weekly consumption.
For confinement, you can drink it daily and even replace the tea with your normal water intake. For nourishing purposes, you should have one cup just once or twice a week as it is considered quite heaty.
Dang Shen, the main ingredient in this tea, is a herb that is explained in further detail is below.
As for the ginger, only use fresh ginger. Ginger adds the nice soothing aroma. Dried longan is the dried version of fresh longan or Dragon's Eye. Longan is considered "heaty" in TCM. That is why one is not encouraged to eat it during pregnancy as it can heat the body anad baby up too much. However, during confinement, it is perfect for heating purposes. It nourishes heart and spleen and helps to replenish blood, and improve sleep quality. Dried longan is sweet in nature too and adds a nice sweetness to this tea.
Goji berries are not heaty but neutral. They are used in this tea because they are considered a superfood as they are packed to bursting point with antioxidants, vitamins, minerals, and other nutrients.
Dang Shen or Poor Man's Ginseng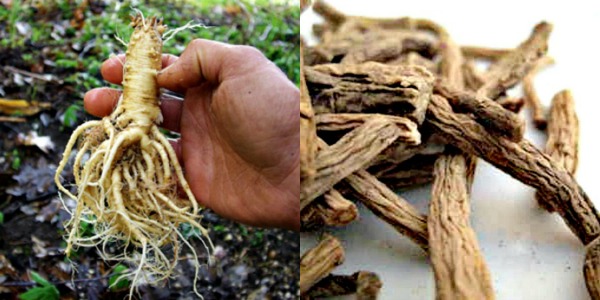 Dang Shen, (Codonopsis pilosula) also known as "poor man's ginseng" as it is a more affordable substitute for panax ginseng, is a perennial species of flowering plants in the bellflower family. It is native to Asia, where it grows in forests, meadows, and scrub, says Wikipedia.
Although it has large lovely flowers, it is the root of this flowering plant that is prized as as food and medicine in China.
Dang Shen is often ground into flour, boiled with rice, added to soups and used as an ingredient in nourishing teas.
Poor man's ginseng is used traditionally for ailments associated with weakness, fatigue, poor appetite and anemia. It is also thought to be helpful for diarrhea, vomiting, flatulence and excessive stomach acid. Poor man's ginseng has also interferon-forming properties, which can be important for people with weakened immune system, including those with HIV infection.
Given the herb's astringent properties, it is also used as a styptic agent in cases of uterine bleeding and excessive menstruation.
Chinese Black Dates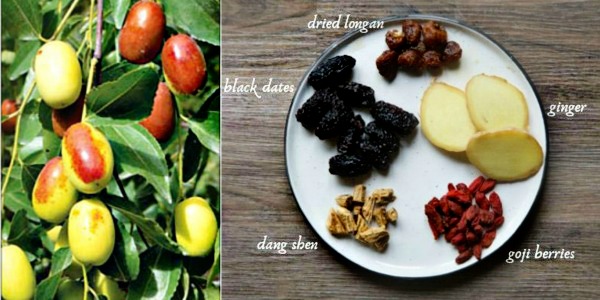 Chinese Black Dates are fresh Chinese dates which have been smoked. In Chinese, they are called Hei Zao (黑枣) or some call them black jujube. These black dates are usually larger than red dates. The Black dates have a smoky fragrance and flavour because it is steamed, dried and lastly smoked before use. This warm (yang) food helps nourish the body and reinforce blood circulation.
The reason it is smoked is because smoking enhances the substances in the dates to become more effective in energizing the body. The black date, which works by nourishing the qi in your blood, is especially good for postpartum recovery to restore energy, stamina, and balance.
Ingredients
8- 10 pieces black dates
3 inch fresh ginger peeled and thinly sliced
1/4 cup goji berries
10 pieces dried longan
10 to 12 1-inch Dang Shen root pieces
11/2 litres water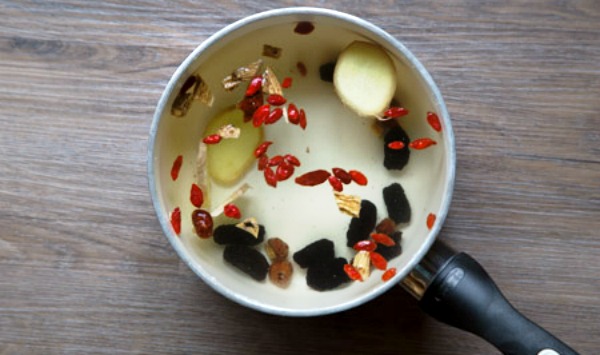 Instructions
Wash all the dried Chinese herb ingredients. Thinly slice the ginger as it helps to release more flavour. When you buy the Dang Shen from the Chinese Medical Hall, ask them to cut the root into 1-inch pieces if possible.
Pour 1 1/2 litre of water into a medium pot or saucepan. Add all the ingredients. Bring to a boil and then lower the heat to simmer. Cover and let it simmer for about 1 hour. Dang Shen tea needs to be served warm.
Storage
You can make a big batch of the tea to save you trouble. The tea can be stored in a jar along with the herbs to let them steep further, in the refrigerator, for up to one week max. Simply reheat on the stove or microwave before drinking.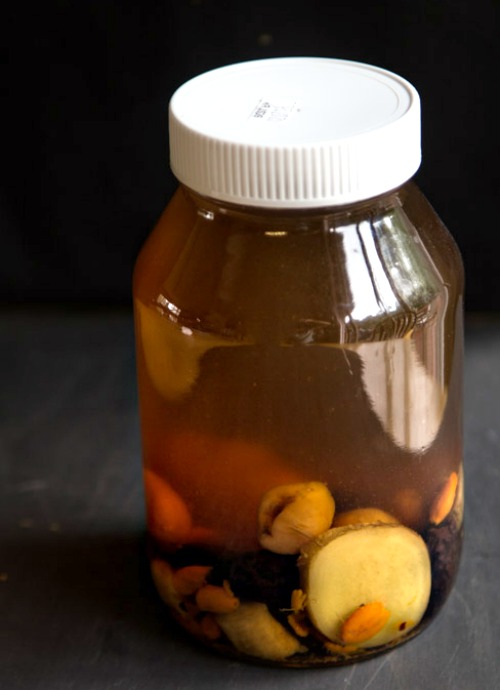 ---
Rice & Ginger Tea (Bee Teh)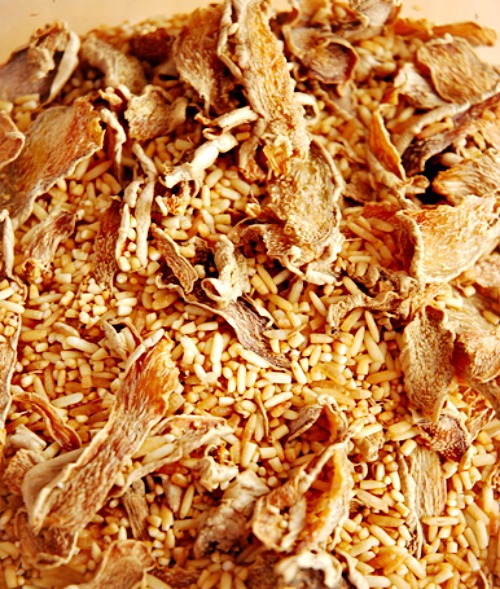 Besides drinking the Black Dates, Ginger, Goji Berry, Longan and Dang Shen Tea, this is another type of confinement drink that you can have. While the Black Dates, Ginger, Goji Berry, Longan and Dang Shen Tea has a sweet taste, this tea is basically made "plain" to wash down the taste of sweetness.
While the Black Dates, Ginger, Goji Berry, Longan and Dang Shen Tea has a sweet taste to it, this tea is basically made "plain" to wash down the taste of sweetness from having Black Dates, Ginger, Goji Berry, Longan and Dang Shen Tea.
As you will see, ginger is figured here and in fact, is the main ingredient in all confinement cooking.
Ginger features strongly in the confinement diets of the Malay and Indian cultures too. It is No: 1 for removing wind from the body, either as a rubbing or massage oil or consumed to allow it to do its internal magic. Actually, ginger is even used for bathing during this period. In Chinese cooking however, ginger is combined with Sesame sauce. All of this is available in our grocery stores and supermarkets.
This Rice and Ginger Tea or Bee Teh as it is called in Hokkein is made from sautéed uncooked jasmine rice grains and sliced ginger. Both ingredients are "fried" without oil for almost two hours until they dry and reduce in volume.  You usually make this in bulk so that you have supply for one month of the confinement period.
It gives a great flavouring to your water consumption and definitely will have more oomph than plain, warm water.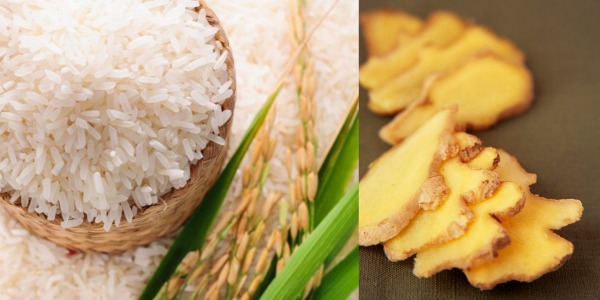 Ingredients
1 lb (500 g) of uncooked jasmine rice
2 lbs (1 kg) of fresh old ginger (with skin on)
Instructions
Clean and brush the skin of ginger and then slice thinly
Clean the rice and drain the water completely
Get your wok really hot and then put in the rice and ginger. Lower the heat and then fry or saute for the next two hours or so. It will get lighter and lighter as the water evaporates as you saute.
Once it has reduced in volume, turn off the heat and then let it completely cool before you store them in an air-tight container
When ready to be used, simply scoop about 3 tsp of the rice and ginger mixture and pour about 4 cups of hot water onto it. It is best if you have a flask for this purpose, to keep it nice and hot and steeping. Let it sit for about an hour or so before drinking. Strain it before drinking so you won't bite into the rice granules.
For more nourishing recipes and inspired confinement drinks, visit Motherhood.com.my