These seven cookie and cake ideas have a twist to their creation. First off, they come from a chemistry academician who ─ midway through a career in science and education ─ decided to turn to the oven to become a professional baker. Yes, Noraini Yatim was once laboratory bound but she now lives and works in the bakery of a hotel resort in the US, and it is from there that she has graciously shared some of her baking ideas for the upcoming Ramadan and Raya season.
Noraini is no stranger to the art of creating confectionery, however. She says she has been baking all her life, almost straight off after finishing her college degree in the US, getting married and starting her career as a chemistry teacher in Barnard College, New York City.
"It wasn't easy living in one of the most expensive cities in the world based on a teacher's wage so I had to be creative," she said, musing over her early days. "I cooked and baked a lot to save money so we could pay our bills."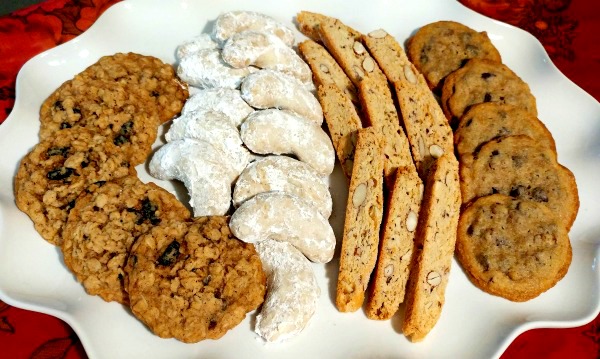 Although Noraini has lived for many years outside of Malaysia, she still retains her Malaysian roots through her family and friends and of course, through her cooking. However, she didn't turn "professional" at the craft until one fine day 15 years ago when she decided to enroll for a course in the Culinary Institute of America.
"I was teaching at Wingate High School at the time and after so many years as an educator, I decided to make a life-changing career move by enrolling in the culinary school. I blossomed and thrived in that environment which I discovered was truly my calling."
After graduating from the culinary school, she was offered a position as a baker at a hotel resort in Georgia. And this is where she has been baking up a storm ever since.
For the Ramadan and Hari Raya period, Noraini is suggesting two traditional Malaysian favourites such as the Lipat Pulut Pisang (Sticky Rice and Bananas) and Banana Loaf. She has also included a few timeless cookies like the Chocolate Chip Cookie, Oatmeal Raisin Cookie, Almond Biscotti and many others. Of course, cookies and cakes are year-round "must-eat delectables" for any occasion so these ideas can be used anytime one feels like baking. The seven recipes include serving sizes so you will know straightaway how much you want to make and jar-up for later.
Have fun getting creative at the oven!
(All pictures credited to Noraini Yatim)
---
Sticky Rice and Bananas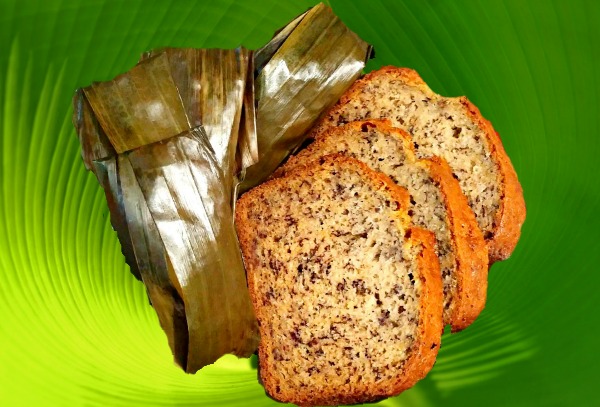 (Makes 20 servings)
Ingredients:
3 cups glutinous or sticky rice
3 cups coconut milk
2 tsp salt
2/3 cup sugar
5 bananas
20 (15cm x 20cm) pieces banana leaves
Method:
Wash the sticky rice. Cover with 10 cups of water and soak for at least 6 hours or overnight. Drain well.
Put the coconut milk in a large saucepan. Add the salt and sugar and bring to a boil over medium heat.
Add the well-drained sticky rice, and cook, stirring constantly until all the coconut milk is absorbed – about 15 minutes.
Cut the bananas into halves lengthwise then cut in half crosswise.
Put 2 tbsp. of sticky rice in the middle (the long way) of each piece of banana leaf. Flatten the rice and place a banana quarter on top. Cover with an additional 2 tbsp sticky rice. Flatten it to cover the banana.
Bring the two long sides of the leaf up to meet above the rice. Fold twice and press down on rice.
Fold both ends down and under to make a neat, even package.
Steam over medium heat for 20 – 25 minutes.
Serve in the wrapper warm or at room temperature.
Refrigerate left overs and re steam before serving.
---
Banana Bread Loaf
Ingredients:
1 ¾ cups all-purpose flour
1 cup sugar
1 tsp baking soda
½ cup plain tasting cooking oil
½ tsp salt
1 tsp vanilla
1 cup chopped walnuts or pecans (optional)
¼ cup + 1 tbsp plain yogurt
2 large eggs
3 very ripe eating bananas (not cooking bananas)
Method:
Preheat oven to 176 degrees Celsius.
Grease and flour a 9" x 5" loaf pan (22.5cm x 12.5cm).
Combine flour, sugar, baking soda and salt. Set aside.
In a large bowl mash bananas well.
Add oil, vanilla, yogurt and eggs. Mix until well combined.
Add dry ingredients and mix until well combined.
If adding nuts, do so now.
Bake about 1 hr to 1hr 15 mins until skewer inserted in the middle comes out clean.
Allow to cool in the loaf pan for 10 minutes.
Unmold onto a wire rack and allow to cool completely before wrapping and storing.
May be stored at room temperature for up to 2 days, otherwise store refrigerated.
---
Chocolate Chip Cookies

(Yields: About 4 dozen)
Ingredients:
2 ¼ cups all-purpose flour
¾ cup brown sugar, packed
1 tsp baking soda
2 tsp vanilla
½ tsp salt
¾ cup sugar
2 eggs
1 cup butter, softened
2 cups semi-sweet chocolate chips
1 cup chopped walnuts or pecans (optional)
Method:
Preheat oven to 176 degrees Celsius.
Stir flour with baking soda and salt; set aside.
Beat butter with sugar and brown sugar at medium speed until creamy.
Add vanilla and eggs, one at a time, mixing on low speed until incorporated.
Gradually blend dry mixture into creamed mixture.
Stir in chocolate chips and nuts (if desired).
Drop by tablespoon onto ungreased cookie sheets
Bake for 9 to 11 minutes or until golden brown.
---
Oatmeal Raisin Cookies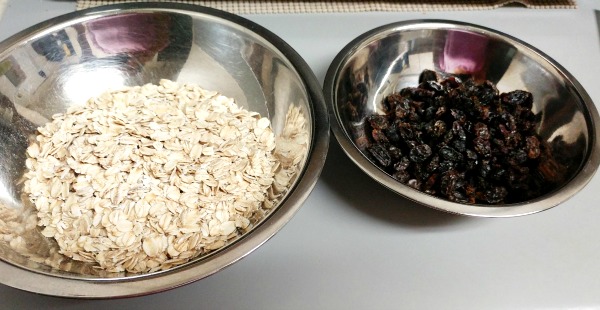 (Yields: About 4 dozen)
Ingredients:
1 cup margarine or butter, softened
1 ½ cups all-purpose flour
1 cup firmly packed brown sugar
1 tsp baking soda
½ cup granulated sugar
1 tsp cinnamon
2 eggs
½ tsp salt (optional)
1 tsp vanilla
3 cups quick or old fashioned, uncooked oats
1 cup raisins
Method:
Heat oven to 350 degrees Fahrenheit (176 degrees Celsius)
Beat together margarine/butter and sugars until creamy.
Add eggs and vanilla; beat well.
Add combined flour, baking soda, cinnamon and salt; mix well.
Stir in oats and raisins; mix well.
Drop by rounded tablespoons onto ungreased cookie sheet.
Bake 10 to 12 minutes or until golden brown.
Cool 1 minute on cookie sheet; remove to wire rack.
Bar cookies: Bake 30 to 35 minutes in ungreased 13" x 9" metal baking pan.
---
Almond Biscotti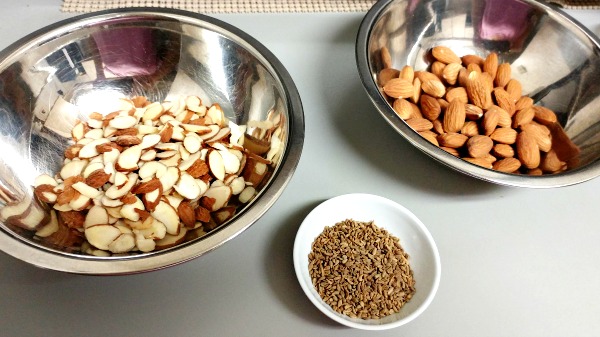 (Yields: About 5 dozen)
Ingredients:
2 ¾ cups all purpose flour
1 1/3 cups sugar
1 tbsp vanilla
1 egg white, lightly beaten
1 tbsp sugar for sprinkling
1 ½ tsp baking powder
1/8 tsp salt
8 tbsp butter, at room temperature
2 eggs
½ cup whole almonds
1/3 cup sliced almonds
2 tbsp cornmeal
1 ½ tbsp. whole aniseed
Method:
Preheat oven to 176 degrees Celsius.
Combine the flour, sugar, almonds, cornmeal, aniseed, baking powder, and salt in a large bowl.
Mix thoroughly.
Add butter and continue mixing until the dough has the consistency of wet sand.
Mix in the eggs and vanilla until soft dough is formed.
Divide the dough in half and form into 2 logs, each 3" x 15" (7cm x 38cm).
Place the logs on a cookie sheet lined with parchment paper.
Lightly beat the egg white and brush evenly on the logs and sprinkle with 1 tbsp sugar.
Bake for 30 minutes, until golden brown.
The logs should be firm but still pliable.
Cool to room temperature.
Lower the oven to 162 degrees Celsius.
When the logs are cool enough to handle, cut them into 1/4" (about ¾ cm) thick slices with serrated knife.
Lay the sliced cookies out on the cookie sheet.
Bake until lightly golden and crisp about 15 minutes.
Cool and store, well covered.
---
Orange Cranberry (or Raisins) Scones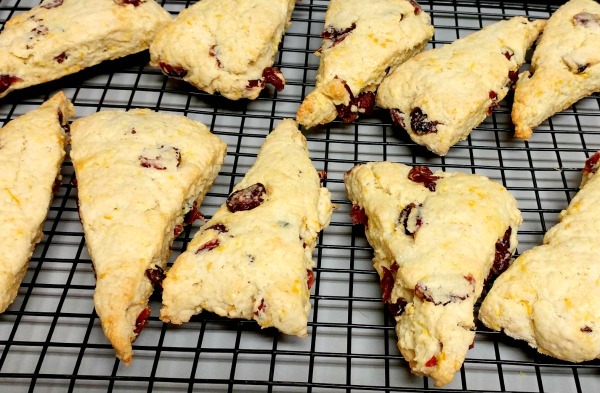 (Yields: 12 wedges)
Ingredients:
1 ¾ cups all-purpose flour
½ cup dried cranberries (or raisins)
3 tbsp sugar
1 egg, slightly beaten
2 ½ tsp baking powder
4 tbsp half and half (half cream + half milk)
2-3 tsp grated orange peel
1 egg, slightly beaten for glazing
1/3 cup (5 ½ tbsp) cold butter cut in pieces
About 1 tbsp sugar for sprinkling
Orange butter: (optional)
½ cup butter, softened
2 tbsp orange marmalade
Method:
Heat oven to 204 degrees Celsius.
In a medium bowl combine flour, sugar, baking powder and orange peel.
Rub butter pieces into flour mixture until it resembles fine crumbs.
Stir in cranberries (or raisins), 1 egg and half and half and mix just enough so that the dough leaves sides of bowl.
Turn dough onto lightly floured surface.
Gather lightly and shape into a thick disc. Roll into a 9" (23cm) circle; cut into 12 wedges.
Place on cookie sheet.
Brush with beaten egg and sprinkle with sugar.
Bake for 10 to 12 minutes or until golden.
Immediately remove from the cookie sheet.
If making the orange butter, stir together orange butter ingredients in a small bowl and serve with scones.
---
Walnut Crescents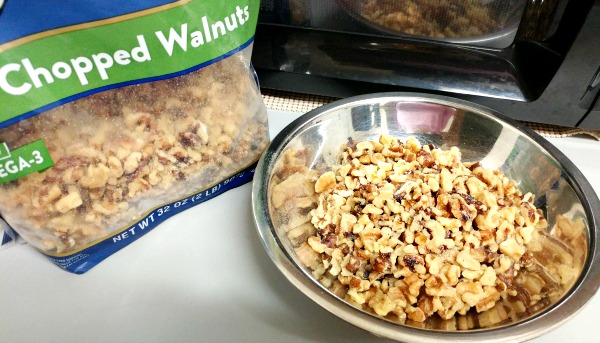 (Yields: About 5 dozen cookies)
Ingredients:
3 ¾ cups all purpose flour
1 tbsp vanilla
¾ tsp cinnamon
2 ¼ cups ground walnuts
1 ½ cups margarine or butter, softened
1 ½ cups powdered sugar
¾ cup light or dark corn syrup
Method:
Mix flour and cinnamon; reserve.
Beat margarine/butter, corn syrup and vanilla in large bowl on medium speed until well blended.
Stir in flour mixture and walnuts.
Cover; refrigerate until chilled and easy to handle, at least 3 hours.
Heat oven to 176 degrees Celsius.
Shape dough by rounded teaspoonful into rolls. 2" long (5 cms).
Place 2" apart on ungreased cookie sheet, shaping to form crescents.
Bake until light brown on bottoms, 15 to 18 minutes.
Cool on wire rack.
Roll in powdered sugar.