Dr. Jezamine Lim Iskander needs no introduction even though the 27-year-old wife of one of the country's most prominent stand-up comedian tries her best to keep a low profile. Having recently stepped into the world of parenthood, Jezamine and her husband Harith Iskander, Malaysia's godfather of stand up comedy are enjoying every second of being Mummy and Daddy to 9-month-old Zander.
Beauty with Brain
Hailing from Klang, Selangor, Jezamine completed her medical degree in Melaka Municipal University(MBBS) and is currently pursuing her PhD in stem cell and tissue engineering at a local University. She is also the Managing Director of Harith Iskander VDAY Production. Fans of FHM Magazine would easily recognize her as the publication's "Girl Next Door" 2009 winner. Before that though, she was one of the Top 8 finalists in Miss Malaysia World 2007, the 1st runner up in the Miss Malaysia Earth 2008 and in the same year also represented Malacca in the Miss Malaysia Universe.
Indeed bubbly and vivacious Jezamine, a former brand ambassador for NUVAFEMME, is recognized as one of the country's top personalities and that's hardly surprising for she has graced the cover of Shape Magazine besides being featured in countless more local magazines and almost all local newspapers. This beautiful face has also appeared in print adverts for KLCC, Sime Darby, Lancome and many more. Jezamine was also picked as one of Female Magazine's 50 Gorgeous People 2010 ( All Stars Edition).
For someone whose experience in the fashion and modeling industry reads like a who's who and what's what of the Malaysian style industry, this dazzling model and entrepreneur of Chinese/Indian parentage cited in her interview with BabyTalk that stepping into motherhood was one of her most cherished moments ever.
From Facebook to the "Pelamin"
When asked about how she met her hubby, Jezamine replied with a cheeky smile "Would you believe that we were actually Facebook friends?" Yes, there we have it –  A true-blue Facebook romance story.. and a celebrity one none the less! As fate would have it, Jezamine and her famous then husband-to-be started off as friends in the world-famous social network. One fine day in 2008, Jezamine got to know that Harith was shooting the popular comedy series Phua Chu Khang just behind where she lived in Klang. They decided to meet up at a Starbucks outlet in the area and that was when they met for the first time. It can be said that it was the first official date that paved the way for the lovely couple to proceed with their journey of love which ultimately led them to be wed a year and a half later in 2010.
During our courtship, Harith's mother had expressed her desire to see us getting married on her birthday. Unfortunately, just two months shy of that date, my beloved mum-in-law to be passed away. As a gesture of our love and respect for her, we proceeded and got married on her birthday which was June 12" said Jezamine in a mellow tone.
The couple held their akad nikah at a close friend's residence followed by a private wedding reception at Port Dickson which was attended by family members and close friends.
Jezamine and her hubby had desires for her to conceive right after marriage. When it did not happen after a few tries, she said to her hubby "Fine, let's just chill and not think about it for now (conceiving)…"  Not long after that, at a time when Jezamine was busy participating in pole-dancing classes and belly dancing classes, she began to show symptoms of being pregnant! She could hardly believe it at first, for Harith and her were also active in a boot camp at the time. She was also at the verge of signing up for a kick-boxing class!
Pregnancy becomes her…
As soon as Jezamine discovered she was pregnant, she was over the moon! "I just loved being pregnant!" she exclaimed.
I was all aglow and happily giving in to my cravings for roti canai with dhal curry and Subway's tuna sandwich!
she continued with a laugh. However, Jezamine was not spared the wrath of pregnancy nausea. It got so bad that at three months pregnant, she was hospitalized for non-stop vomiting.
It was awful… It was the only thing I did not enjoy about my pregnancy
she continued, shaking her pretty head of gorgeous locks.
Among the activities, Jezamine maintained throughout her pregnancy to upkeep her health and stamina were swimming and yoga. "I just loved yoga throughout my whole nine months! It worked wonders for my overall health and helped to keep me calm and revitalized" she said.
Being Mummy to Zander
Highlighted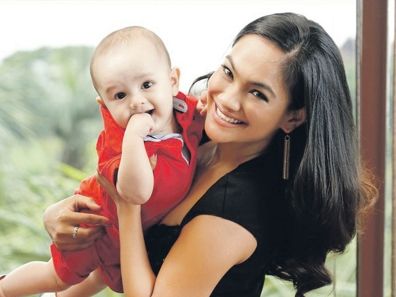 Jezamin and her beloved hubby welcomed their beautiful baby boy Zander on the 8th of March, 2012. Baby Zander was born via a Cesarean section because he was a big baby. Confinement, according to Jezamine, was the most trying time for Harith and herself. While Jezamine had long made up her mind to exclusively breast feed her baby for as long as possible, baby Zander had great difficulties latching on."My son was born with a condition called 'tongue-tied', which made it difficult for him to latch on to the breast for a feed. We decided to let it be and see if we can still do this," said Jezamine.
"When you're trying to do something good for your baby and it ends up with the baby wailing in frustration, the people around me, for example, family members who are present in the house at the time, tend to worry,
I guess. This is when they would start to subconsciously go all negative and question my decision to pursue with breast feeding" said Jezamine. "It was extremely difficult for me to stay positive when family members were saying "This is not going to work, so why don't you just put the baby out of his misery and give him some formula?" It's safe to say that the first few days of trying to breastfeed were the most stressful for me!" she sighed, taking a few moments to compose herself.
Hubby to the rescue
Jezamine cites her hubby Harith as her pillar of strength and comfort.
He is truly my hero and stood by me through thick and thin. Never once did he falter even though everyone else around me was trying to influence me to change my mind about breast feeding my baby,
said Jezamine with a smile.
Harith told me that he will be beside me 100% and whichever way I decided to go (to just keep trying to breastfeed OR resort to formula), he will support my decision and do whatever it will take to help me go through this. This is what gave me the most encouragement and strength to carry on trying.

There were many times when baby Zander got frustrated because he could not latch on properly and would start to cry out of frustration. Harith would pick him up, hold him, sing to him and calm him down. Once he was calm, he will then hand him back to me to try again. Till now, I am utterly grateful for his consideration and actions in that matter.
Far from giving up, Jezamine resorted to expressing her milk and spoon feeding baby Zander. After a couple of weeks of exasperation and with the advice of a lactation consultant, determine-minded Jezamine together with her hubby sought professional help to remedy Zander's condition. Baby Zander underwent a small operation to correct the condition and after that, according to his proud mummy, was able to feed like a pro! Zander is now a happy, handsome nine-month-old boy, nourished on mum's milk.
There is this book that I love and I would like to recommend for new mums out there. It's called Brain Rules For Babies by John Medina. It tells you about do's and don't's during pregnancy and also during and through the 1st-5th years of life. What I love about this book is that all the data is based on scientific research and it made more logical sense. It has helped me a lot and I'm sure other will find it helpful too,
shared lovely Jezamine.
Feeling fabulous
Jezamine took great care to nourish her baby by nourishing herself. "Many people do not realize that to successfully breastfeed, we mothers have to be adequately fed ourselves. I certainly wasn't counting calories and am still not! Yet, through breastfeeding and of course, exercise, I managed to drop from 69 kilograms to 57 kilograms in just the first few weeks after the birth of Zander. I am against dieting for losing weight, especially after giving birth. I believe that to look and feel great inside out, exercise and proper nourishment go hand in hand," she said with conviction.
Being the exercise buff that she is, Jezamine was active in a boot camp called *Daily Muscle Transformation Camp before she found out that she was pregnant. On the 5th of September this year, she re-joined the camp together with her beloved hubby. "Its really an exceptionally good program aimed at working out different muscle groups in the body we're just loving every moment of it!" she grinned. "Well, what's there not to love, for the inches just keep rolling off. Besides, I am now 53kilograms, which is five kilos lighter than when I got pregnant!" she continued.
When asked about confinement practices, Jezamine quipped "Let's just say that I'm a believer of moderation and am against any form of extreme practices," while she smiled at her interviewer. Jezamine employed two confinement ladies of different races to take care of her needs during her confinement period. One was employed for post-natal massages, which left her refreshed and energized. To the one who was taking care of her food though, she firmly stated her refusal to consume too many herbs and insisted on quenching her thirst with water (which was frowned upon by the confinement lady). "I told my well-meaning confinement lady that I was a believer in logic and moderation and will not be downing liters of herbal concoctions just because it's a tradition. In the end, she gave up trying to convince me and let me choose my diet which I feel she cooked to perfection!" Jezamine giggled.
On hubby and baby
"How is Harith as a husband and father?" Jezamine repeated the question asked to her. "Harith is the most supportive husband any woman could wish for! Honestly, I don't think I would be the happy wife and mummy that I am now if not for him. In fact, it was his support, contribution and encouragement that made me a natural mummy myself. He is truly my soul-mate" said the gleaming young mum. "As for his role as a new father, I can only say that my husband is a natural daddy… .  When he held Zander for the 1st time, there wasn't a hint of nervousness or uncertainty from him, just a whole lot of confidence and love! Did you know that when Zander was a newborn, he would not go to sleep till daddy picked him up and held him in his arms for a while?" she said lovingly of her other half.
"I am proud to say Harith is a lullaby daddy .. he sings to Zander every night and Zander knows when it is time for bed!" she continued.
"I guess the both of us are actually fortunate for Zander IS a really sweet baby! He is not the kind of baby who will cry for no reason. I feel truly blessed to have them both in my life!" said Jezamine.
Visit Motherhood.com.my today!