Ejen Ali, the adorable hero who has dominated our children's imagination since its debut in 2016 is hosting the titular event in Klang Valley this school holiday! 

From 20 March till 2 April, parents can look forward to an immersive experience for their kids at the "Ejen Ali Mata Academy" Obstacle Course at Sunway Velocity Mall's Main Atrium (Ground Floor). The venue will be transformed to host the lovable hero, Ejen Ali, and his fellow agents in the biggest ever carnival to date!
The highlights of the event would be VeloKiddie Tea Party, and of course, the special Mascot Appearances of Ejen Ali and his fellow agents! While you are at the event, download Sunway Velocity Mobile app and let your kids join Ejen Ali Obstacle Training Course for FREE – pass through all 4 segments to receive a limited edition Ejen Ali badge!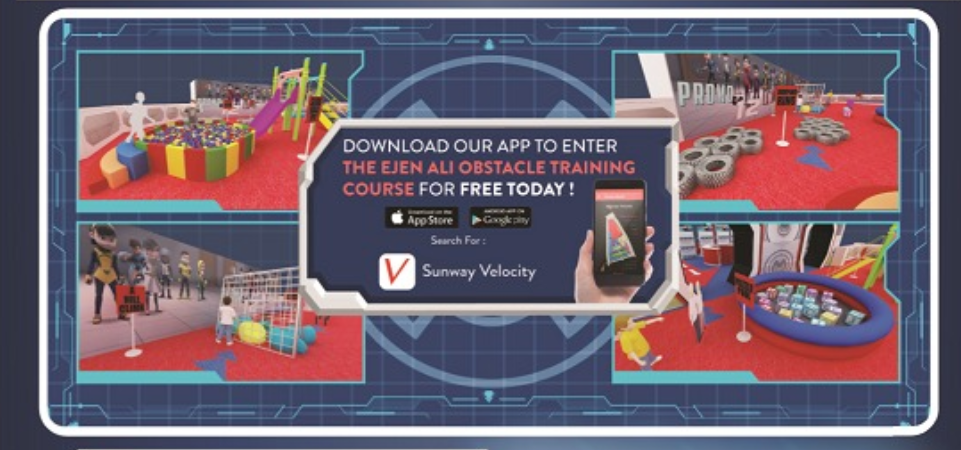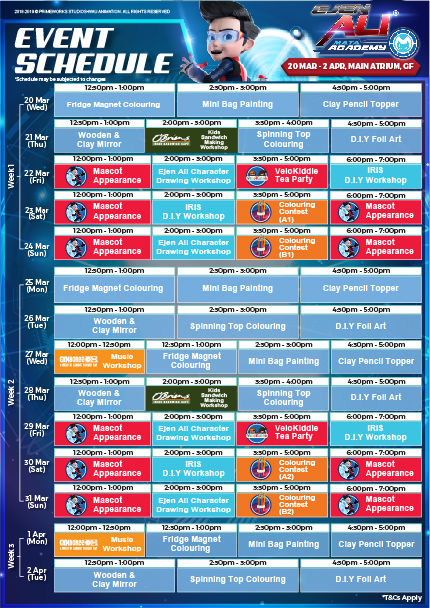 Scroll down to get the low down on Ejen Ali Mata Academy at Sunway Velocity Mall: 
Mascot Appearance
12.00pm | 22 – 24 and 29 – 31 March
6.00pm | 23, 24, 30 and 31 March
The highlight of academy week has got to be this activity! Trudge along with Ejen Ali as he makes his way to meet and greet fans at Ground Floor Main Atrium.

Bookmark this page and check back often for this school holidays is all about watching your kids' rite into a more responsible and expressive child at Sunway Velocity Mall! 
Members of Sunway Pals can get busy with the "Make Your Own Coin Pouch" kit by flashing their Sunway Pals App or signing up as a new member on the spot. During weekends, little ones are kept on their toes with carnival games like ring and ball tosses, complementary interactive workshops to show 'em funky projects like making slime, assembling lava lamps, making sushi, and so much more! Parents who download the Sunway Velocity Mall Mobile App can also redeem cotton candy for free. 
Before you take off to Sunway Velocity Mall with the kids in tow, check these out – a well-prepared parent is always admired. Be the hero of your kids before they outgrow you and Ejen Ali! 
Shoppers are in for a treat as Sunway Velocity Mall launches the "Play2Win Carnival" from 28th March to 28th April 2019, where everyone is guaranteed to walk away with a prize! The interactive experience promises a carnivalesque sensory overload that's complemented by a 20-foot arcade game and an equally impressive LED screen at Level 1, in front of Rakuzen. Spend a stipulated amount in the mall* for the money-can't-buy experience. 
What are the different Redemption Stages, you ask? Look no further!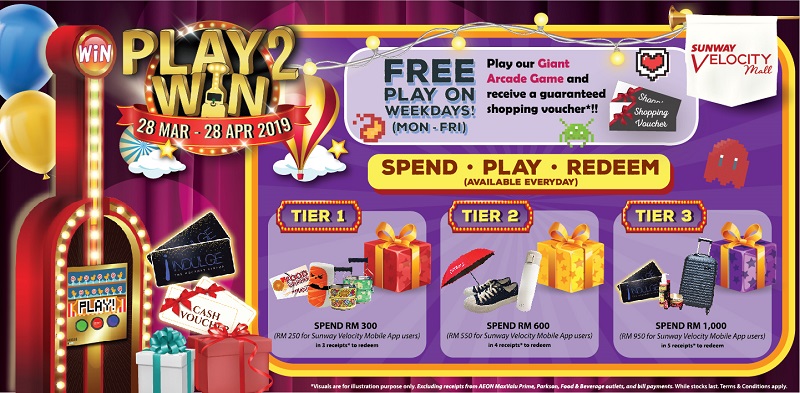 Shoppers who spend a minimum of RM100* in no more than 2 same-day receipts qualify for one entry in the "Play 2 Win" Lucky Draw*. Let Lady Fortune smile on you today!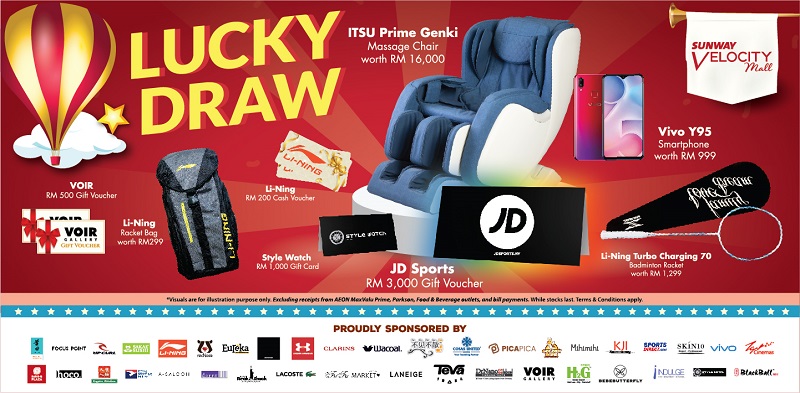 For those who are not in the mood to shop, the good people at Sunway Velocity Mall has also set up a FREE Play Stage* that's open to the public during the weekdays at no charge! Come and try your luck at winning mystery shopping discount vouchers from the following brands: 
G2000
Eureka
Miss Selfridge 
Sakae Sushi
NY Steak Shack 
redNose
TGV Cinemas
Under Armour
With so much to see and do, Sunway Velocity Mall is truly the place to be this school holiday so gear up, head on and be prepared for a day of adventure and excitement with the fambam!
*Terms and conditions apply. All information is correct at time of publishing and is subject to change without prior notice.
Like what you see at Sunway Velocity Mall? Download "Sunway Velocity" for a complete guide, sign up as a VeloStudent, or sign the kids up for "VeloKiddie Club" to receive invitations to fun activities/events, attractive offers and discounts at selected outlets. 
Register at Concierge Counter on Level G now! For more details, visit Sunway Velocity Mall. Get the latest updates from Sunway Putra Mall at their Facebook @SunwayVelocityMall and Instagram @sunwayvelocitymall. 
This article is published for Sunway Velocity Mall.