Examinations for primary school students in Year One to Three will be abolished from 2019 onwards, Education Minister Maszlee Malik announced in his tweet. He added that the examinations will be replaced by a more objective form of assessment.
Peperiksaan bagi murid Tahap 1 (tahun 1, 2 dan 3) akan dimansuhkan dan akan digantikan dengan pentaksiran yang lebih objektif bermula 2019.

— Maszlee Malik (@maszlee) October 31, 2018
The ministry, he said, had taken a more holistic approach in upholding the integrity of the country's education system by giving autonomy to institutions of higher learning and more freedom of expression to students by reviving the speakers' corner.
Elaborating further, Maszlee said that with the abolition of examinations, the ministry hoped that teachers would focus more on identifying potential students through cheerful and fun learning.
We want students of this level to be happy to learn, and not burdened by exams. We will try to train teachers based on the PBS system in order that it has a positive impact.
he added.
The National Union of the Teaching Profession secretary-general Harry Tan welcomed Dr Maszlee's statement, saying the union had always called for holistic education for the young.
Pupils are deprived from having fun, learning good values of friendship, respect and love. The time for them to run and play have been replaced with numerous hours in the classroom and also tuition classes,
he said when contacted.
Meanwhile, Educationist Datuk N. Siva Subra­maniam stated that children should enjoy their first three years in school. He also suggested that schools should be an institution that plays a major role in developing pupils' basic skills. He described the move as "a step forward in improving the country's education system".
The move to abolish Level 1 exams by Putrajaya is similar to the decision by Singapore for pupils at the Primary 1 and 2 levels.
In September, according to the Straits Times, Singapore had decided to test students through homework, classwork and also through bite-sized of work such as worksheets. With this method, it will give them an understanding of the students' progress holistically.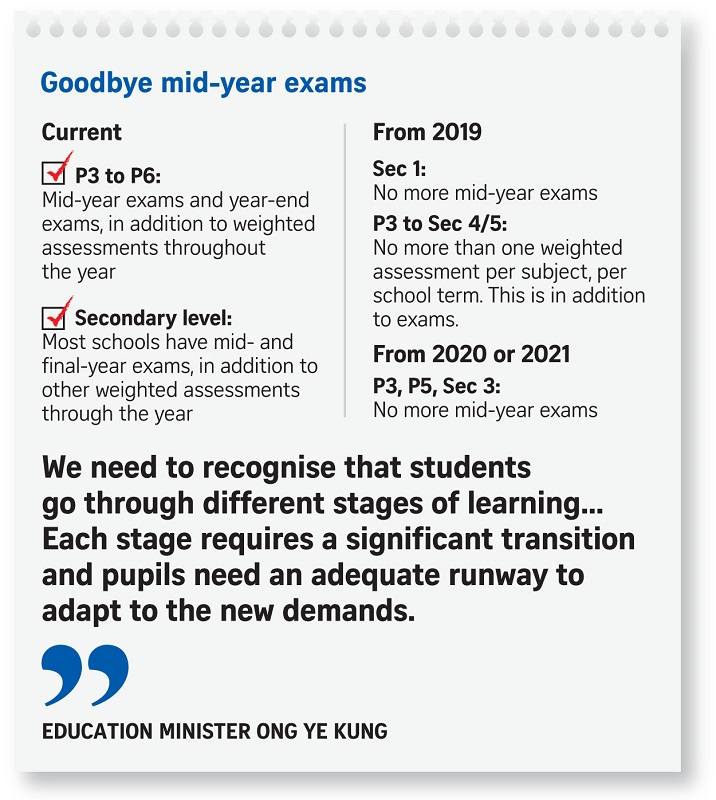 Pakatan Harapan government has implemented a total of 43 initiatives on education within the first 100 days of its administration. The ministry also carried out internal investigations on huge contracts such as the solar hybrid project in Sarawak and the provision of 1BestariNet, as well as take action to enable the opening of a Malaysian Arts School next year.
Kajian keberkesanan 1BestariNet dijalankan sejak September – Maszlee https://t.co/v9cNGBCOUN via @malaysiagazette

— Maszlee Malik (@maszlee) October 23, 2018
On the welfare of people with disabilities, Maszlee said the ministry, in collaboration with NGOs, would improve special education, and also the academic performance of Orang Asli students nationwide.
In addition, he said religious education institutions, such as Tahfiz schools, were also empowered with discussions being held with several countries in the Middle East to enable students from Malaysia to further their studies there.
Saya juga berkesempatan melawat Sekolah Menengah Kebangsaan Agama Kota Kinabalu, yang mempunyai program Tahfiz Model Ulul Albab yang menyasarkan untuk melahirkan huffaz profesional.

-Admin- pic.twitter.com/koBupaLLXz

— Maszlee Malik (@maszlee) October 25, 2018
Since managing the ministry, Maszlee had made several proposals to improve the education system such as enhancing the use of Bahasa Malaysia, eliminating the need for pupils' heavy school bags, reducing the volume of teachers' administrative work, and encouraging students to master more than three languages.
[RMK11] Bahasa Melayu-KPM melalui Dewan Bahasa dan Pustaka (DBP) melaksanakan pebagai program untuk memastikan peranan Bahasa Melayu sebagai bahasa kebangsaan, bahasa rasmi, bahasa pengantar pendidikan dan bahasa perpaduan diperluaskan," – YB Dr @maszlee

— KPM (@KemPendidikan) October 31, 2018
[RMK11] Beban Guru – Salah satu peranan JKMBG ialah mengkaji isu beban guru yang berpunca daripada pertindihan proses kerja, sistem dan penggunaan borang yang tidak berkaitan dengan tugas guru – YB Dr @maszlee

— KPM (@KemPendidikan) October 31, 2018
However, his recent announcement stated that students would have to wear black school shoes by 2021, generated much controversy. Some even accused him of misplacing his priorities.
To find more parenting advice, and products head over to Motherhood.com.my.