Did you know that Sunway Pyramid has been around for 2 decades? That's right! 21 years to be exact.
Sunway Pyramid is Malaysia's first themed shopping and entertainment mall. Boasting 4 million square feet of retail extravaganza, the mall is architecturally spellbinding. Who doesn't know the Egyptian-inspired Pyramid with its eye-catching domes and a majestic lion standing guard at the entrance?
We found out recently that the mall was upgraded and refreshed to create an enriching experience that continues to attract the young and old. In addition, there are new services and amenities for the ease, safety and comfort of shoppers from all walks of life.
With over 900 speciality outlets and a variety of activities, entertainment, F&B, fashion, home furnishing, health and wellness and a one-stop IT centre, there is something for everyone in the family.
WHY WE THINK IT'S GREAT FOR FAMILIES
1. Upgraded Main Entrance for Easier Access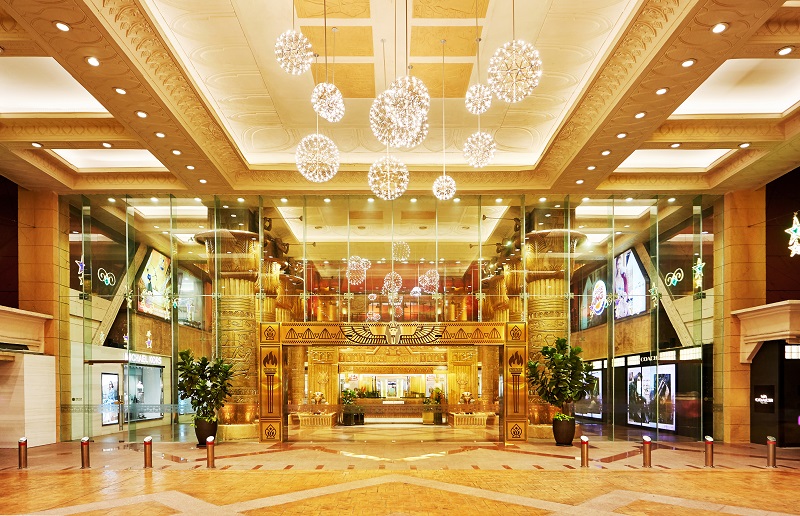 The striking new entrance includes a level ground for improved wheelchair and stroller accessibility and a powerful air-lock system to beat the outside heat. Families may also book a Grab car at Asia's first Grab lounge located just opposite the entrance. Along with the comfortable waiting lounge are dedicated waiting spaces for pick-ups and drop-offs.
Located at G Floor.
 2. Family & Preferred Parking

Families with strollers and young children can make use of these well-lit, larger-than-usual parking bays that are near mall entrances and lifts to get the little ones into the mall easier. A new Preferred Parking area is also now made available.
Family Parking is located at B1.
Preferred Parking is located at B1 & CP2.
3. Mercedes-Benz EQ Power Charging Station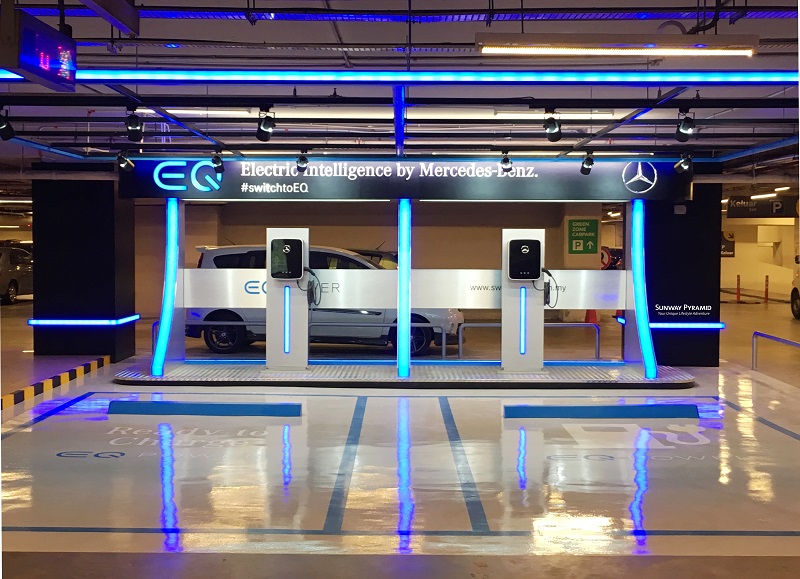 Sunway Pyramid also provides electric vehicle owners with a special power charging station to charge your vehicles with ease.
Located at B1 carpark.
4. Oasis Garden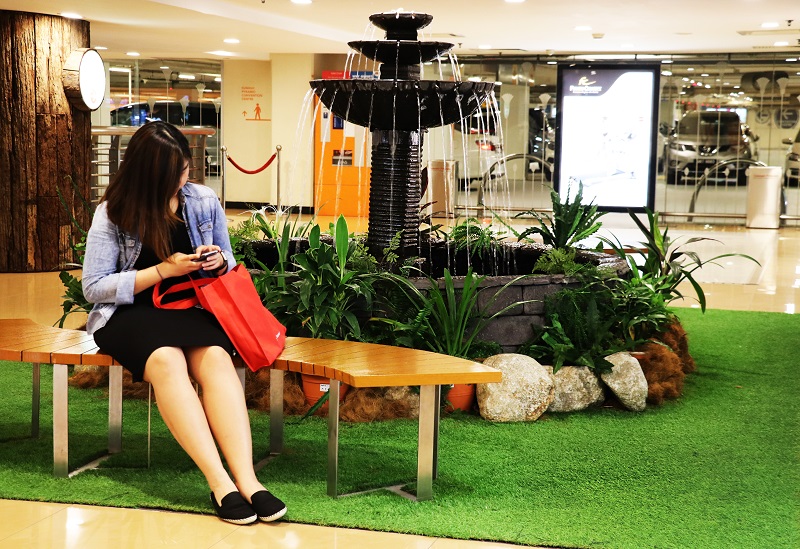 Be greeted by a sensorial treat when you ride on Sunway Pyramid's escalators from CP2 to CP7! Each floor is a unique experience with sounds from 17 different species of birds, 3 species of monkeys, 2 species of frogs, complemented with lush greenery and water features all around.
Located from CP2 – CP7.
5. Paradise Garden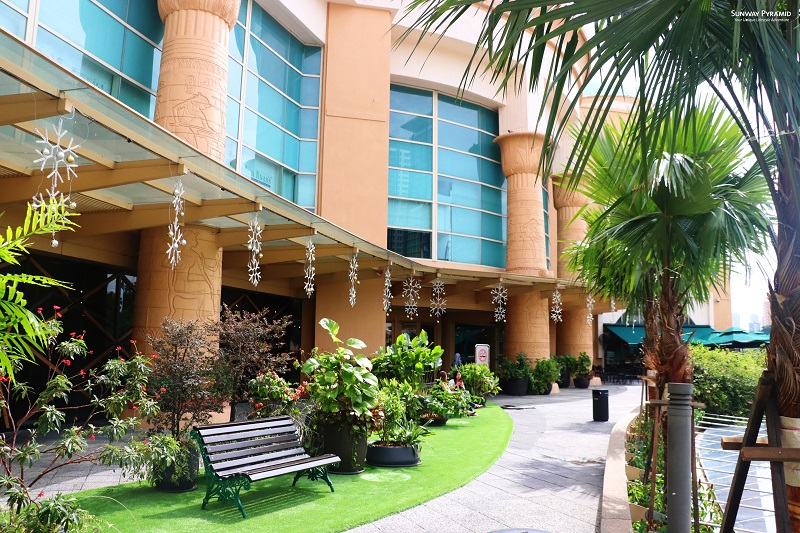 Specially designed with nature and relaxation, you can now take a break from your shopping spree, and enjoy the fresh flowers, greenery and various planters, overlooking the Sunway Lagoon!
Located at Level LG1, near to Starbucks.
6. New Baby Rooms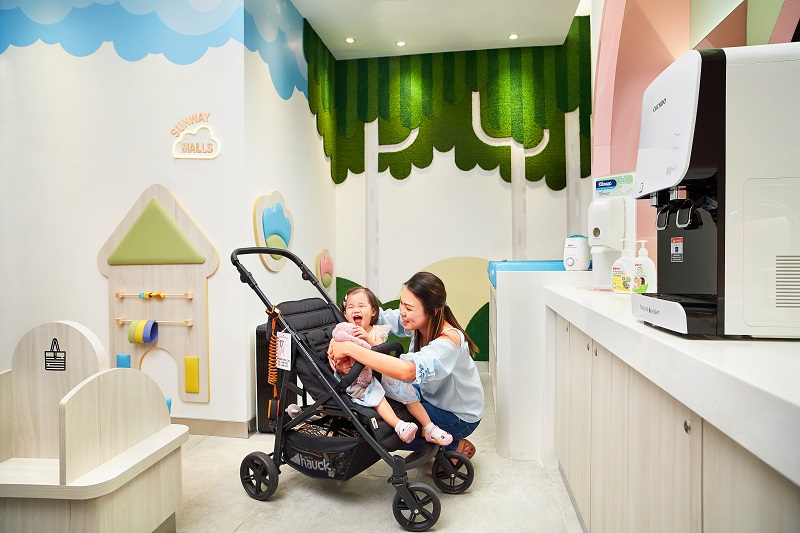 Be pleasantly surprised by the new baby rooms in Sunway Pyramid. Built with you and your child's needs in mind, the spacious upgraded baby rooms come with educational wall toys and a toddler-friendly bench to keep the older children occupied while the little one is being changed or nursed in the private rooms. The baby rooms are equipped with a child-size toilet so parents and guardians will not have to step out when the toddler needs to go.
The rooms also come with air purifiers, Kimberly-Clark foam soap and hand sanitizers, Pigeon baby lotions, baby wash, and liquid cleansers, and Cuckoo hot/cold water dispensers for added convenience. You've got to applaud the ingenuity – they've really thought of everything!
Find the baby rooms at every floor from Ground to LG2:
G Floor (behind Sole What)
LG1 (behind Marry Merry)
LG1 (in font of Tare)
LG2 (behind Hair Fonts)
LG2 (behind Ah Cheng Laksa)
7. Strollers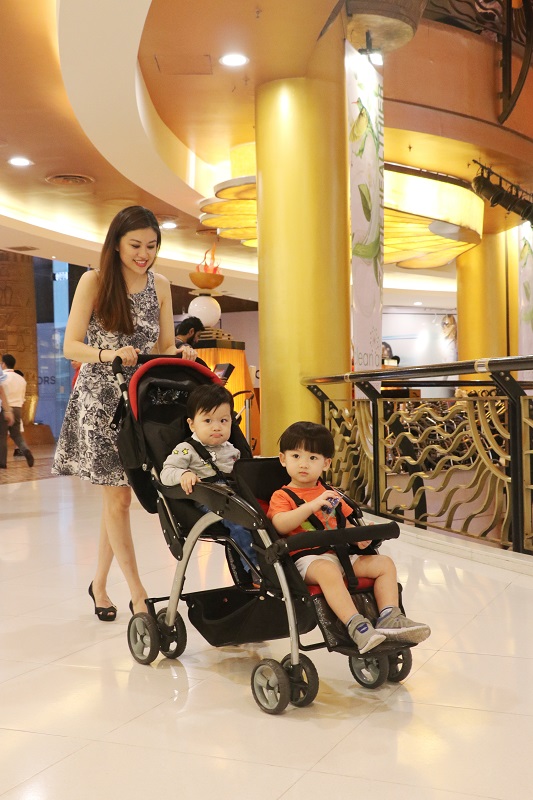 We've all been there – a trip to the mall doesn't mean you have to lug everything from home. Leave your home with the essentials and kids in tow, and borrow a stroller, toddler wheelie or even a double stroller. Load the kids and get ready to cover the distance!
Located at Concierges on G / LG2.
8. Child Wristlinks & Emergency Contact Tattoos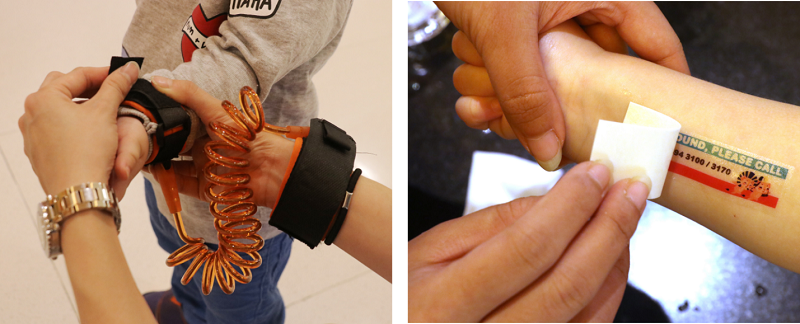 Worried about losing your child in the crowd? Get the child wristband and wristlink from Concierge and wear it on the both of you! The child wristband also lets you include your name and handphone number in case of separation.
Alternatively, you may apply an emergency contact number on your child's arm with the help of a damp cloth. The emergency contact number on the tattoo leads to the Concierge staff or Auxiliary Police. After the outing, simply remove the temporary tattoo with baby oil, hand sanitizer or wet wipes.
Located at Concierges on G / LG2.
9. Family Amenities

Young family shoppers can rent a nursing scarf, milk bottle warmer or request for emergency diapers at the concierge counters. A complimentary ladies emergency kit is also available upon request for sanitary and hygiene needs while sewing kits are available on loan to tackle minor wardrobe malfunctions.
Located at Concierges on G / LG2.
10. Golden Generation Privileges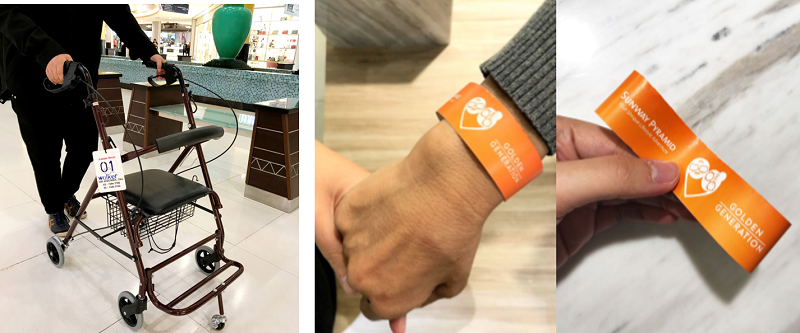 A family day out is incomplete without grandpa and grandma! For a limited time, seniors can redeem a Senior Privilege Wristband with their family contact details on the back to assist in reconnecting in case they wander off too far. Seniors can flash their wristband at selected outlets to enjoy special privileges*. Benches are also implemented around the mall for their convenience.
*Visit Sunway Pyramid's website for more details. 
For easier mobility around the mall, mobile walkers, power strollers and wheelchairs are available for rent. Wheelchair-friendly toilets are also available on all floors of the mall while priority lifts have been identified at all main areas.
11. Free Wi-Fi & Charging Station
We know it's important to stay connected while your kids are having fun. Use the Free W-Fi available mall-wide to share your memories and stories with the world!
If you need a place to charge your devices, study, or relax while enjoying free Wi-Fi, just hop on over to the surf, chill and charge area adorned with greenery to calm the senses.
Located at F Floor.
FAMILY EATS!
Here are some of our top recommendations for family-friendly meals:-
1. Slappy Cakes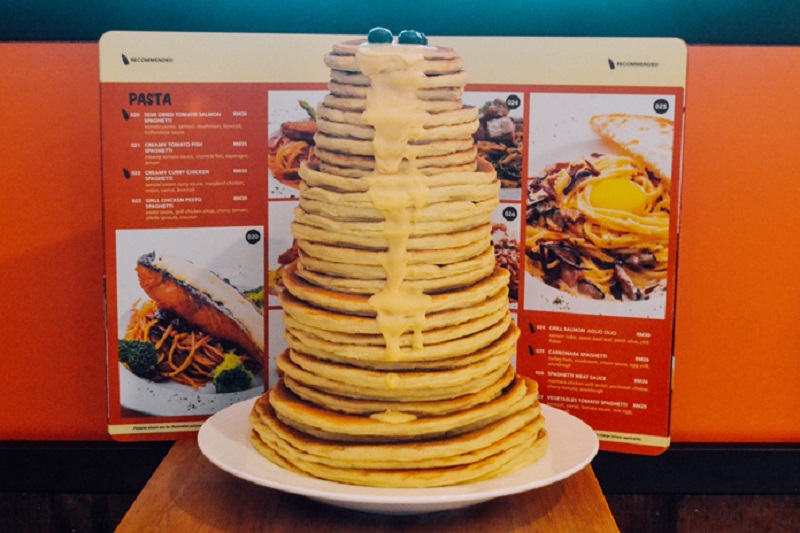 The well-loved brand originally from Portland is in town and once you try it, you'll be hooked. Create wonderful memories of you and your little one having fun flipping pancakes. Get busy with syrups and various toppings. The pan is your canvas and what better way to appreciate art than with a happy belly!
Located at SPWF001.
2. T.G.I. Fridays
Looking for a venue that serves steak and beer for the men, and cocktails for the ladies? T.G.I. Fridays hits the right spots! The four words that are melodious rings true here – "Kids Eat For Free". Whether it's with family or friends, you know it will be burger-casual and fun.
Located at OB3.F.1, OB3.F.2 & F1.92.
3. Kung Fu Panda Kitchen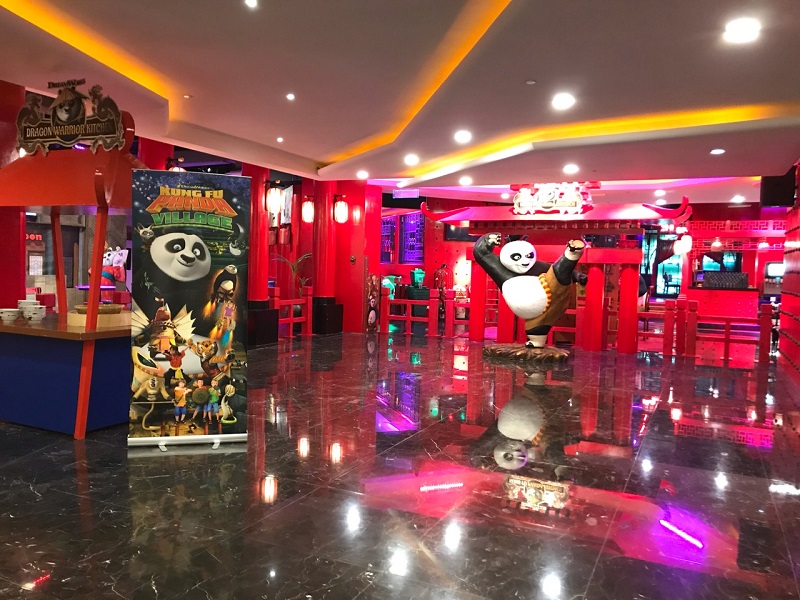 DreamWorks' lovable Po is the headliner in this all-you-can-eat steamboat buffet restaurant. The selection of meat and seafood will satiate even the pickiest eater, and SURPRISE – the restaurant even has a few dishes inspired by the movie on its menu. Instil the love for a healthy diet in your children by letting them choose and cook the ingredients.
Located at SP3.LG1.
4. Restoran Mr. Roti Canai

Enjoy the authentic, hearty and comforting Malaysian food at any time you like, even after one whole day at the shopping mall. Open from 8 AM to 12 midnight, Mr. Roti Canai offers a variety of local comfort food. What's even more special is they have kid-sized roti canai!
You can grab their special 'roti canai' via the Sunway Pyramid West entrance or the H&M entrance. Restoran Mr. Roti Canai is also accessible through the Padini Concept Store.
Located at OB3.G.9, near Healthland.
*Other family-friendly restaurants that are worth trying are An Viet, Sakae Sushi, Tony Roma's, Simple Life Restaurant, Kim Gary, Wong Kok Char Chan Teng and many more!
FUN & PLAY!
1. Sunway Pyramid Ice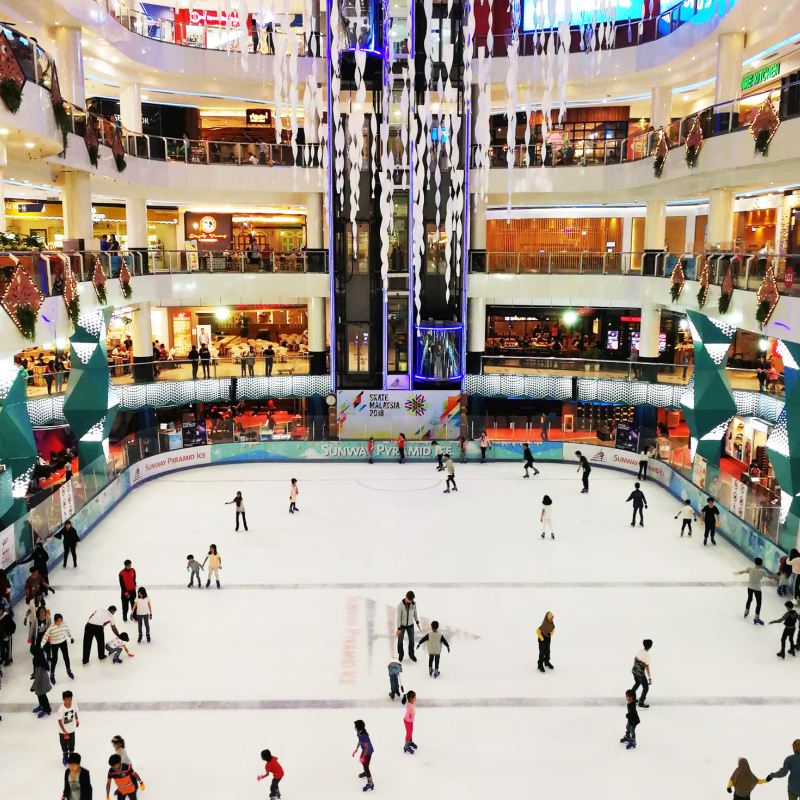 Re-enact the scenes in "Frozen" with the kids in Sunway Pyramid's newly upgraded ice-skating rink. Featuring refurbished walls, new flooring and specially designed pillars, the ice rink is now brighter and better for the best skating experience ever!  Picking up a sport together with your little one is an interesting experience. Build a lasting bond tripping before finally taking off gracefully on the ice, hand in hand with your loved one.
Located at Sunway Pyramid Ice.
2. Happy Fish Swim School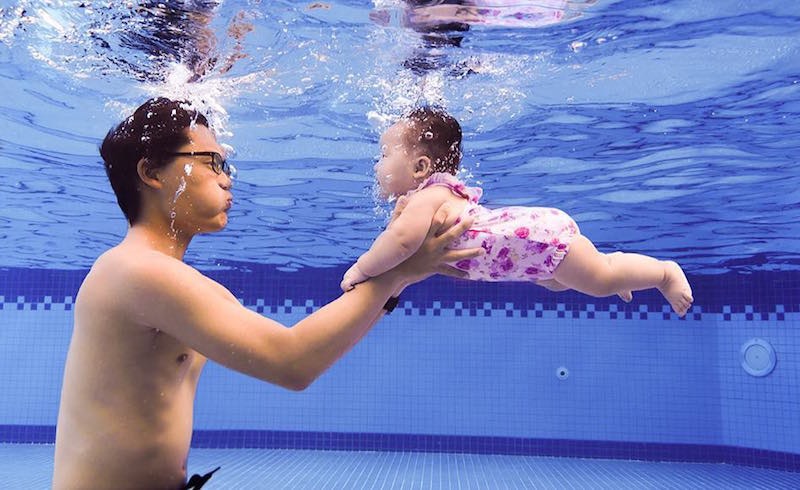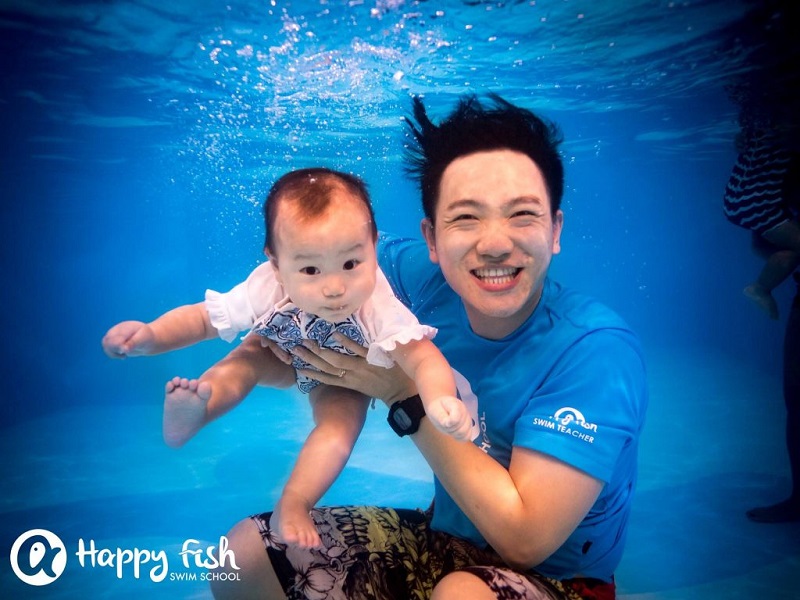 While it's never too late to learn to swim, there are great benefits for a child when they learn to swim at an early age. Happy Fish Swim School provides effective swimming programmes for kids age 4 months to 4 years old.
Your kid can have a private, one-to-one lesson or join the group's lesson in a fun and safe aquatic environment, guided by the professional swim instructors.
Located at OB.G. (MS).
3. TGV Cinemas (Family Friendly)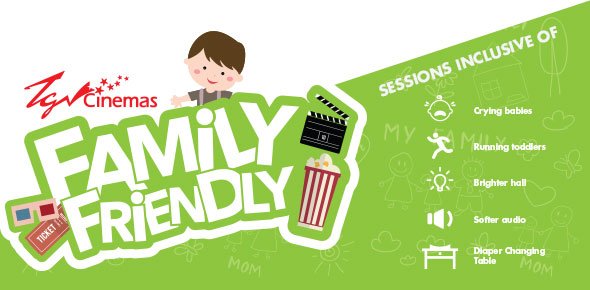 Try something new with your little one. Bring him/her to the Family Friendly halls of TGV Cinemas and watch their eyes light up in wonder as they experience the big screen for the first time. Unlike the regular halls, the family-friendly hall is brighter while the audio is softer so as to not overstimulate your child. It is also equipped with a diaper changing table for added convenience.
Located at F1.MZN.1.
There is so much more to do at Sunway Pyramid. Bring your kids for some arcade games at Fun Scape by Cobay, experience a game of laser tag at Galactic Laser, play a real escape game at Mission Q, and many more!
SHOP TILL YOU DROP!
1. Toys "R" Us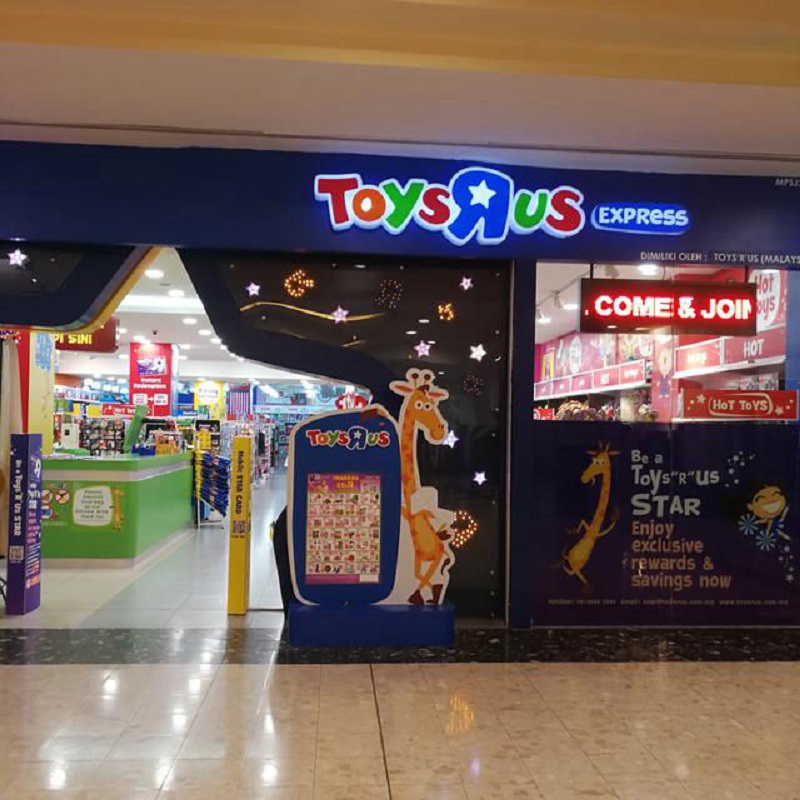 For generations, Toys "R" Us has captivated children all around the world. You just can't beat the magic of a good toy in hand with digital screens. Bring your kid for a spin in the store and let them work their imagination. Leave your parent cloak at the door. Your inner child deserves some time off, too.
Located at LG1.20.
2. Popular Bookstore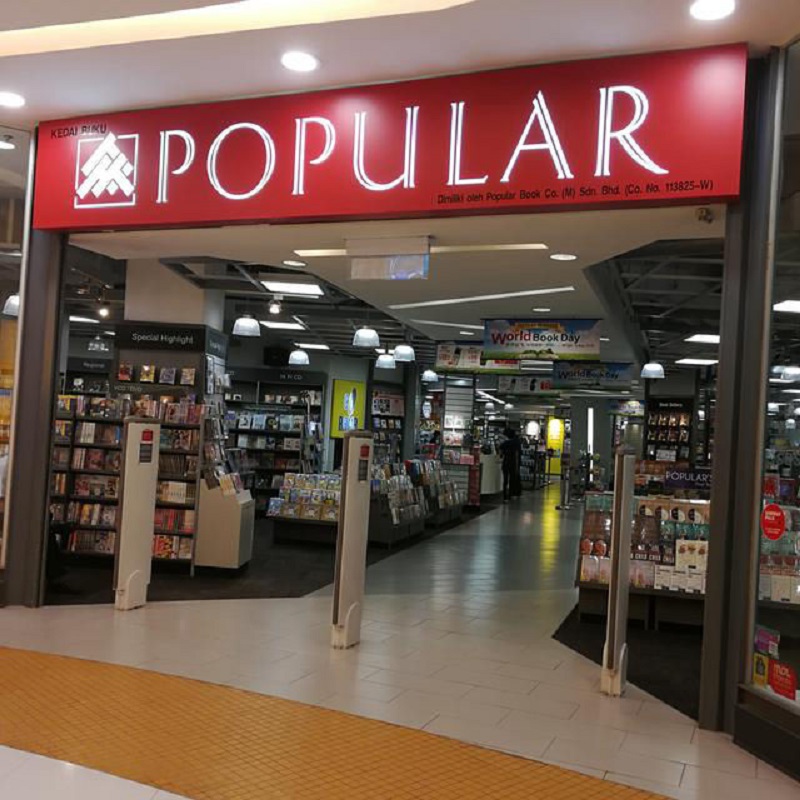 Cultivate the love of books in your little ones by visiting the bookstore often. Read and indulge in imagination with the likes of Roald Dahl, Enid Blyton, and Lewis Carroll, just to name a few. Activity books are also a good way to bond and learn in a fun manner. Be inspired to create a fun and learning environment at home with the materials and in-store activities at Popular.
Located at LG1.123.
3. Smiggle
It's colourful, it's funky, it's SMIGGLE! Stock up on stationaries for your little ones from this groovy joint. Reduce the drab of homework with these quirky pens and pencils!
Located at LG1.69.
4. Anchor Tenants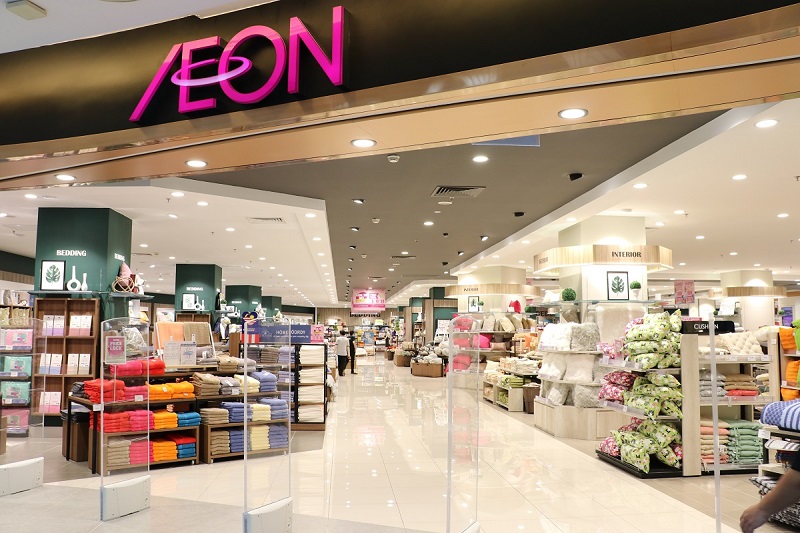 Set to complete soon, the newly refurbished AEON and Parkson outlets look more spacious and brighter, welcoming shoppers to a more contemporary shopping experience!
AEON is located at F2-80.
Parkson is located at G1. Parkson, LG1.Parkson, & LG2.Parkson.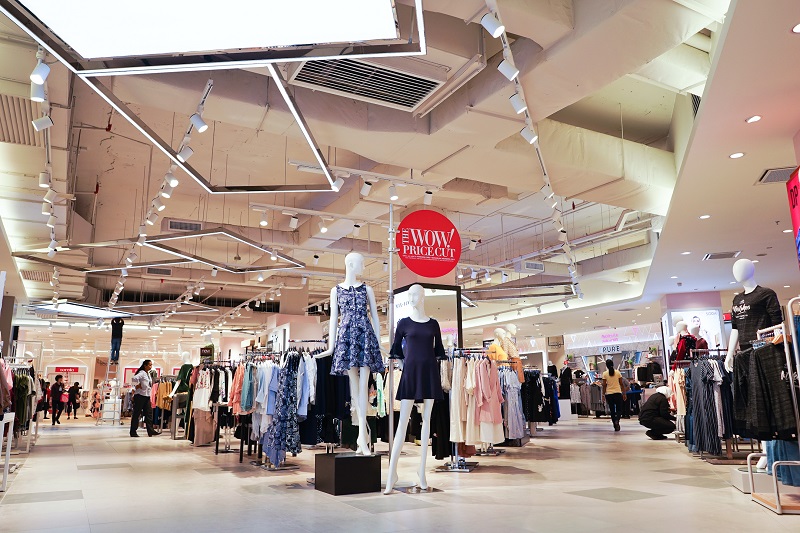 For the latest in baby fashion, mommies can also shop for your kids at Poney, The Baby & Kiko, Up to Eight, Mango, Padini, H&M, Cotton On Kids, Bata Kids (opening soon), Bata, Terranova Kids and lots more!
SERVICES FOR THE FAMILY
1. APT Professional Salon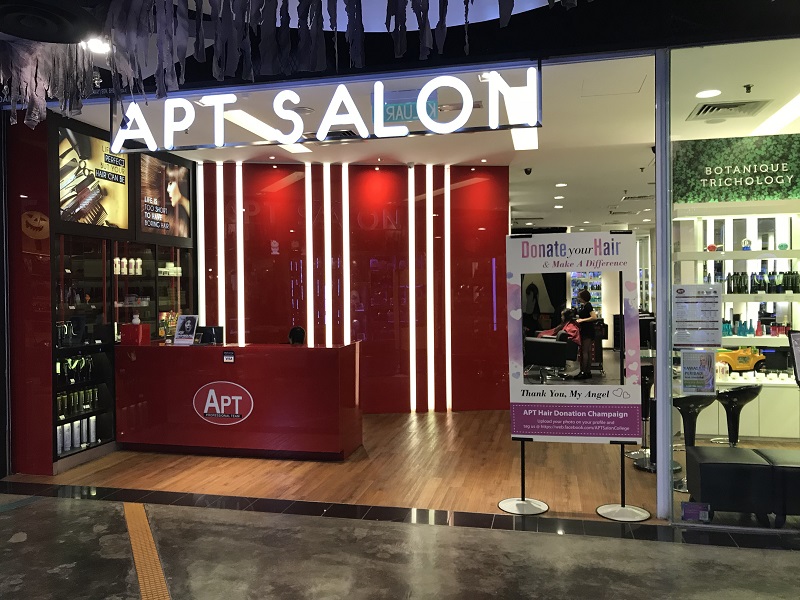 As one of the leading hair salons in Malaysia, APT Professional Hair Salon is no doubt a one-stop salon for both parents and kids alike. Their cute child-friendly car seat for the kids will surely keep your child occupied while the hairstylist gives them the best hairstyle!  
Located at F1.AV.03.
2. A Cut Above Salon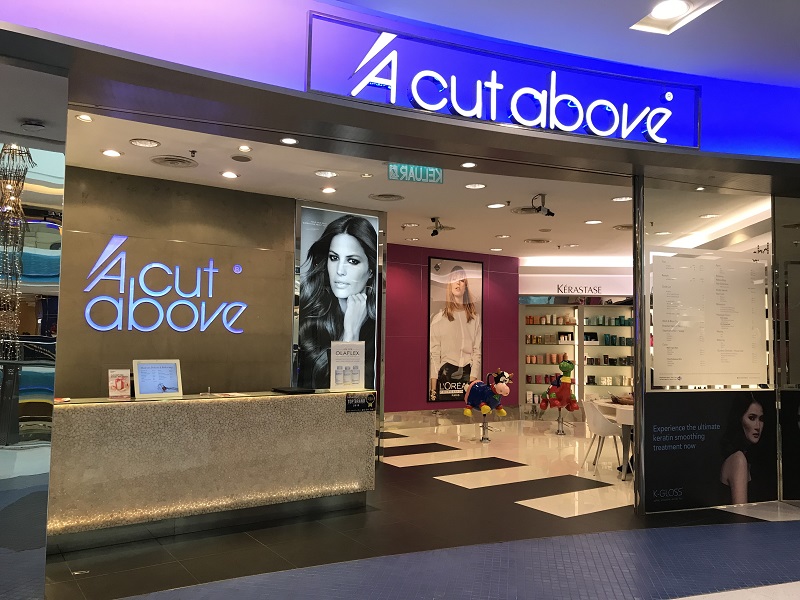 Little boys and girls will be absolutely tickled at A Cut Above Salon as they are perched on cute cartoon characters while the stylist works on their hair. A dedicated cartoon channel keeps them occupied throughout.
Location: G1.110.
With so much to do, Sunway Pyramid is truly a one-stop shopping and entertainment hub that will suit you and your family. Visit the mall and experience the excitement first-hand today!
SUNWAY PYRAMID SHOPPING MALL
3, Jalan PJS 11/15, Bandar Sunway,
47500 Petaling Jaya, Selangor.
Tel: 03 – 7494 3100
Website: www.sunwaypyramid.com
This story was sponsored by Sunway Pyramid Mall.