My kids love fish and seafood, thankfully! They are loaded with nutrients such as protein, vitamin D, omega-3 fatty acids, and they help in protecting our vision, improving sleep quality, preventing asthma in children, and keeping our mood regulated. I'm glad that my family enjoys eating them, but unfortunately, I'm a lousy cook. So it is always an exciting treat for the kids whenever we get to savour a seafood meal!
When the weekends roll around and we want to reward ourselves with a nice, comforting meal, the unanimous choice is always The Manhattan FISH MARKET. Maybe it's the friendly staff, the quick service, the relaxed family-friendly environment, or simply just the many delicious platters to choose from, The Manhattan FISH MARKET has always been a steady favourite in our family.
Hot Off The Shore!
This Holy month, we are thrilled to learn of The Manhattan FISH MARKET's newly launched Exclusive Ramadan, offering Ramadan platters from as low as RM65 nett and Premium platters from RM99 nett respectively.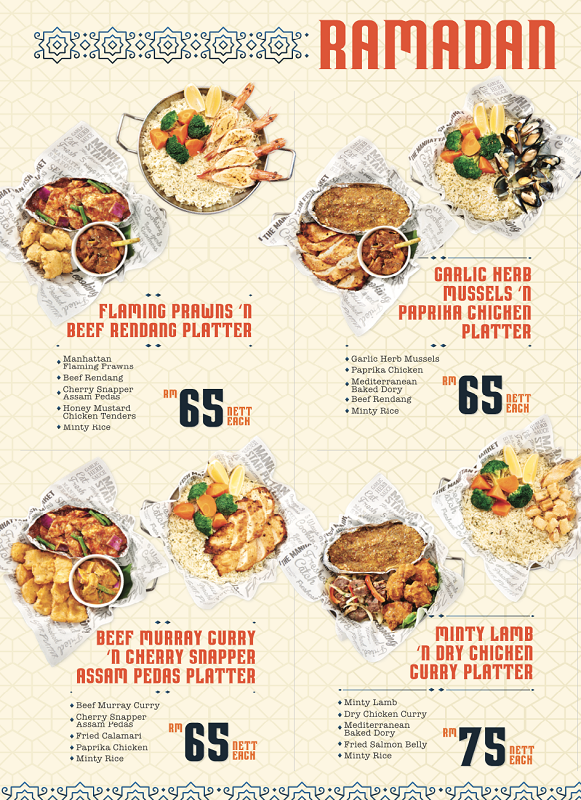 The Ramadan platters menu include drool-worthy items such as the Flaming Prawns 'n Beef Platter, Garlic Herb Mussels 'n Paprika Chicken Platter, Beef Murray Curry 'n Cherry Snapper Assam Pedas Platter, and Minty Lamb 'n Dry Chicken Curry Platter, so it doesn't matter if your kids are a meat eater or fish lover, there is something to satiate everyone's palates.
A Ramadan Catch & Stamp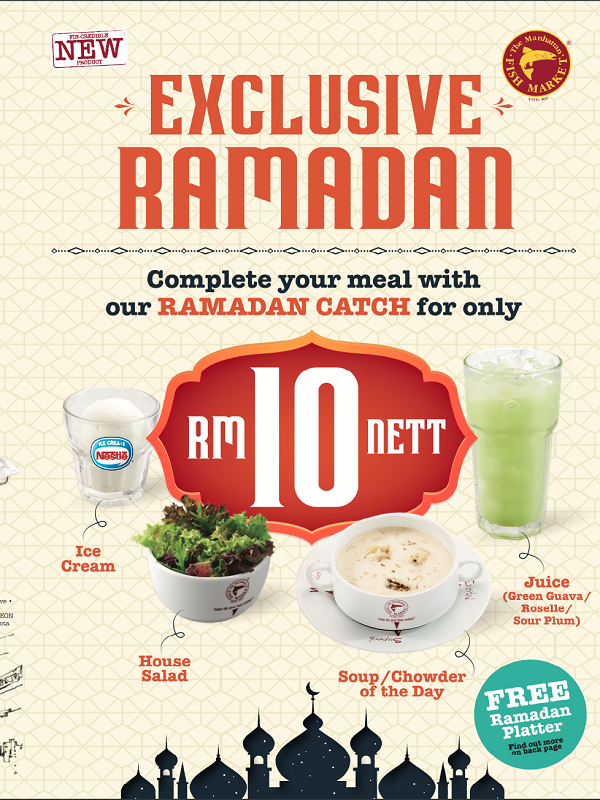 Now, what's a platter without all the lip-smacking side dishes right? With just RM10, you can complete your meal with the Ramadan Catch – which consists of House Salad, Soup or Chowder of the Day, choice of green guava, roselle, or sour plum drink, and ice cream. The best part? They are refillable! A good news for parents with growing children like mine (read: big appetite!); but what if my children are small eaters and we can't finish so much food? Food wastage is definitely not cool, and The Manhattan FISH MARKET got you covered as they provide kids menu too, so you can order your meal with just enough variety and portion!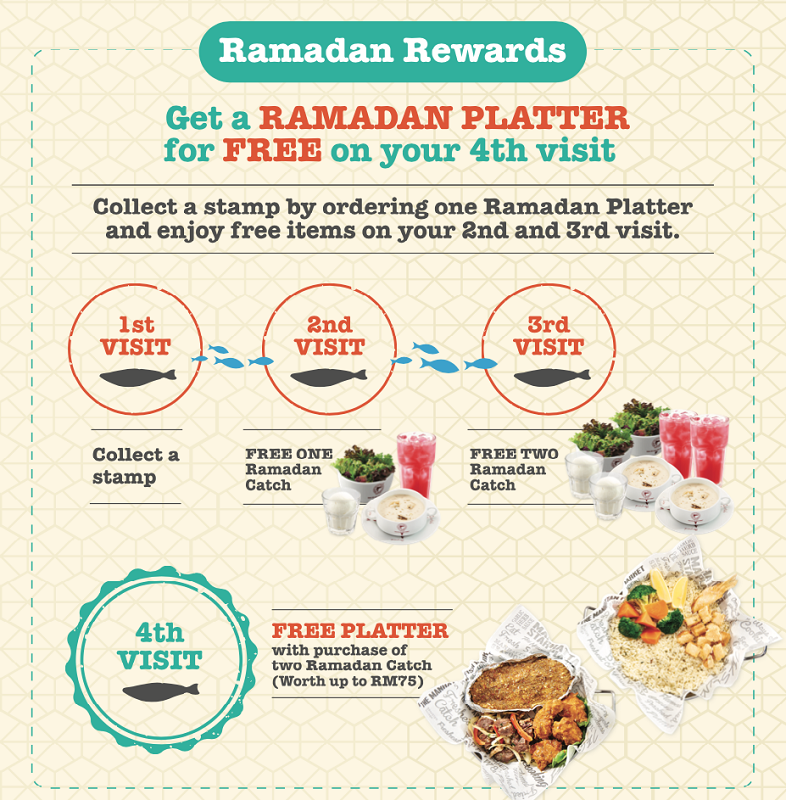 Get rewarded whenever you dine at the Manhattan FISH MARKET! Purchase any Ramadan Platter to collect a stamp, with that you'll receive freebies such as the Ramadan Catch on your second visit, two Ramadan Catch on your third visit and on your fourth visit, one Ramadan Platter for free with purchase of 2 Ramadan Catch! Talk about a rewarding meal!
Hitting Home With The Best Catch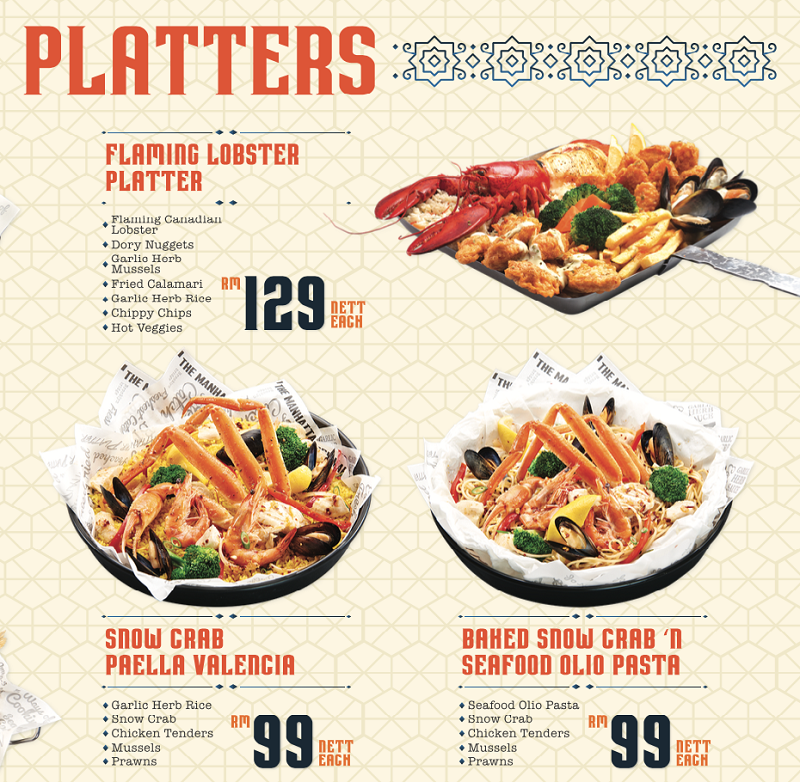 If you are feeling fancy and want a more authentic seafood experience, then definitely go for the Premium platters choke full of premium seafood; its scrumptious selections include the Snow Crab Paella Valencia, Baked Snow Crab 'n Seafood Olio Pasta, and the Flaming Lobster Platter! You may also order the baked snow crab, lobsters and oysters as an add-on instead of ordering another full platter so you'll have enough food to go around (and around!).

Good Times, Good Food, Always
Always seeking to innovate but keeping true to its wholesome seafood goodness, it is no wonder why The Manhattan FISH MARKET is an all-time favourite for many all these years. If you haven't tasted its yummy seafood and experienced its homely ambience, this Ramadan season is the perfect time! Come celebrate life's goodness and blessings with family and friends and jom berbuka puasa with wholesome, delicious food at The Manhattan FISH MARKET! I know what we'll have for dinner this month!
For more information, visit:
Website: Manhattan FISH MARKET
Facebook: @The Manhattan FISH MARKET
Instagram: @TheManhattanFISHMARKET
This article is published for The Manhattan FISH MARKET.