Sunway Resort Hotel & Spa's annual Jemput Makan themed buffet returns this Ramadan at The Resort Café.  Featuring a kaleidoscope of over 400 authentic dishes cooked up by a brigade of chefs led by Chef Mohamad Yatim Supaat, Sous Chef Tournant of The Resort Café, the team is set to tantalise the palates of all in the family, and their friends as well.
The multitude of mouth-watering selections served indoors on the restaurant's expansive buffet spread include Sambal Udang with Petai, Perut Lembu Masak Air Assam, Kupang Masak Merah Berserai and Ayam Masak Ala Gajus, as well as Steamboat with a choice of 70 ingredients and two types of broth.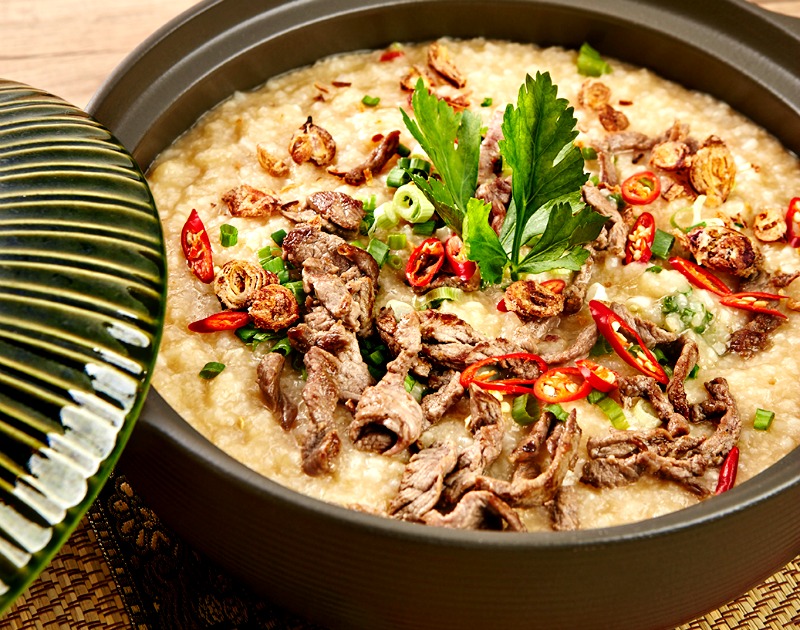 For those who like fresh vegetables, there is also a Salad Tower with an assortment of local fresh picks and a range of home-made dressings to dress them in. For those with a penchant for sweet, a  dedicated Dessert Corner serves trays of homemade Malay and Nyonya desserts. Sarawak cake lapis and an assortment of Raya cookies are also included.
But that is not all to the Resort Cafe's Ramadan buffet. Step outside the restaurant and you will find a further 10 food highlights served in bazaar-style stations with live-action cooking.
**For the convenience of all Muslim guests, Sunway Resort Hotel & Spa offers separate male and female prayer rooms, prayer mats, sandals, on-site ablution facility and an Imam to lead Muslims in their Maghrib, Isya' and Tarawih prayers, allowing guests to comfortably perform their religious duties before breaking fast.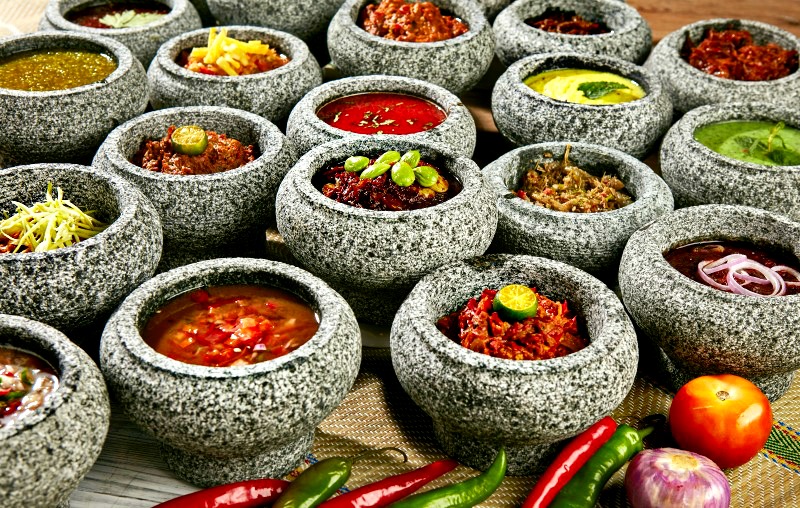 To Make Reservations
Jemput Makan at The Resort Café starts from 6.30pm to 10.30pm nightly from May 6 to June 4, 2019. The Resort Café is located at the Lobby Level of Sunway Resort Hotel & Spa.
The buffet is priced at RM188 nett per adult and RM98 nett per child (aged between six to 12 years. For those dining between June 1 to June 4, there will be a 40% off the buffet price for both adult and child.
FOR DINNER RESERVATIONS

at The Resort Café, please call +60 3 7495 2009 / +60 3 7492 8000 or email to srhs.bookfnb@sunwayhotels.com to secure preferred seats and/or tables. Advanced reservations are encouraged.

GROUP BERBUKA PUASA/PRIVATE EVENTS

For Group Berbuka Puasa gatherings of 60 persons or more, Sunway Resort Hotel & Spa offers specially tailored buffet menus for those interested in organising private or special get-togethers during the season. For enquiries, please call the Hotel's Sales Department at +60 3 7492 8000 or email srhs.eventsales@sunwayhotels.com
Over 400 Nostalgic Flavours to Choose From
Apart from The Resort Café's indoor spread serving everything from savoury to sweet, diners are invited to step outside the restaurant where more cooking and aromas await.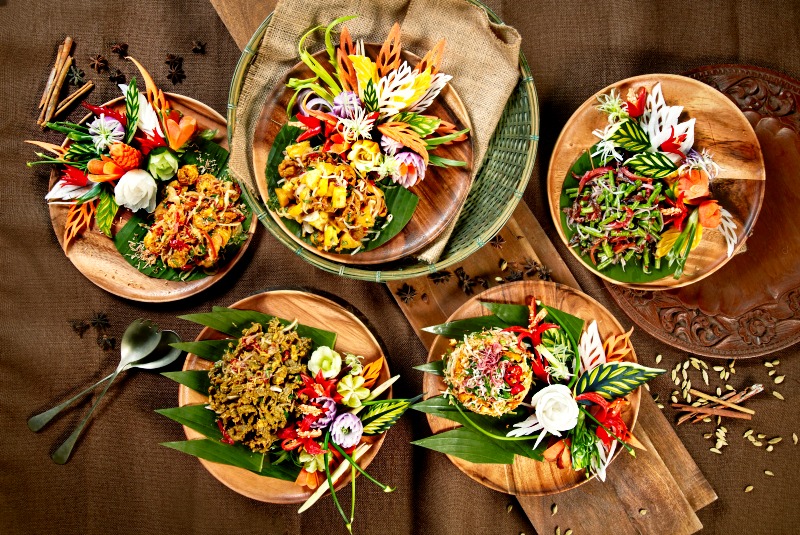 The 10 stalls include the Assam Pedas Gearbox Station, Churrasco Station, Seafood Bakar Station, Golek Station, Kawah Station, Warisan Station, Noodle Station, Nasi Station, Satay Station and Goreng-goreng Station.
Let's Look at the 10 Stalls One by One
1. Assam Pedas Gearbox Station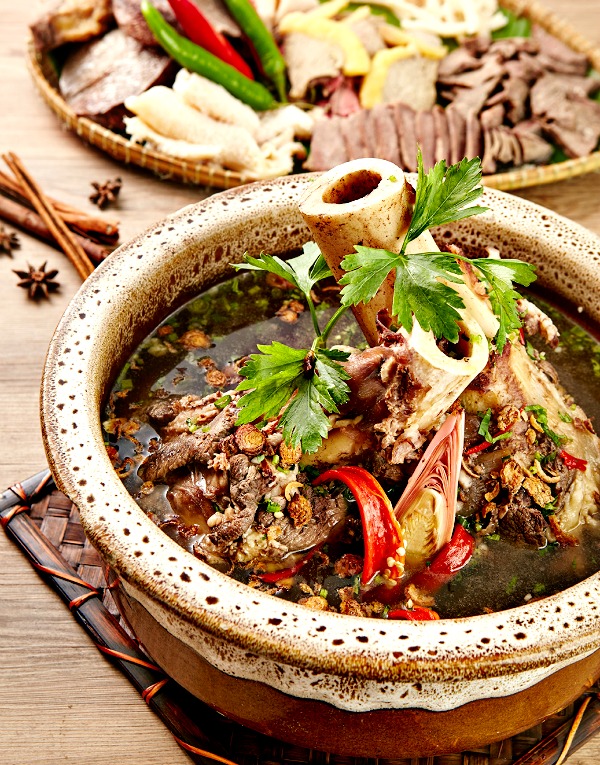 The chefs have given a new twist to the restaurant's signature Sup Gearbox Turbo by serving it with Assam Pedas soup instead. This favourite dish is cooked over a slow fire for eight hours and individual bone marrow which is the prized ingredient of this dish is served to diners from a large cauldron.
2. Churrasco Station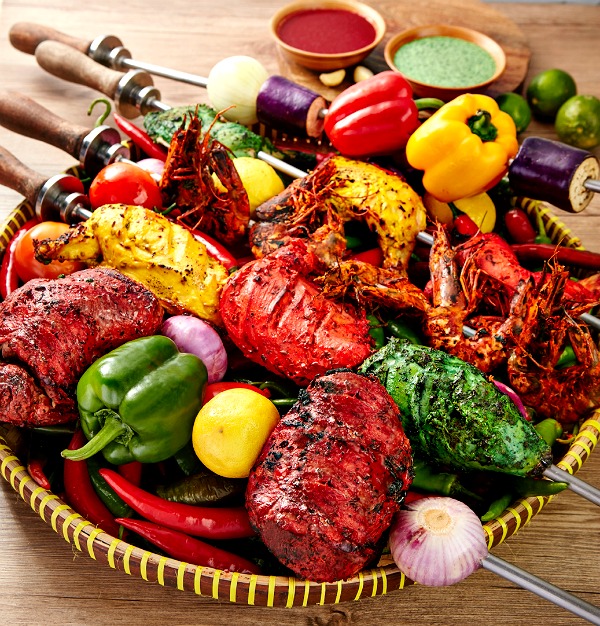 Here, you will find a variety of tender and juicy grilled-to-perfection beef, chicken and lamb. There are also fresh vegetables and fruits and a selection of Middle East offerings like Minced Chicken Kebab, Minced Seafood Kofta Kebab and more.
3. Seafood Bakar Station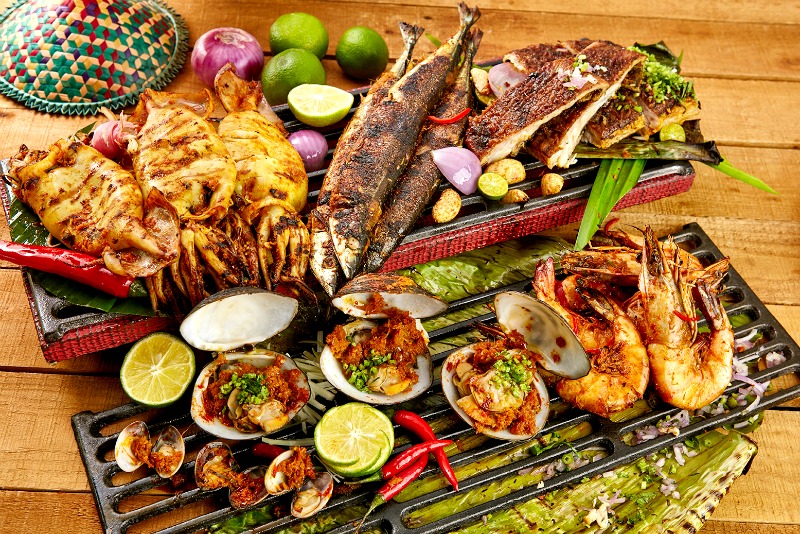 This is the station for grilled fresh seafood like Fish such as Ikan Pari, Kembong, and so on as well as seafood like Hokkaido Squid, Prawns, Kupang, Prawns, Clams and more.  These can be thoroughly enjoyed with the variety of home-made sambals.
4. Golek Station
Featuring a whole lamb, the chefs will slice the succulent meat directly unto the diners' plate. The lamb is marinated overnight with over 25 different local spices and mixed herbs such as old ginger, garlic, lemongrass, galangal, salt, masala, coriander, yoghurt, mint leaves and cumin powder.
5. Gulai Kawah Station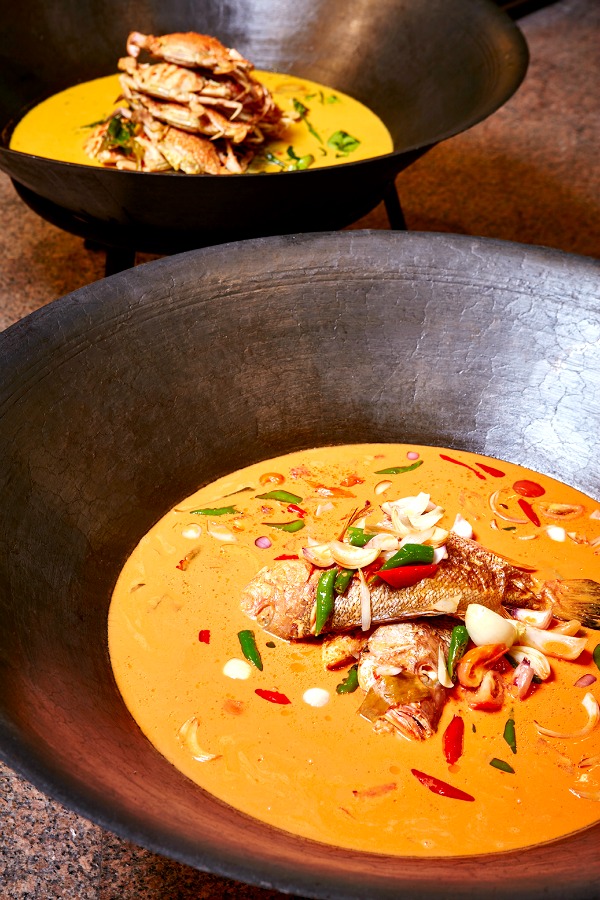 Here, a selection of Gulai Kawah that will be served from super-large cauldrons. The list of Gulai Kawah comprises Gulai Ayam Kampung, Gulai Ikan Tenggiri, Gulai Ayam Lengkus, Gulai Ikan Siakap Kepak, Gulai Daging, Gulai Kambing, Gulai Ikan Pali and Gulai Nangka Muda. Two or three Gulai Kawah are served nightly from eight rotational varieties.
6. Warisan Station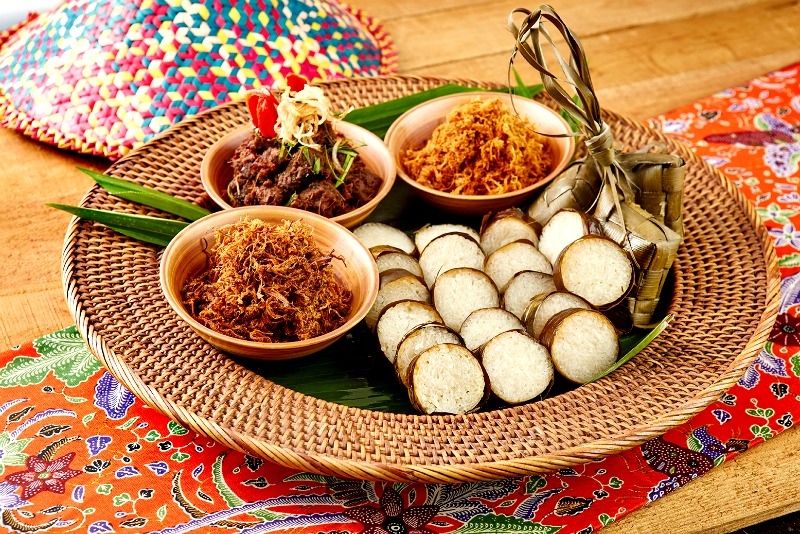 All the timeless dishes such as Rendang Tok, Serunding, Bubur Lambuk, Lemang Bakar, Ketupat and many others are served here.
7. Noodle Station
Noodle lovers will find their favourite fried kway teow and mee goreng prepared on the spot plus a variety of soup and gravy based noodles such as Nyonya Laksa Lemak, Assam Laksa, Prawn Mee and Wonton Mee Soup.
8. Nasi Station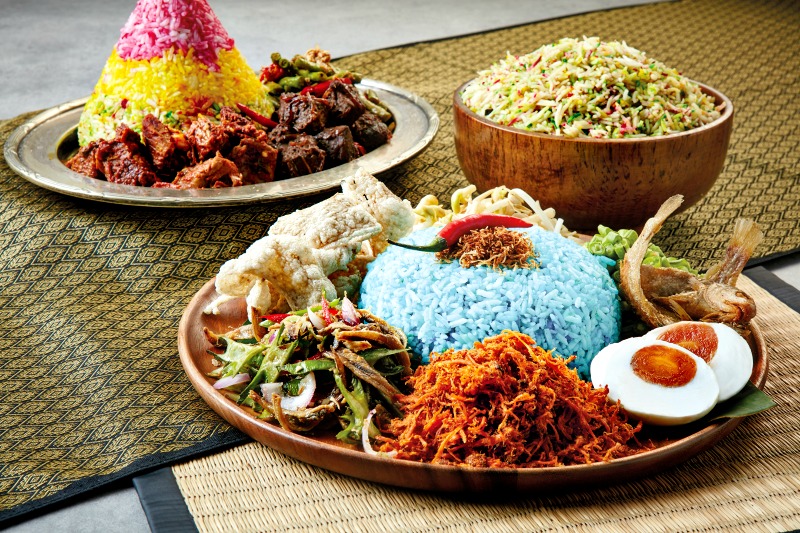 For rice lovers, there will be nine varieties of speciality rice dishes such as Stuffed Quail Briyani,  Nasi Bukhari, Nasi Hujan Panas, Oriental Rice, Steamed Rice, Nasi Minyak, and a selection of Middle Eastern preparations like Nasi Mandi, Maqluba and Kabsa.
9. Satay Station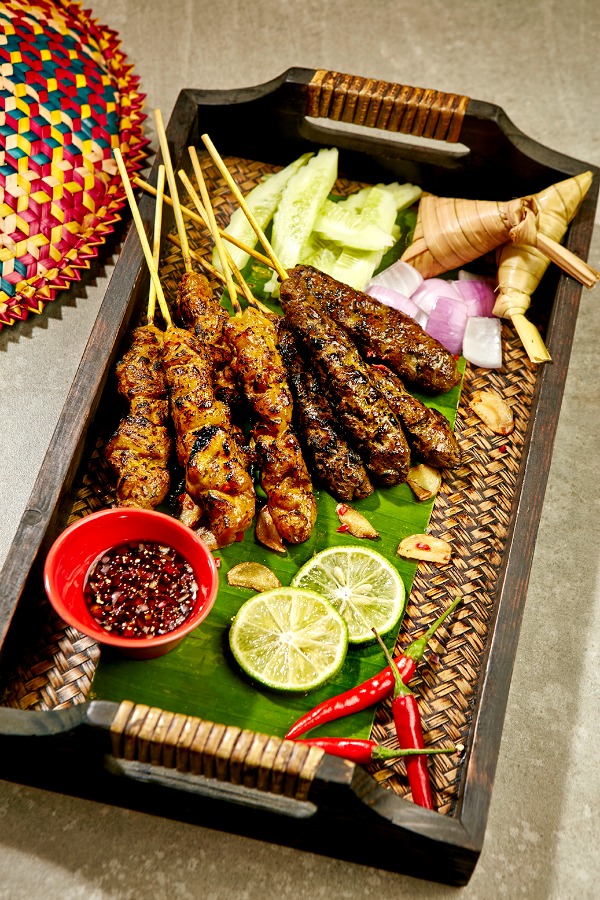 This is the ever so popular local favourite starter which includes beef satay and chicken satay served with Ketupat, Cucumber, Onion and flavourful home-made peanut sauce.
10. Goreng Station
This station will feature some of Malaysia's favourite tea-time snacks like Goreng Pisang, Cempedak Goreng, Keropok Lekor, Karipap, Ubi Keladi, Ubi Keledek and much more.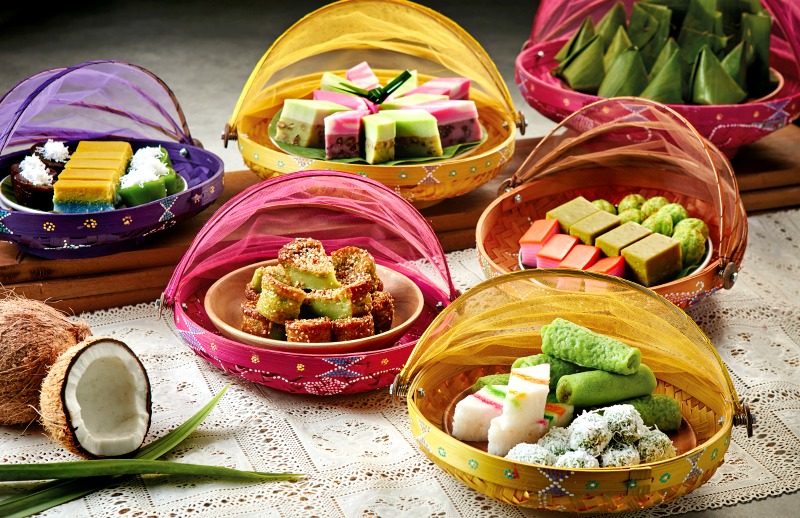 Other Continuing Delicious Offerings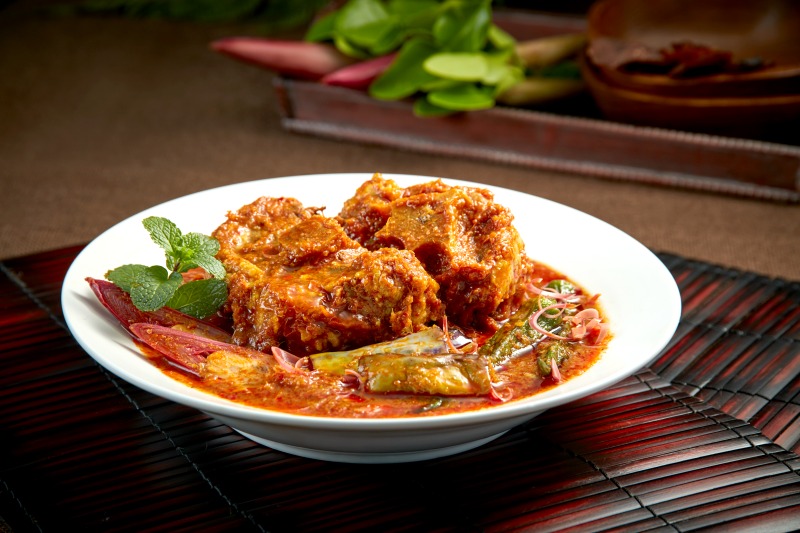 HARI RAYA HIGH TEA & DINNER BUFFET

on June 5 & June 6 2019. During the two days of the Hari Raya Aidilfitri celebration, the Resort Café, Sunway Resort Hotel & Spa will be serving high tea and dinner celebration buffet. Starting from 12.30pm to 3.30pm for High Tea and 6.30pm to 10.30pm for dinner, pricing is RM88 nett and RM125 nett per adult respectively.