Too many children these days snack on food with outrageous amount of sugar, fat and salt. This has been leading to some serious health problems in young children, including high blood pressure, diabetes and obesity. Snacking is an important part of a child's diet for it satisfies the appetite and gives the child the needed nutrients in his or her diet for optimum growth. So, the question is, are there such things as healthy snacks and will they be appetising enough to tempt young taste buds? The answer is, of course there are!
Snacking can be a way to make sure children get the necessary nutrients in their diets. Children have small stomachs that cannot handle large portions. Furthermore, many families often do not have time for properly set meals, so snacks can sometimes even supplement any missed meals. Many young snackers do not eat healthy foods. Eating healthier snacks can help ensure that children are getting a steady supply of essential nutrients. Here are some exceptionally healthy yet appetising and convenient snacks to whip up for young children to nibble on!
1. Baked Sweet Potato Fries
2 sweet potatoes
2 tbsp olive oil
1½ tsp chilli powder
1½ tsp fine salt
Method: 
Preheat the oven to 425°F. Cut each sweet potato in half lengthwise, and place it flat side down on a cutting board. Cut the potato halves into 1-inch-wide wedges.
In a small bowl, combine the oil, chilli powder, and 1 teaspoon of the salt. Place the potatoes on a roasting pan and brush with the oil mixture. Lay the potatoes flesh side down on the pan and put the pan in the oven.
Cook potatoes (turning once), until soft, for about 20 to 25 minutes. Remove the pan from the oven and season with remaining ½ teaspoon of salt. Let the wedges cool for a bit, and serve warm.
For dunking, ketchup always works (at 15 calories per tablespoon), or try a squeeze of fresh lime juice for a sourish effect.
2. "Tortilla" Pizzas
1 pack tortillas or mini tortillas (available at supermarkets)
Salsa
Shredded cheddar cheese
Desired toppings : chopped vegetables, fruits, etc
Method: 
Pile some salsa, cheese and fruits on top of each tortilla. Place onto foil-lined tray and toast till cheese is golden brown. Serve with a dollop of sour cream.
3. Oaty Bites
½ cup butter
½ cup shortening
¼ cup brown sugar
¼ cup honey
3 tbsp boiling water
½ tsp baking soda
¾ cup all-purpose flour
¾ cup whole wheat flour
¼ tsp salt
1½ cups rolled oats (pulsed several times in a grinder)
Method: 
Cream together the butter, shortening and sugars. Put the boiling water in a cup and add the baking soda to it and then add to the butter and sugar mixture. Beat well and then add the rest of the ingredients. Roll out on floured surface to your preferred thickness. You can also use some additional rolled oats for rolling. Cut into shapes and bake at 350°F for 7 minutes or until they are golden brown.
4. Whoopie Pies
2 cups flour
½ cup cocoa powder
1½ tsp baking powder
Pinch of salt
3 eggs
¾ cup oil
1¼ cups sugar
1½ cups pureed beets
1 tsp vanilla
Method: 
Sift together the dry ingredients (except the sugar) and set aside. Whisk together the remaining ingredients in another bowl. Add the wet ingredients to the dry ingredients and stir until combined. Drop tablespoons of batter onto parchment-lined baking sheets. Bake for about 10 minutes at 350°F  or until the cakes are fully cooked and slightly cracked on top.
Filling for the Whoopie Pies
2 tbsp softened butter
3 tbsp marshmallow fluff
1 cup confectioners' sugar
1-2 tbsp milk
Method:
Mix until smooth. Slather a dollop of frosting on the flat side of a cooled cake and sandwich with another cake.
5. Carrots and  Peanut Butter
Highlighted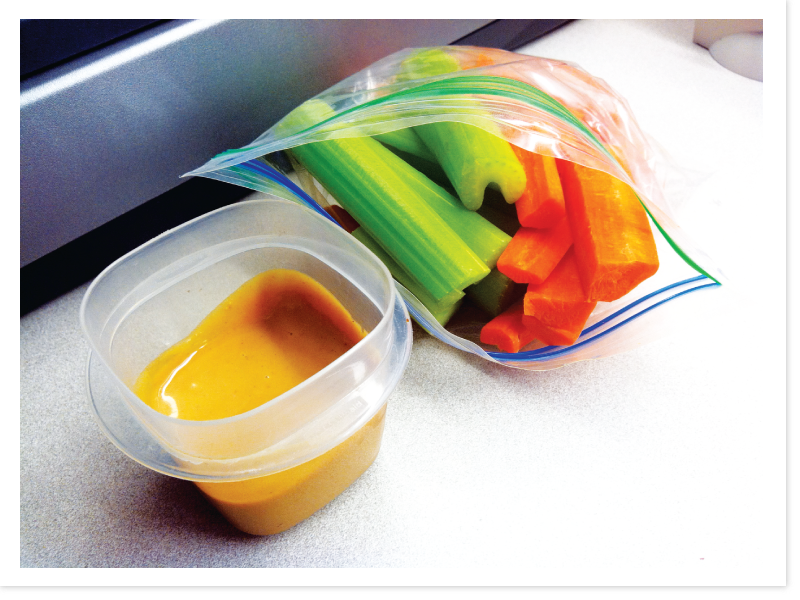 Trying to break the peanut-butter-and- jelly habit in the under-12 set is no easy task, but this mellowed peanut-sesame dip just might do the trick. It's equally good with carrots or any other fruit or vegetable.
What you need:
•  3 tbsp of peanut butter
•  1 tbsp of honey
•  A splash of soy sauce
•  A few drops of sesame oil
•  Water to smooth
•  Carrot sticks
Method:
Mix everything but the carrot sticks together with a fork or whisk in a bowl. Add water as needed to thin mixture to a dipping consistency (all-natural peanut butter needs more; everyday brands need less).
6. Sweet Cherry Dunks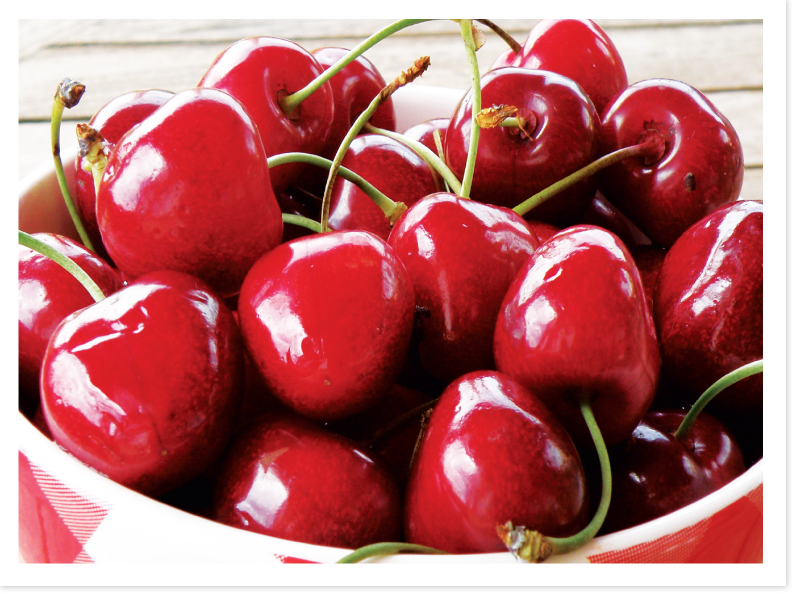 ¼ cup sour cream
1 tbsp brown sugar
¼ tsp cinnamon
Cherries with stems attached
Method: 
Stir sour cream, brown sugar and cinnamon together in a bowl. Rinse cherries and arrange them for dipping.
7. Good-for-You  Potato Chips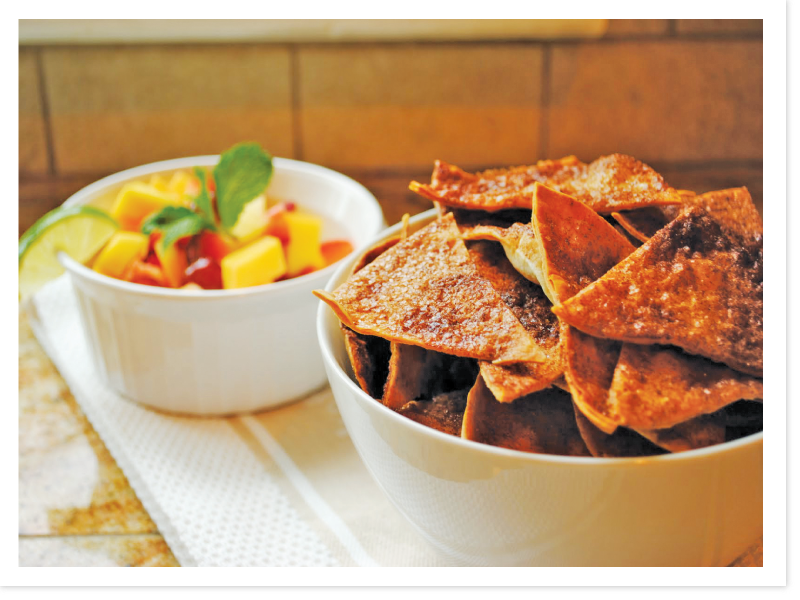 One Russet potato sliced paper thin
Salt (optional)
Parchment paper
Method: 
Cut a sheet of parchment paper to fit a plate. Lay potato discs on top in a flat layer, none touching each other. Sprinkle layer with salt, if desired. Cover with another sheet of parchment paper. Microwave for 5-6 minutes. Discs will become lightly browned potato chips.
8. Choc-banana Tortilla
Pat of butter
One banana, thinly sliced
Handful chocolate chips
Two flour tortillas
Powdered sugar for dusting
Method: 
Melt butter in a non-stick pan. Arrange banana slices over one tortilla. Gently mash bananas using a fork. Dot with chocolate chips and place second tortilla on top. Slide into frying pan and cook for a few minutes on each side, until brown and golden at the edges. Let cool for a minute or two. When cooled, slice into wedges. Serve dusted with powdered sugar. Bliss!
9. Fruit Jelly Delights
2 cups of your kid's favourite juice
(use organic juice if possible)
2 packets of unflavoured gelatin
1 tbsp honey
Method: 
Pour ½ cup of juice in a bowl and sprinkle gelatin over it. While this sits, heat the remaining juice to boil (can do this in the microwave for 2 to 3 minutes). Pour hot juice over juice-and-gelatin mixture and stir, adding in extra sugar if desired. Pour mixture into individual moulds and chill for three hours, or until firm.
10. Fruitillas
Tortillas
2 tbsp olive oil
Pinch of cinnamon powder
Fine sugar for sprinkling
Cut fruits
Method: 
Cut a tortilla into 6 pieces. Brush olive oil on each side. Sprinkle with cinnamon and sugar. Bake at 350°F for 8 to 10 minutes, or until golden brown. Serve with your kids' favourite fruit salad.
11. Rolling in the Fruit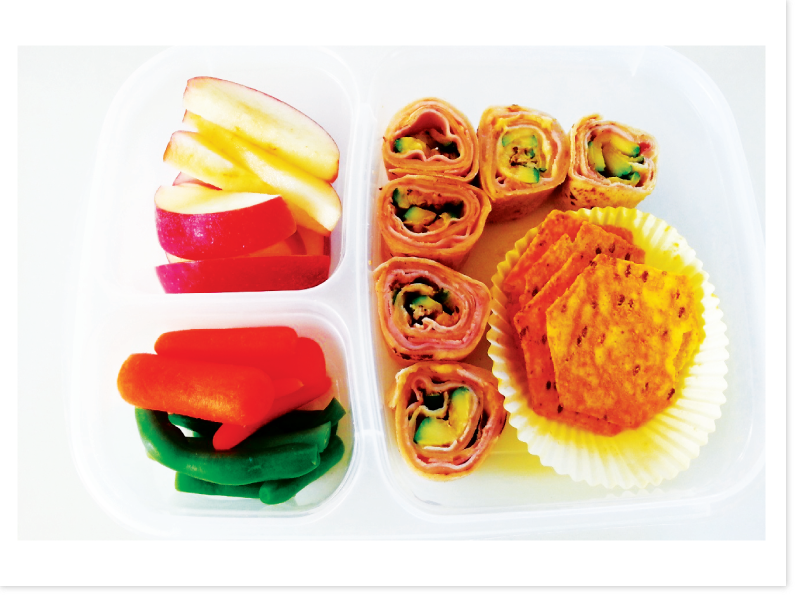 Green apples
Cheddar cheese
Deli chicken or turkey ham
Method: 
Slice apple into thin wedges. Top with a small slice of cheddar cheese. Wrap with a slice of deli ham.
12. Parmesan Cheese Sticks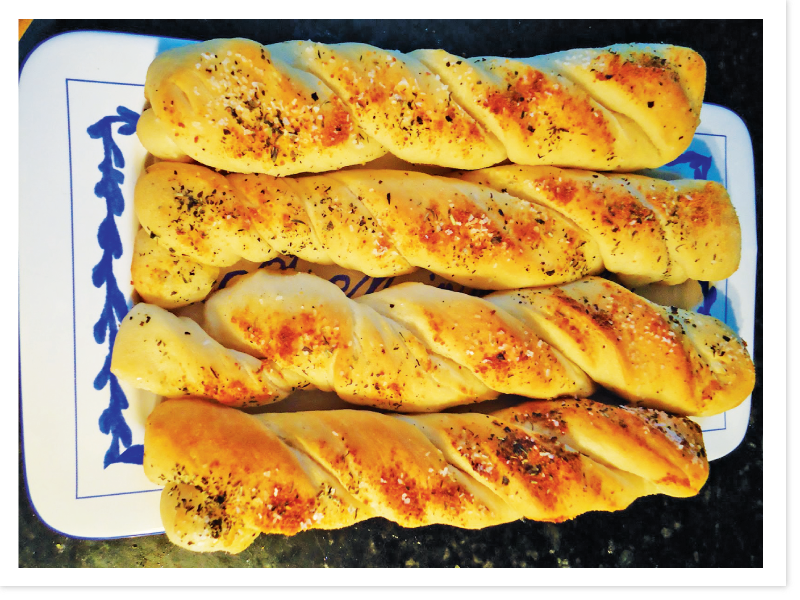 1 sheet puff pastry, defrosted
1 large egg yolk, beaten with 1 tbsp water
1/3 cup grated Parmesan cheese
1 tsp paprika
Scattering of flour
Method: 
Preheat the oven to 400°F. Cover two baking sheets with parchment paper and set aside.
On a lightly floured surface, unfold the puff pastry. Flour the side facing you and use a rolling pin to roll it to a 12-inch square. Brush the puff with egg mixture (you'll probably use less than half of what you've got, but that's fine).
Sprinkle the cheese and paprika evenly over the puff. Press the toppings gently but firmly into the puff to help them adhere.
Slice the puff into twenty-four 1/2-inch strips. Divide the strips between the prepared baking sheets, seasoned side up. Twist the strips twice, clockwise at the top and counterclockwise at the bottom, so that you've got one long spiral. Bake in the oven and cook until the twists have puffed and are golden brown. Let cool and serve.
13. Eggs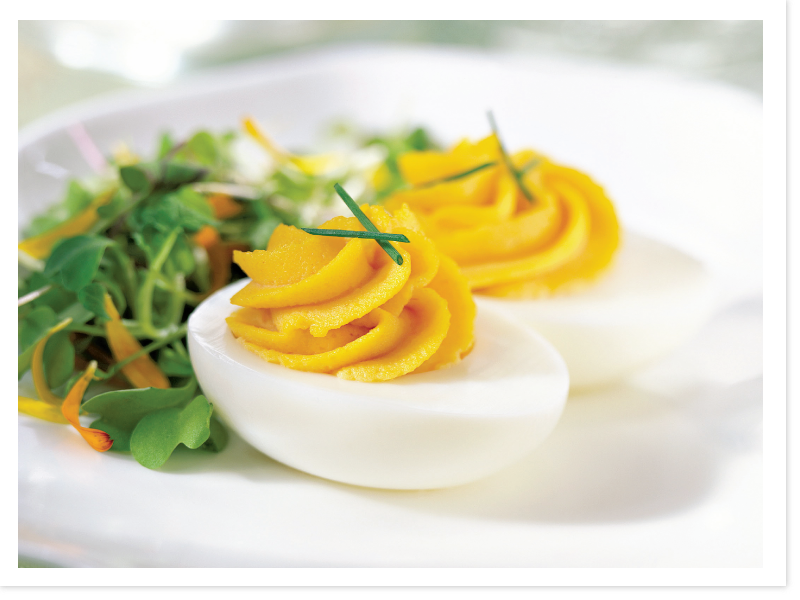 One egg provides a 4-year-old with almost one-third of her protein requirements for the day. Keep a bunch of hard-boiled eggs in the fridge (they last for seven days), or scramble an egg and roll it up in a ready-made tortilla. Soft-boiled eggs are an excellent breakfast option for older kids.
14. Raisins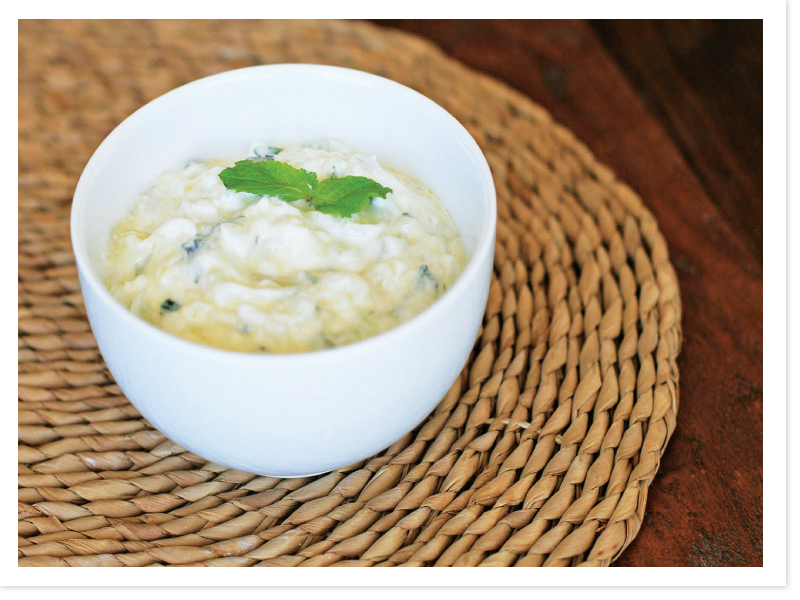 Raisins – ever so humble yet packed with nutrition such as fibre, potassium, and vitamins. Not all kids will like eating raisins as they are, though. Nevertheless, we're sure they will love to dip and swirl fruit wedges or vege sticks into a creamy dip with raisins!
 Try this:
8 ounces non-fat cream cheese
1- 2 tbsp fresh milk
3 tbsp brown sugar
¼ cup raisins
Apples wedges, pear wedges, carrot and celery sticks, for dipping
Method:
1. Blend cream cheese and milk together till creamy. Add brown sugar and pulse till blended.
2. Remove mixture to small bowl; stir in raisins. Serve with dippers.
15. Tomatoes
Your kids will love this fruity combination of tomatoes, cantaloupe, apples, and a hint of lime. Packed with lycopene from the tomato, vitamins A and C from the melon, and fibre from the apple, this healthy and delicious snack is a big winner.
Kiddie salsa:
3 cherry tomatoes, coarsely chopped
½ small red onion, chopped
¼ small cantaloupe, seeded, peeled,         and diced
1 apple, cored and diced
1 tbsp sugar
1 tbsp lime juice
¼ tsp salt
¼ tsp ground cumin
Method:
In a food processor bowl, combine tomatoes, onion, cantaloupe, apple, sugar, lime juice, salt, and cumin. Cover and use pulse setting with several off/on turns until chopped. Cover and chill for 1 to 6 hours before serving.
16. Whopper Waffles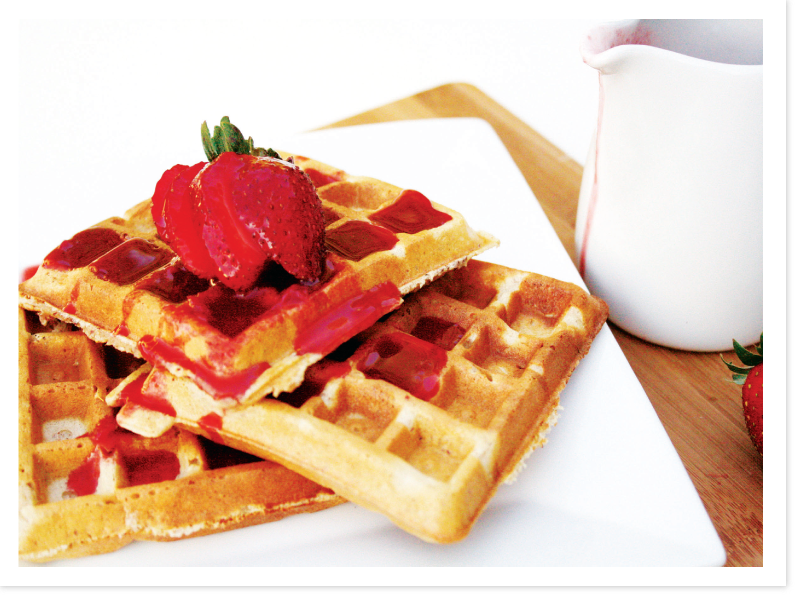 Instead of the usual peanut butter and jelly sandwiches, how about some waffles for a boost of iron and vitamins B6, B12, and A? These cool, kid-approved waffle sticks topped with reduced-fat cream cheese and a fruit jelly are a cherished treat for kids.
 Yummy!:
2 squares whole grain waffles
1 tsp reduced fat cream cheese
1 tsp apricot jelly (or any other flavour or combinations of flavours)
Fresh fruit (optional)
Method:
Toast waffles and cut into six sticks or squares. Spread each stick with cream cheese and use a spoon or squeeze bottle to spread or dot sticks with jelly. Top with fresh fruit.