Did you know that massaging your baby brings many benefits to both you and your little one? Babies thrive when they are held and loved because the human touch has the power to emotionally engage and connect, more so when it is mother holding and caressing baby.  And so it is that with each loving stroke of your hand, your baby will feel your love and reassurance, helping him develop trust and confidence while deepening that bond between the both of you.
These are precious moments to be treasured because not only will baby feel more contented, relaxed and calm, so will you in expressing your affection through your touch.
Baby massages have been known to soothe baby so much it improves his sleep patterns too, especially when he is still a newborn adjusting to the sights and sounds of his brand new world. A baby that sleeps soundly will allow you to catch up with your forty winks. The rest time for you will aid your recuperation and well-being during your confinement period.
Not only does massage help baby sleep better, research suggests that baby massages stimulate baby's developing circulatory and gastrointestinal systems, helping him feed and digest better and achieve his growth milestones. Baby massages can often help alleviate common digestive and developmental problems too. These problems include:
Gas and colic
Constipation and elimination
Growing pains and muscular tension
Teething discomfort
Cramps
At the same time, it accelerates his neurological and neuromotor development ─ big words that simply mean helping your baby gain and build muscle tone and flexibility so that he grows up strong, become less stressed and hence cry less, smile more, become more alert and aware and ultimately grow up to be a happier and better-adjusted child.
Baby massage is usually introduced in the first few weeks of birth. How often you want these intimate mother-baby moments is up to you and baby. There are no hard and fast rules. Some parents massage their babies every day, some every other day or several times a week or it can be a nighttime routine to induce relaxation for bedtime as baby grows up.
Choosing the Right Baby Oil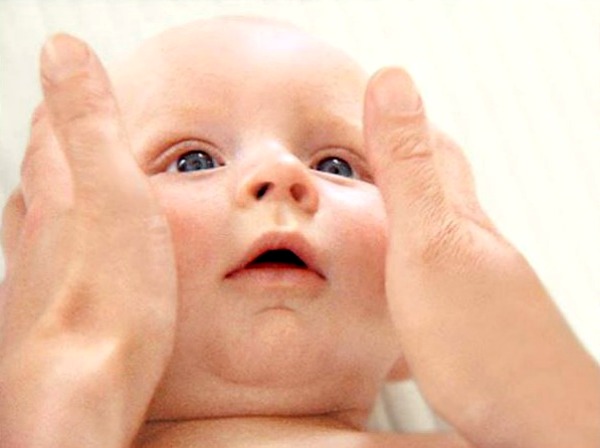 Now that you know all the benefits of massaging baby, how do you do it? For starters, applying a little baby oil helps to smoothen the touch and reduce friction on skin.
Choosing the right baby oil is just as important as putting the right touch on baby to draw maximum benefits from your massage session. Choose a product that is:
Well-known
Co-developed by Dermatologists and Pediatricians
0% Paraben and Colorant
Gentle on Baby's Skin
Ensure that the baby oil provides the best and gentlest moisturisation especially for babies with dry and flaky skin, or those with cradle cap as baby oil is kind to the scalp.
NIVEA BABY Soothing Caring Oil
 NIVEA BABY Soothing Caring Oil is a multi-purpose baby product, not just for baby but also for you and your entire family.  As a skin protector, it is specially formulated to gently care and cleanse baby's delicate skin, keeping it soft and smooth.
How Does the Baby Oil Care For Baby's Skin?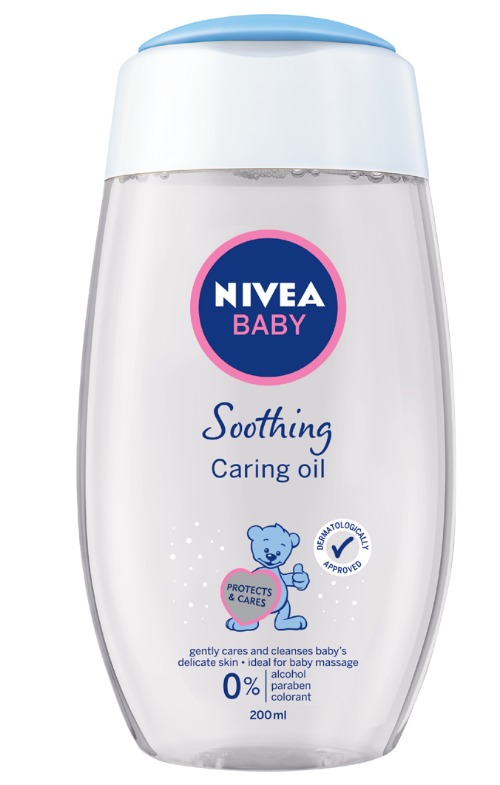 NIVEA BABY Soothing Caring Oil is dermatologist and clinically-approved with 0% paraben, alcohol and colorant. It also contains no animal oil.
+ Perfect for Baby's Gentle Skin
As the skin of young babies still isn't fully developed, it requires gentle care. Using NIVEA BABY Soothing Caring Oil is a great way to keep it soft and smooth while providing the protection it needs.
+ Providing Baby with a Natural Skin Barrier
Babies' skin is thin and although it can take in moisture more quickly than adults, it can lose it more quickly too. Using NIVEA BABY Soothing Caring Oil provides the skin with a protective barrier, preventing moisture from escaping and stopping the skin from drying out.
The best time to apply baby oil is when the skin contains the most moisture. By applying the oil when the skin is still wet, you can rest assured that you are locking in the most moisture and keeping your baby's skin hydrated for the longest time possible.
+ Great for Baby as He Grows Up & for Whole Family Too
NIVEA BABY Soothing Caring Oil is a versatile product. Not only can it be used for baby all the way from newborn to childhood, adults can use it too. Some people use it on the dry ends of their hair to prevent split ends and dad can use it too as shaving cream.  The oil can also be used to remove stains on skin from latex paint.
NIVEA BABY Soothing Caring Oil is not just for babies though.  It is great as the family's moisturizer and facial cleanser or for mum to keep pre and post pregnancy skin supple and smooth.  Best applied on wet skin, it creates a protective seal on the skin ─ whether on adults or babies.
---
How To Massage Baby
 ~ A Step-by-Step Guide ~
When baby is calm, alert and feeling comfortable, lie him down on a towel or his crib and undress him. Make sure you and baby are in a quiet and comfortable spot away from noise and distraction so that both you and baby can focus on each other and derive the maximum benefit from the power of touch.
Warm a little NIVEA BABY Soothing Caring Oil in the palm of your hand and you are ready to begin.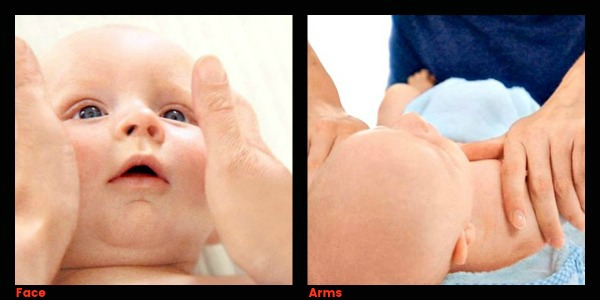 Gently trace circles around his eyes, across his nose and along the cheeks to the ears. Then concentrate on circles around the mouth and down the chin to the neck area.
Use your fingers to gently stroke down his arms while massaging his arm muscles. Then grip the arms above the wrist and gently pull in a downward motion.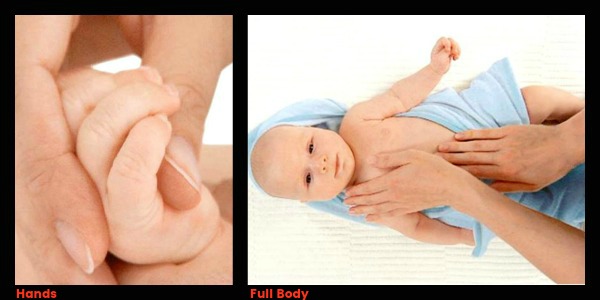 Take your time to work NIVEA BABY Soothing Caring Oil into every finger individually while holding baby's forearm. Then gently massage the palms.
Slowly massage the entire length of your baby's body from head to toe in a single motion before stroking from his shoulders to the tips of his fingers.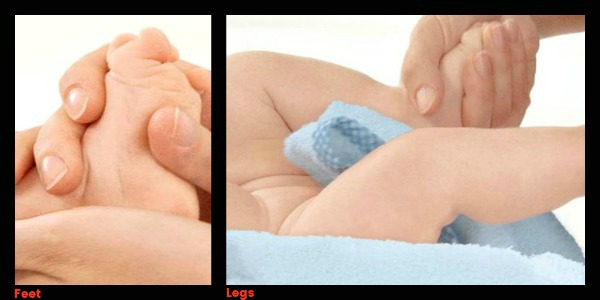 Take one foot and cover it in the baby oil, gently making small circular motions on the sole of the foot using your thumb before massaging each toe individually.
Start at baby's stomach and stroke all the way down to his toes, using the baby oil to massage their leg muscles. You can then start to move the legs in a cycling motion to work these muscles.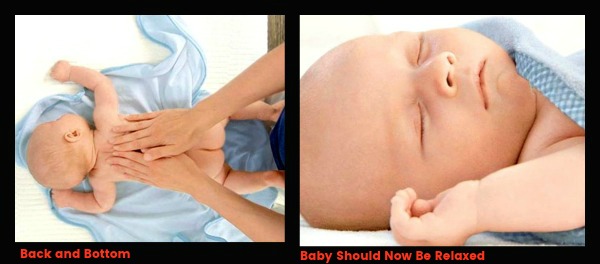 Gently roll your baby over and begin to massage along from the arms to the shoulders and then down to the toes. Make sure to pay particular attention to tracing the muscles in the spine.
YOUR BABY SHOULD NOW BE RELAXED
Baby massages using baby oil should leave most babies soothed, relaxed and ready to sleep. Enjoy this precious bonding time with baby.
---
The NIVEA BABY Range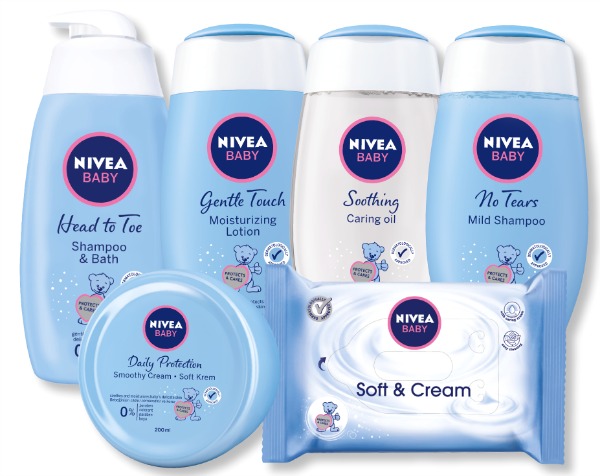 Apart from NIVEA BABY Soothing Caring Oil, there are five other products in the NIVEA BABY range. They include:
NIVEA BABY Head to Toe Shampoo & Bath: A two-in-one, it gently cleanses both baby's delicate skin and fine hair without drying.
NIVEA BABY No Tears Mild Shampoo: Especially formulated for baby's scalp and hair. No Tears formula is gentle for delicate eyes during bath time.
NIVEA BABY Gentle Touch Moisturizing Lotion: Moisturizes and protects baby's delicate skin daily, making it healthy and soft while strengthening the skin barrier.
NIVEA BABY Daily Protection Smoothy Cream: Moisturizes for 24 hours to soothe baby's skin from irritations and strengthen the skin barrier.
NIVEA BABY Soft & Cream Wipes: Soaked in tenderly caring soft cream, it gently cleanses and provides stressed and irritated baby skin with instant care and soothing relief.