Highlighted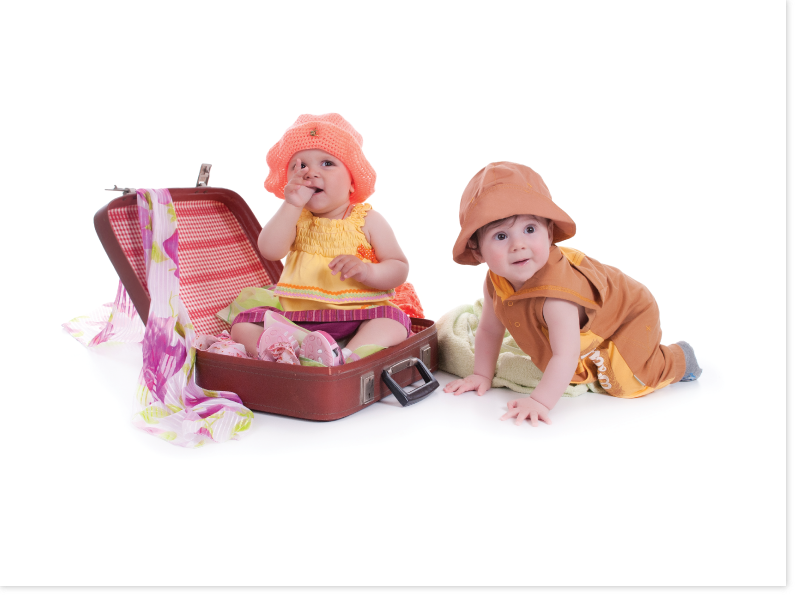 Travelling with small children, needless to say, is a challenge on a league of it's own.  Babies and toddlers warrant your attention all the time. The main concern when traveling with small children, is of course, is safety. Other than that, little ones also tend to get moody and whiny when bored on long flights.  For all these reasons, many parents defer their long awaited family vacation. However, it is possible to overcome the obstacles of travelling with kiddos  with little bit of planning. Read on for some air travel tips  to help you tackle any kind of unforeseen crisis.
Reserve a seat for your child
This is one of the most helpful tip you will ever receive in regards to safety and added comfort for your child. Toddlers below the age of two are allowed to travel on a parent's lap, but using an airline approved car seat is a much more safe and comfortable option for both junior and you. For added convenience, arrange for a seat closest to the washroom.
Smart Carry-on bag
Keep a separate carry on bag or back pack where you pack all essential items that you need on board. Don't forget to include some easy-to-eat snacks that your little kid can nibble on.  Your carry-on  should also include some favorite toys to keep your little one occupied. For the music-loving kid, carry a portable DVD player and headphone. An extra pair of clothing for the child and also for yourself is a must, (to manage any spit ups or spills or any other little accidents.)  Lastly, include a favorite blanket for comfort and warmth.
Start early
When travelling with kids, time is of essence and sufficient time to get things done is something every parent can nicely do with. On the day of journey, start your day early. Take time to ensure that little ones are dressed comfortably in clothes that are suitable for the weather condition.  Take time also to serve them some food so that they do not feel hungry before you board the flight. Make it a point to reach the airport before the scheduled departure time of the flight to avoid any last minute confusion.
Location, location, location…
Position your child away from the aisle. Little ones have a tendency to reach out or even wave their little arms here and there.  Being seated in the aisle seat is not a good idea for they may get hurt by people moving on the aisle. Preferably, they should be seated in between two adults.
Pressure be gone!
During take off and landing, children tend to get nervous because of the pressure felt inside the ears. Offer feeding bottles to your baby to help ease off the pressure. For toddlers, sucking on a candy can provide them a lot of comfort. You should also teach them beforehand how to 'swallow' to make themselves feel better.
I got my eye on you, baby
Don't plan for extensive shopping trips if it is going to be just bub and you. For a child that is just learning to walk, an hour or two at the most, is plenty of action!  Even if you use a stroller, it's not likely going to make much difference. After all, NO ONE appreciates  being confined for too long. Allow for some leg-stretching now and then and keep shopping trips to minimal time.
Moody blues..
A parent can do his or her level best to prevent any kind of inconvenience to your fellow passengers but no one can control a child's bad mood. When kids get restless and start making a lot of fuss, it's time to ignore reactions or stares from irate passengers and focus on pacifying your child. Remember that your little one's comfort and needs are more important than strangers' impressions of you.  If required ask help from flight attendants.
Keep cool!
When travelling with a small child or children, it's really important not get panicked unnecessarily. Children have this uncanny ability to sense when their parents are tensed and they may feel nervous too. Hence, no matter what the situation may be, keep your cool and pay due attention and priority to your little one.