With the long Chinese New Year holiday almost upon us, thoughts of travelling must surely be on your mind. Perhaps you are planning to go back to your hometown to visit your relatives or thinking of vacationing with your family in some far-off destination.  But…isn't there is one "problem"? Your baby is still breastfeeding and the older one is barely out of diapers. How will you manage their feeding times and toilet breaks while on the move? What do you pack? How much do you pack? Do you bring along everything including the kitchen sink? And how will you keep your sanity when your sweet little one throws a fit and screams to get off the plane in mid-flight?
Lucky for us, four globe-trotting mums have consented to share with Motherhood their tips and tricks on how they keep their tots-in-tow tantrum free when they zip around and in and out of Malaysia time and time again.
Here is How They Do It:
Timing is Everything
Tina: Travels with Two Daughters, Five and Three Years Old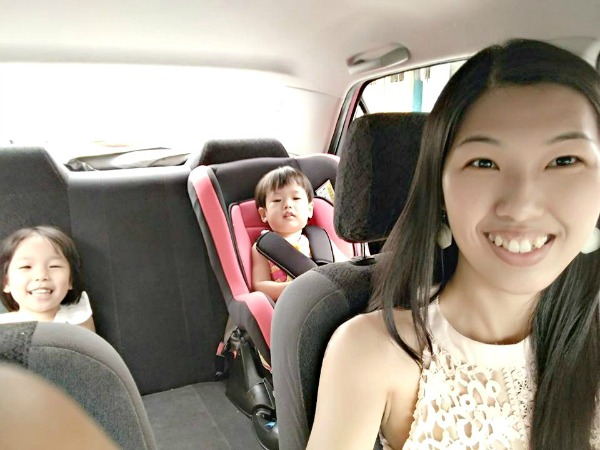 My husband is overseas pretty often. I remember, the first time I travelled alone with my daughters was on a flight to Johor Bahru to attend a wedding that he had to miss. My daughters were four and two at the time. But then again, I have been driving to Johor and Ipoh by myself with my two girls since they were born. Our recent trip was to Thailand where we stayed six days in Phuket. The furthest we have been was to Korea and Taiwan. We travel overseas annually.
Take Advantage of Their Nap Time
I always plan my trips to be as relaxing as possible. If I have to drive back to my hometown, I only drive after lunch when my two kids are sure to be taking their nap in the car. I would always bring along their favourite blanket and bolsters and they will both be strapped in their car seats. Within 30 minutes, they will be fast asleep and I can enjoy a relaxing drive back which usually takes about three hours.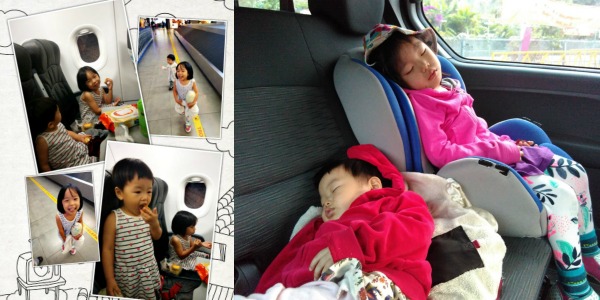 When we were in Taiwan and Korea, our visits to places were always in the mornings until lunch time. I made sure I planned their nap times for the afternoons so that they will nap in the car or in the hotel or in their stroller while we travelled or planned for the next destination.
If they are on long flights, I make sure their flight times coincide with their sleep or nap time.
Keeping It Together
When in the plane, I will always prepare something like colouring and snacks to occupy them. Snacks like honey stars or puffs works best for my two children.  I have found that Water Wow Travel Activity colouring books also works for my kids. The attached pen just needs to be filled with water and they will enjoy colouring during the flight. I also usually bring a toy that they haven't seen or played with for a long time or some small new toy during travel.
I make sure I myself refrain from drinking  too much water before the journey as it always makes me go to the restroom. As for my children, when I am not confident, I just put on a diaper each time we travel.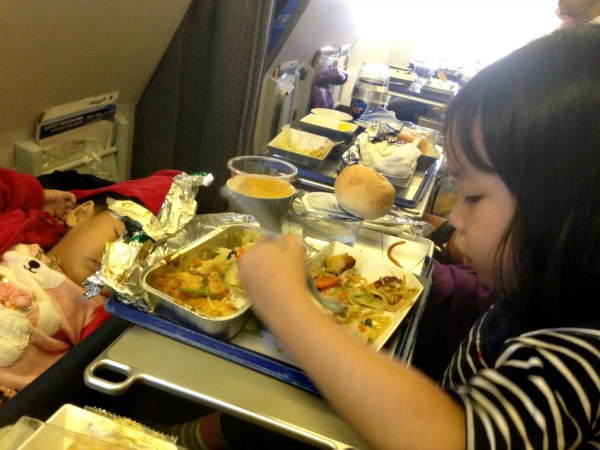 Hauling Baby Around
Car Seats and Baby Carriers
I never bring a car seat when I travel but I do bring baby carriers. To ensure there is a car seat available, I make sure I rent cars that come with a car seat. I will make a booking beforehand  from the car rental company.
I would estimate five to six diapers for each child per day. I bring all the diapers that my kids use.
I always ensure we eat hotel breakfast when we travel. When my kids were still babies, I would bring hardboiled eggs and bananas from the hotel breakfast. Sometimes I would pack porridge from the hotel in a thermos and that will be their lunch: Porridge, eggs, bananas and bread. Both my kids are still drinking milk from bottles so we always have to travel with their milk bottles and powder.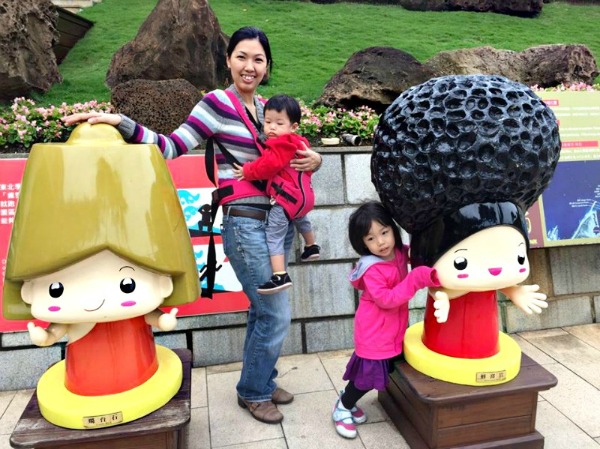 Hiccups & Bloopers
In Thailand, we did get stranded at the airport and had to extend our stay due to unforeseen circumstances.  But we celebrated with an extra day in Bangkok and the kids were thrilled.
It is also important to bring medication for the children. In Taiwan, my elder daughter had high fever. In Phuket my younger daughter had stomach flu. So it is important to bring a thermometer, get travel insurance and make sure we have all the medications.
---
Make It Simple
Dainese: Travels with One Daughter, Shi Ya, Six Years Old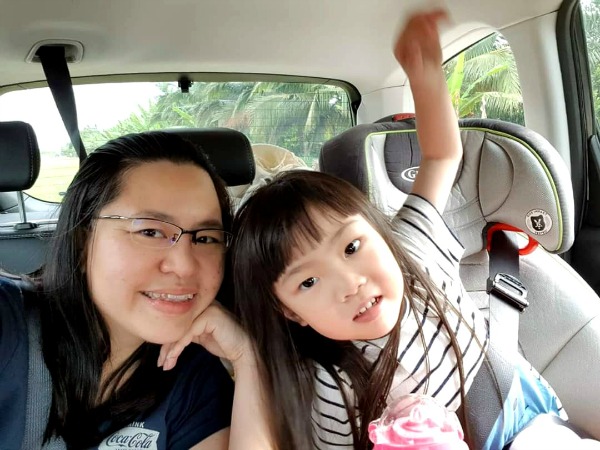 My husband Johnny and I plan a minimum of three trips a year excluding trips going back to our hometown. Normally two trips will be by flight and one by car. Shi Ya's first trip was when she was three months old. We drove to Kuantan, Cameron Highlands and Ipoh. Her first flight was when she was 11 months old. We went to South Korea.
Our last trip was to Li Jiang, China at end December 2018. It was an eight-day stay. We did not move around but stayed in at the guesthouse. The weather was ranging between 17°C to -2°C. Mornings were cold at 8°C, and afternoons were 17°C, dropping to 7°C by the evening.
Slow and Steady Wins The Race
We kept the trip as simple as possible. We only made two trips out of the ancient city, the other days we remained in town and just walked around and sat in cafes to enjoy the slow moments together as a family. My girl learnt a lot about nature and China's traditional culture. She asked about the snow mountain, she saw real yaks eating grass at the roadside, she experienced the bonfire in the city square where people danced around every night. We explained everything to her so she has knowledge of all the new experiences happening around her. She even had her first horse ride there.
Keeping It Together
The toughest part about flying is managing the ear pressure during take-off and landing. When she was younger, I used to give her bottled milk to suck to relieve the pressure. Nowadays, I prepare a lot of snacks such as gummies, sweets, biscuits and even saline nasal sprays to help her cope with the pressure. But we always try to arrange the flight time at night where she can sleep during take-off and landing. If she is awake, her entertainment would be colouring and her Ipad which is installed with children's games so that she can play offline.
Travelling by car is easier as we have unlimited space to store her stuff. I usually load up with fruits, snacks, bread, plain water, packet fruit juice and milk. Once she is full she will sleep. We don't allow the Ipad or handphone in the car. We did, however, face a six-hour journey from Penang back to KL. Our solution is to route out the main highway and use the trunk road where there would be more scenery for my girl to enjoy. At the same time, it is easier to find a toilet if required. Sometimes we will need to stop at the road side for her because she only informs at the last minute. We will even route to other small towns just to stretch out at a park, or stop to buy famous goods at that town. We normally plan for worst case scenarios, thus research on small towns outside the main highway is necessary.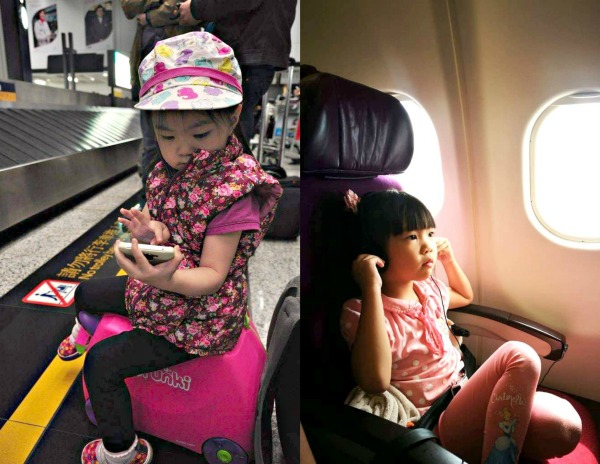 As my girl is bottle-fed, we didn't have much issue on feeding her anywhere. I just ensure I am equipped with hot water. During her semi solid years, I would pack dry cereals and search for porridge for my girl but will mainly depend on milk. When she moved to eating solids, she ate together with us. Of course, I did my research in advance regarding hygiene of the place but I standby with bread and biscuits just in case.
Hauling Baby Around
Car Seats and Baby Carriers
If we need to engage in transport, we usually hire a baby car seat. But now we have purchased the simple portable car seat called mi-fold Grab & Go which we bring along when we travel.  We used to bring along a baby carrier but when she was 18 months, we changed to a stroller. Sometimes a stroller is not convenient. For instance, in Li Jiang, all the roads in the ancient town was stone pavement!
I usually bring the average number I need and some extras. If that is not enough, I will buy but I always try to bring what I use in Malaysia as my girl is a bit sensitive to new brands.
Hiccups & Bloopers
When she was 11 months in Jeju, we placed her on the grass to take photos of her.  People walking past also joined in and started taking photos of her. Suddenly Shi Ya became a model!
There was one time we needed to delay an entire bus in Taiwan because my girl needed to go to the toilet for big business right before the bus' departure.
---
Getting Them Used To It Is Key
Jo-Ann: Travels with Two Children, a Boy – aged Eight and a Girl aged Six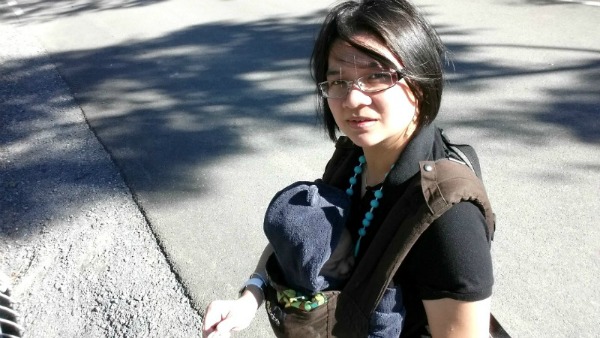 We travel mostly by car and plane. Both children have travelled long distance since they were eight months old. They are used to travelling as we have been driving to and fro Melaka twice a month ever since they were born.
Mobile Since Birth
Our latest vacation was to Hong Kong. We stayed four days and three nights. We stayed a night in Tsim Tsa Shui and two nights in Hong Kong Disneyland. The first day we walked around Tsim Tsa Shui and walked around the night market while the second and third days were fully in Disneyland for fun and playtime.
Keeping It Together
For my boy, he enjoys watching in-flight entertainment movies. He will sleep part of the journey. For my girl, I usually bring paint pallets and I print cartoons and activities for her (and I) to paint in.
My kids are trained to use a travel potty whenever they need to pee. If it is a big call, then we stop by the nearest town and drop into a hotel (their preference) or shopping centre to do their businesses.
When my girl was eight months old, I would breastfeed her to alleviate the pressure in the ear. As for my boy, I would bring an empty bottle and ask the cabin crew to provide water at the beginning of the flight.
My boy was breastfed for only four months so he was solely on formula milk whenever we travelled. I would bring everything the formula requires such as milk, bottle and flask. As for my girl, she breastfeeds.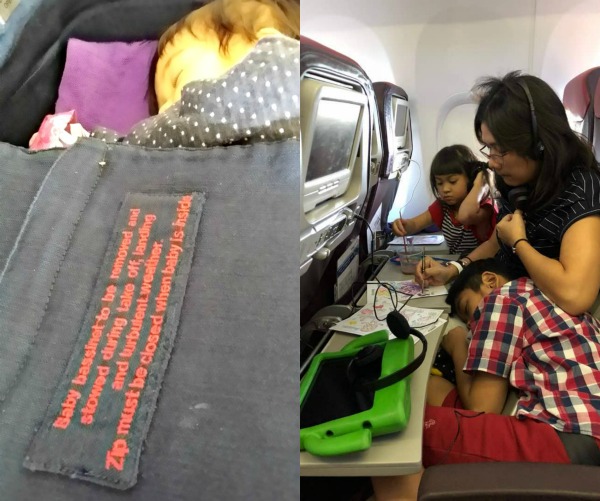 Hauling Baby Around
Car Seats and Baby Carriers
I go everywhere with two lightweight strollers. For my girl, I carried her in my carrier until she was three-plus. Opt for soft structured carriers and not those front facing carriers because it is harder to carry a load that curves away from the body. It's also not good for your back. Soft structured carriers are better as your child will be more comfortable in a hugging position facing you. Or if you prefer to carry them on your back when they are bigger, they will also be in a back hugging position towards you so that it is not so stressful for your back. My girl was literally my baby kangaroo.
Normally I will bring three diapers for every day we are there. Any brand will do. If we run out, we will just buy from the shops.
Hiccups & Bloopers
My girl is allergic to crab. At our previous trip to Hokkaido, she had an allergic reaction when she was breastfed as I ate a lot of shellfish and crabs at the time. We did not notice she was bloated and had rashes until the third day so I immediately cut down eating crabs.
---
Togetherness Is What Counts
Ming: Travels with Two Children, a Girl – aged Five and a Boy aged One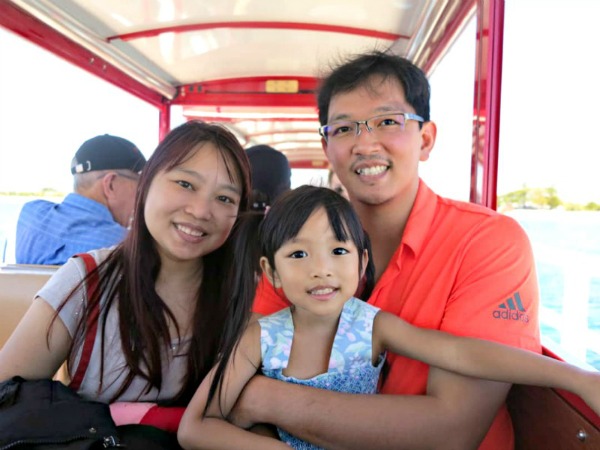 I am Daniel. My wife Ming and I generally travel with our kids three to five times a year within Malaysia or out of country. The places we have travelled to so far are Perth, Bangkok, Bali, Tioman, Penang, Port Dickson, Melaka, Genting Highlands, Ipoh, Frasers Hill, Sekinchan and most recently, Langkawi. When travelling with kids we tend to go by car. If we go by plane, we will rent a car upon touch down as it is the most convenient to do with kids. Going to Perth, Australia was our most memorable as Ming was pregnant at the time with Oliver. She was in her first trimester dealing with morning sickness and restricted food. Our road trip covered approximately 1,770km from Perth to Albany and back for the duration of 15 days covering seven cities.
Full Trip For Everyone
Our most recent vacation was to Langkawi to celebrate Ming's birthday. We stayed there for three days keeping the vacation free and easy while making sure we went through all the important Langkawi hotspots for sightseeing. We booked a hotel in town with an amazing swimming pool for the kids to enjoy. We also headed to the beach at Pasir Tengkorak (Sandy Skull Beach) and Pantai Cenang for the fine white sands which was awesome. Both kids loved the water, and enjoyed being by the seaside for the hot sunny day, the cool breeze at night and the sunset dinner by the seaside.
One of our first stops was Underwater World. Sylvia is at an age where she is very inquisitive over animals so this was part educational for her as well. We also took the Langkawi Sky Cab and it was such a fun ride. Oliver had no idea how high we were ─ thank God he didn't struggle or cry being in an enclosed space in the air. Once you reach the top, it offers breathtaking views of the Langkawi rainforest, islets and waterfall. Back at the Oriental Village there were many other activities such as 3D rides and kids' interactive games. We took lots of pictures at Eagle Square too and had a great day trying to spot real eagles ─ a rare sight for urban kids.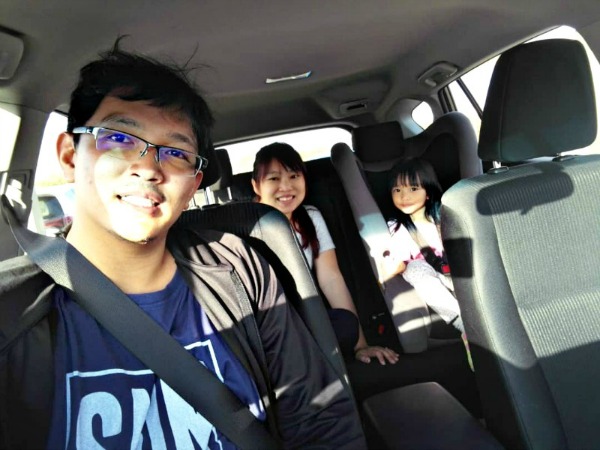 Keeping It Together
We're somewhat lucky that both kids do not have motion sickness but they do get bored ever so often to it's probably good to keep them occupied through the interaction of asking questions, talking, making up games on the spot, sing-a-longs and stuffed toys. We do have a portable urinal potty bottle for both kids for emergency moments when we can't find a stop or get caught in the highway jam when the kids need to pee. We even took this with us to Perth and it became very useful. It's always in our car so we can go for our road trips with peace of mind. A great tip would be to always bring a few plastic bags for so many uses.
Breastfeeding has been challenging but it has its perks as we don't need to carry around bottles, hot water flask and milk powder. All you need is a cloth and/or a private space. Breastfeeding calms the children down, so it helps when the babies get hungry or simply needs soothing. We often bring snacks like those organic puffs, fruits, pacifier and some small toys to keep them occupied.
When travelling, Ming always brings a large muslin cloth as her breastfeeding cover. She would wear double layer such as a spaghetti strap top inside a loose top outside. It makes feeding anywhere, anytime easier without needing to be exposed.
For our son who only has two small bottom teeth, we would give fruits like grapes, strawberries, watermelon, papayas, oats, porridge, noodles, soup or mash potatoes for his daily meals. Our daughter changes her taste every now and then, but we're lucky she loves all kinds of food  so it's not much of a problem when going out to eat.
Hauling Baby Around
Car Seats and Baby Carriers
We try to ensure our kids are buckled up on child seats or baby seats and we have a mi-fold – a portable booster seat which is so easy to use while travelling. On our trip to Langkawi, we brought our lightweight foldable stroller along for either one of them in case they fell asleep.  We also use the light Ergo baby carrier. Otherwise, Daddy's shoulder would be it!
Ming will usually have two diapers in her bag regardless of where we go. If we go on trips, we generally pack three to four diapers per day. We're lucky that our daughter no longer needs diapers, only our son uses diapers so it's easier to focus on one instead of two. We usually have a special brand and would prefer that over others.We also prefer to bring our own along instead of looking high and low for it or worry over diaper leakage or redness when using unknown brands.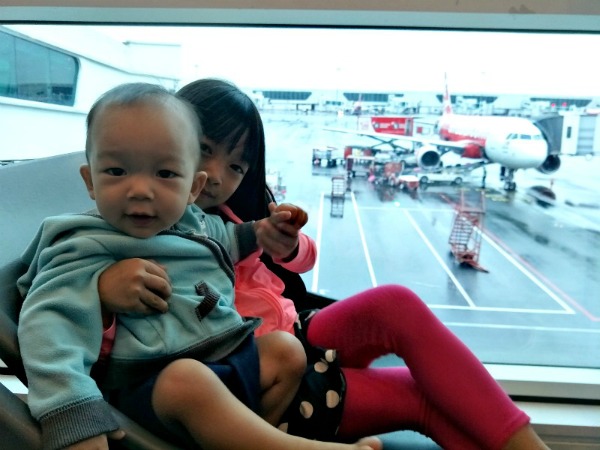 Hiccups & Bloopers
Hi, I am Ming and I have to tell you that our daughter is a Sleeping Beauty. She usually sleeps in an instant ─ sometimes whilst talking to us or singing along to a song, and sometimes she would warn us a minute before she falls asleep, so we have our fair share of surprises when she gets unresponsive upon reaching our destination. There was once when Daniel bought a bicycle with a child seat behind it and he took her cycling around our neighborhood. She fell asleep on the bicycle, and was completely in deep slumber but was still holding on to a small bottle of cultured milk when Daniel arrived home. That was memorable, funny and scary too. Luckily she was strapped on to the child seat safely. We dread thinking if she had not been.
For more parenting tips and trick, visit Motherhood.com.my today!