With Raya round the corner, how about something quick and easy to whip up for Buka Puasa for the remaining days of Ramadan? Try Yati's no-fuss Spicy Seafood Meehoon and 5-Minute Omelette.
Seafood is one of Yati's favourites. In fact, one of Yati's first recipes here is on cooking the rare Telur Ikan Mayong steeped in Asam Pedas. Yati has also shown us how she cooks Sambal Chicken and earlier in the Ramadan season, she made Aloe Vera Dessert using Longan and Lotus Seeds.
For today's Buka Puasa recipe, Norhayati Abd Aziz or Yati as she is usually called, is recommending a one-dish meal of Meehoon fried with seafood such as sotong (squid) and prawns.
It is quick and easy to make, especially for mums-on-the-go with no time to spare for elaborate preparations. Although this Malaysian favourite is easy to prepare, there is a trick to cooking it as you don't want the end result to be too dry or soggy. Instead it should be moist yet light but full of oomph. Furthermore, cooking seafood can be tricky as it should never be overcooked,  otherwise it will turn rubbery.
Yati has included videos this time around to show how it is done. There is a bonus recipe as well of simple Telur Dadar which she whips up for her nine-year-old son whenever he asks for it. It's his favourite.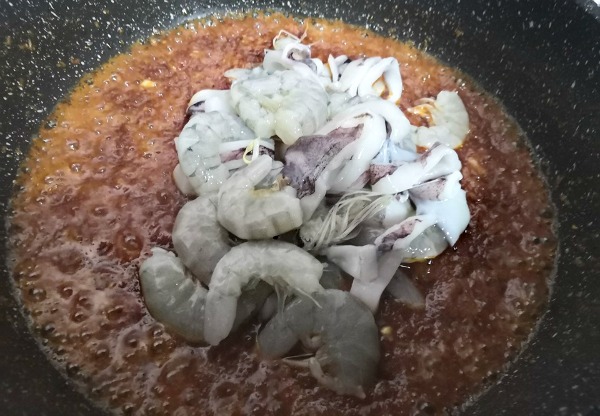 ---
Yati's Spicy Seafood Meehoon
Ingredients
A
Garlic: 5 cloves
Shallots: 13 (Blend garlic and shallots)
Cili Giling or Ground Chili Paste: 1 tablespoon (if you like hot, add more)
Belacan Melaka: 1.5cm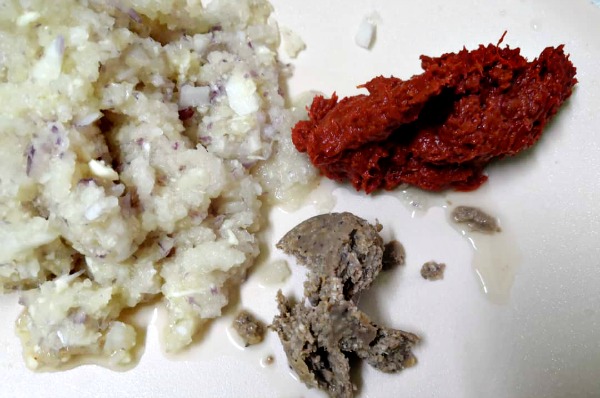 B
1 packet Mee Hoon (soak in plain water until soft then sieve off the water)
Eggs: 3
Tiparos Fish Sauce: 2 tablespoons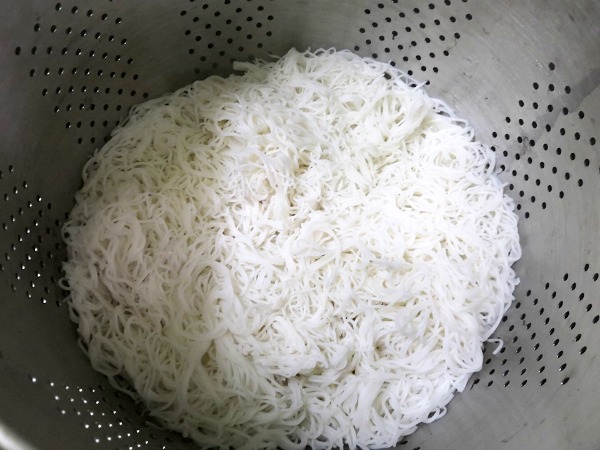 Taugeh or Bean Sprouts: 200 grams
Sawi: A few Stalks
Sotong or Squids: 3
Large Prawns: 400 grams
Sugar 1 tea spoon
Salt to Taste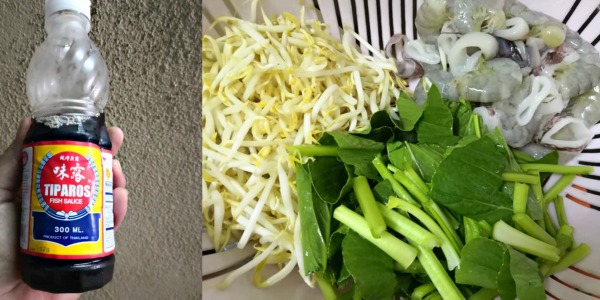 Method
Heat wok with a little oil
Stir fry (A) until crispy
Put in the seafood (prawns and squids)
Put in the vegetables and close the lid for a little while
Splash in the two tablespoons of Tiparos fish sauce
Add in the eggs
Stir the ingredients, then put in the meehoon
Sprinkle in salt, and sugar
Lastly, put in the bean sprouts and viola!
The Spicy Seafood Meehoon is served.
---
Step-by-Step Video Instructions
1 Making the Hot Sauce
2 Put in the Seafood and Vegetables
3 Stirfry the Seafood and Vegetables, then close the Lid
4 Let the Hot Sauce Simmer
5 When the Sauce is Ready to put in the Meehoon
---
Bonus Recipe
5-Minute Telur Dadar Azeem

 

(Azeem's Omelette)
This is the way her son Azeem likes his omelette ─ fluffy, creamy yet crispy. The secret lies in the milk and butter.