Here's a lady I knew from at least six years back. I was in the Malay Mail at the time, running the inhouse Pet Pullout where I featured her and her multi-award winning show cats. She breeds British Shorthairs mainly and was making quite a name for herself and her cattery called Ambriati Cattery in the national and international cat show arena when I met her.
Little did I know then, that Norhayati Abd Aziz or simply Yati Aziz as she is affectionately called, is also an awesome cook! As a mother of three growing and grownup children of two girls and a boy aged seven to 24 who are all doing very well at school and at their respective universities, she has been coming up with all kinds of recipes fusing her home-grown ingredients such as the aloe vera featured here today, with traditional Malay or Malaysian-style cooking. She says her husband has discerning tastebuds along with her children, so a lot of her culinary skills are tuned to her family's gastronomic preferences.
Yati will be sharing with us many of her original recipes. This is just the first in the series and probably the easiest to make. Do watch this space for more complicated but delicious culinary fare.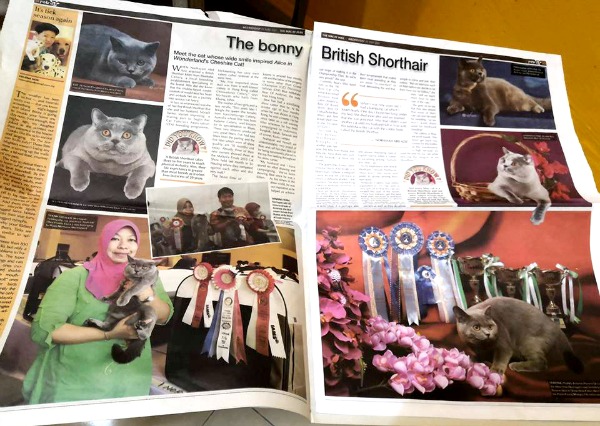 Yati, How Does Your Garden Grow?
Yati has a veritable garden where she grows a lot of her own organic produce such as chillies, brinjals, and other vegetables. She also grows her own fruits such as the markisa or passion fruit among others, as well as a variety of ornamental flowers.
"I love gardening," she tells me, "I love to jaga haiwan comel and of course, I love to cook."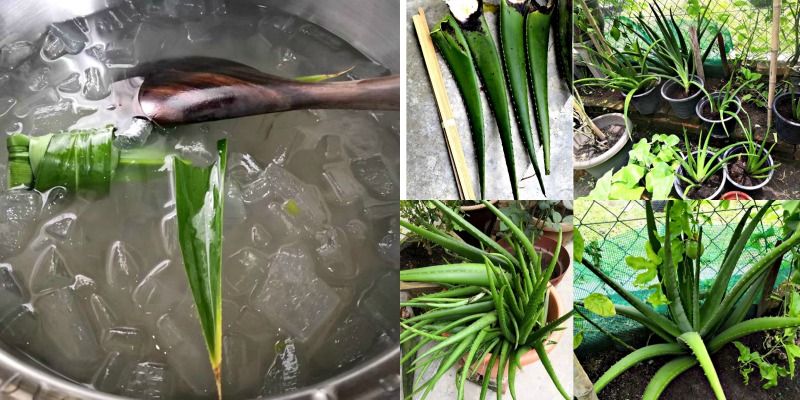 As far as "jaga-ing haiwan comel" is concerned, Yati is still showing her cats. It's a passion that was ignited in 2009 when she first imported a good pair of British Shorthairs from Hong Kong and Australia. She bred them and had all their progeny winning title after title ever since. Last year, Yati's cat Ambriati Narcissus Daffodil was crowned Grand Champion (GC) and Divisional Winner (DW) Best Parti-Color British Shorthair and 10th Best Cat Malaysia by the Cat Fancier's Association (CFA) and the Fédération Internationale Féline (FIFe).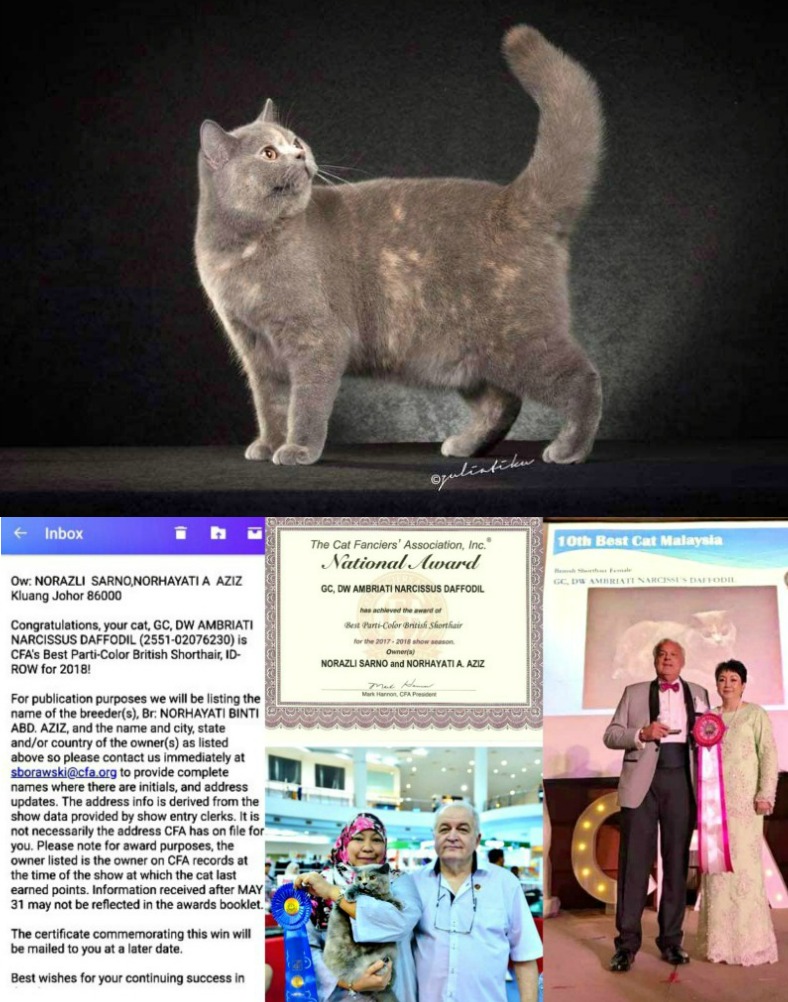 ---
Sweet and Cooling Ramadan Recipes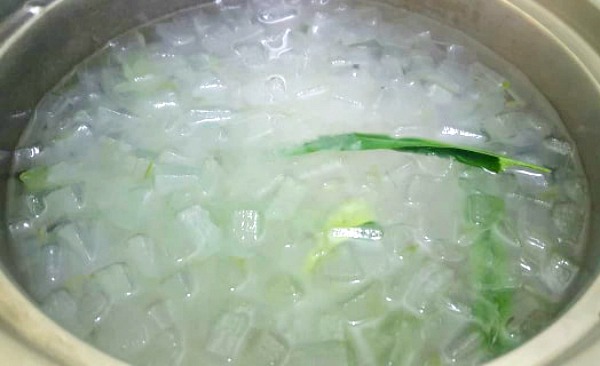 Back to cooking, Yati has prepared some dishes for the Ramadan period. The first of her series of recipes begins with nourishing drinks and desserts for cooling the body, bringing down inflammation, and boosting hydration and energy ─ the very thing one needs to prepare for when fasting and for breaking fast.
Everybody knows the wonders of aloe vera when used for skin, hair and other topical applications. But did you know that consuming aloe vera also brings a host of internal benefits? Aloe vera may help decrease irritation in the stomach and intestines, bringing down inflammatory disorders such as Irritable Bowel Syndrome (IBS) and other digestive issues.
Aloe Vera Dessert Plain (or with Logan and Lotus Seeds)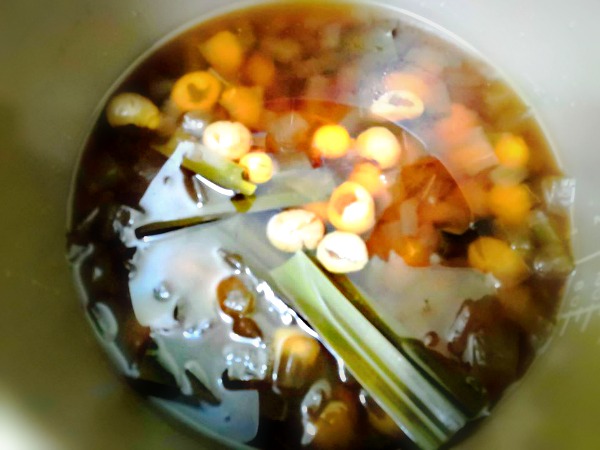 And so it is with this in mind that we feature Aloe Vera with Logan and Lotus Seeds.
Yati is using matured aloe vera leaves from her giant aloe vera plant.
Ingredients
Aloe Vera leaf about 2ft (61cm) in length
Rock Sugar
Pandan Leaves
Add-ons are:
Dried Longan
Biji Teratai (Lotus Seeds)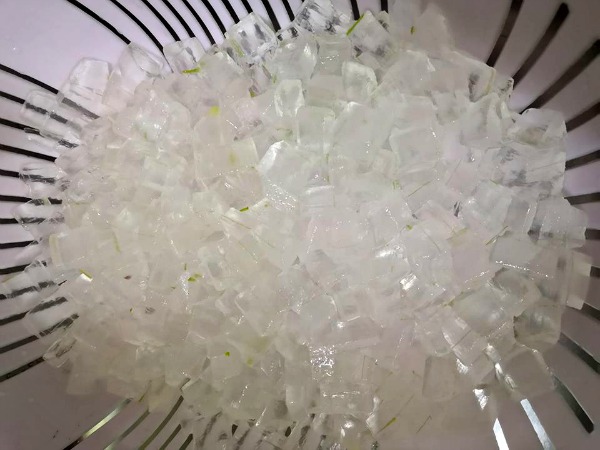 Method
Peel off the aloe vera skin under a running tap to remove the sap.
Dice the aloe vera, place them all in a sieve and rinse again.  Once boiled, the aloe vera will have a different texture and won't be slippery any more.
Place all in a pot along with water and pandan leaves. When it comes to a boil, lower the fire, add rock sugar according to taste and simmer for 20 minutes.
Best served when cold.
With Longan and Lotus Seeds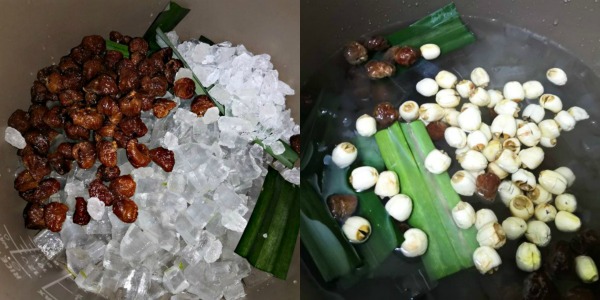 You can add in longan and lotus seeds or anything else that you would like to the basic aloe vera dessert drink.
If adding on the longan and lotus seeds, boil them with pandan leaves and rock sugar for 15 minutes before adding the concoction into the pot with the aloe vera.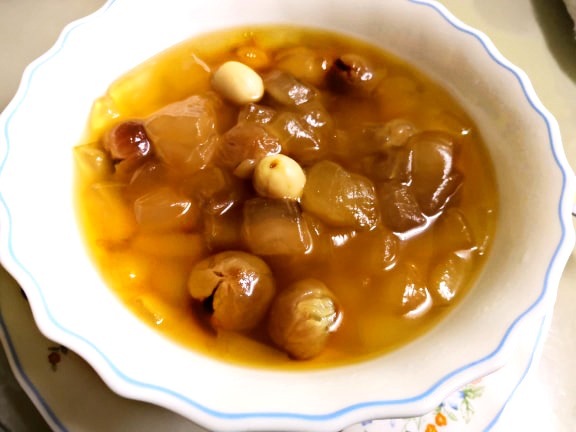 ---
BONUS RECIPE
Power Milk with Chia Seeds, Dates and Honey for Sahur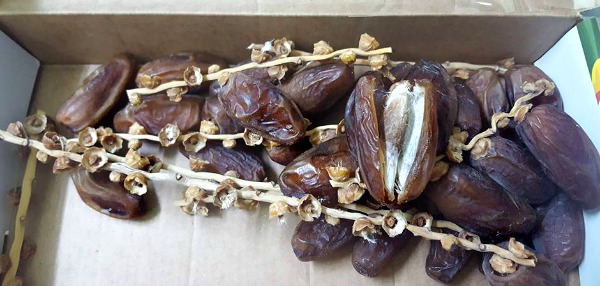 Ingredients
1 glass Fresh Milk
7pcs Dates
Organic Raw Honey (to taste)
1 tablespoon Chia Seeds
1 tablespoon Baby Oats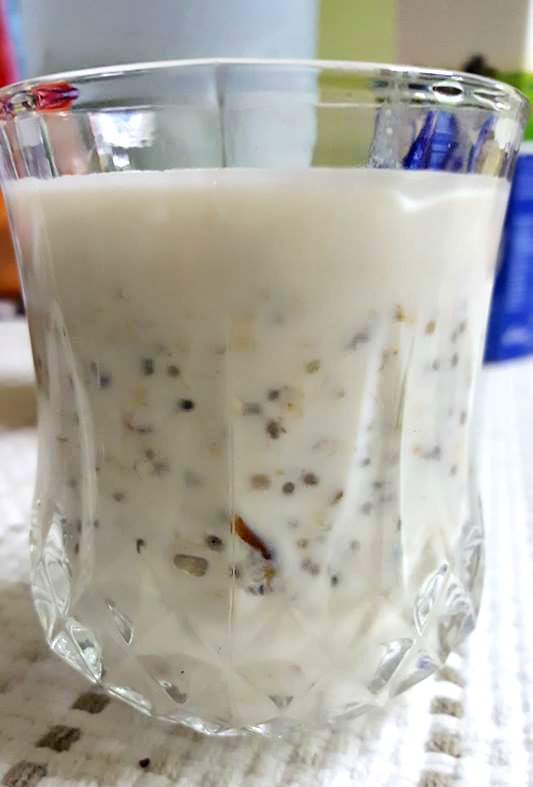 Method
Soak dates and chia seeds with a little hot water to soften them just before you go to sleep.
The next morning, peel off the date's skin before popping them along with the oats and chia seeds and honey into the glass of milk.
Stir and drink. This is a great energy booster to sustain you for the full day of fasting ahead.
Selamat Bersahur.
(All pictures credited to Norhayati Abd Aziz)