This month, Joey How brings her 17-month old for an exploration of physical skills.
Hidden on the upper floors of the spanking new 1 Mont Kiara shopping mall is the Young Explorer kids' gym. Upon entering, one would be amazed by its colourful and comprehensive gymnastics gym and a one-of-a-kind Adventure Maze built out of natural materials such as timber, rope, steel and netting.
According to the centre owner Ku Hwa Teck, the hybrid gym is founded to create an avenue for children to develop their cognitive and motor skills. "The centre comprises a gymnastics gym, a Montessori playgroup, and an Adventure Maze. With more than 8,000 square feet of area, children get to explore, play, jump, and most importantly, have fun."
We were there to try out its Beans class. The 45-minute lesson began with a warm-up session of "Hello, glad to see you" song, followed by a sing-and-count-along stretching exercise. The little ones were then encouraged to hone their skills in tip-toeing and feet stomping. Next was the animal pretend play which quickly got the kids into the mood. "Can you quack like a duck? Let's jump like a frog!", the lively instructor motivated them.
Highlighted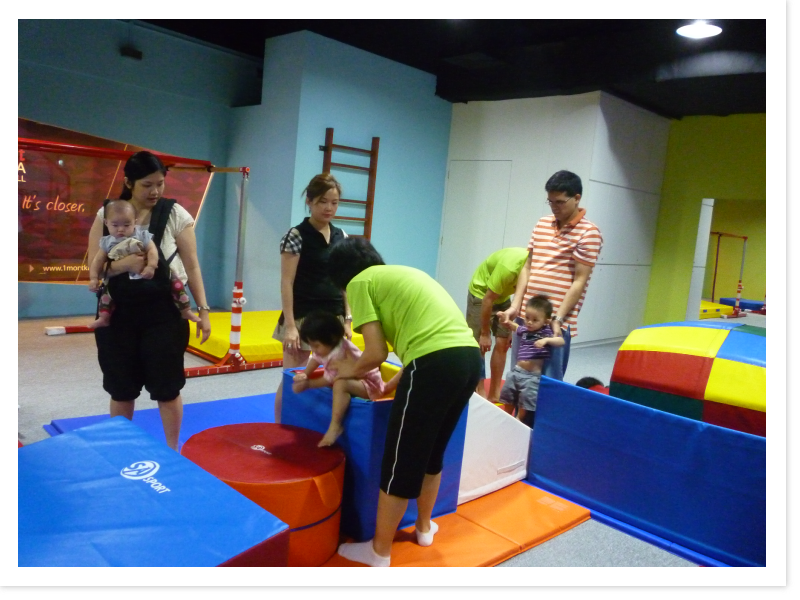 After a quick break for drinks, the kids were ushered to the playland for some physical fun.  The veterans quickly got into action, queued up for their turns and started tackling the obstacles. The playland is set up differently every week to provide a refreshing and challenging experience for the kids.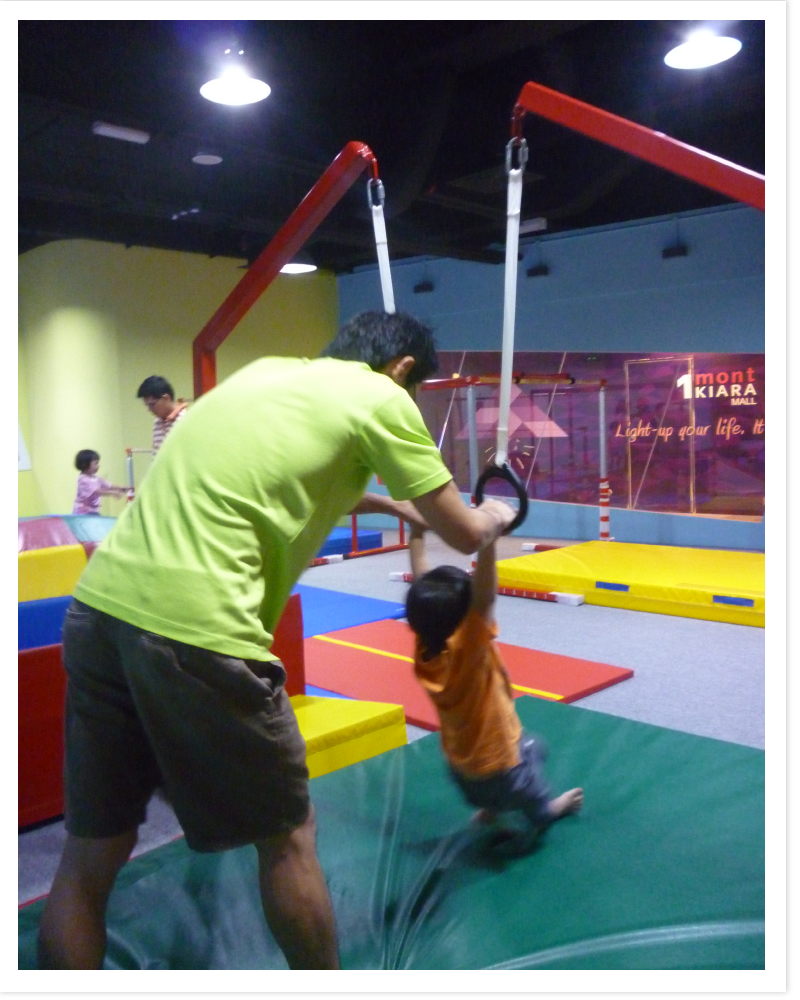 Together with the rest, Bub crawled through the burrow, climbed in and out of a box, rolled down on the multiblocks, walked on the balance beam and held on tight as he managed the parallel bars. His face lit up with awe as he discovered what his body is capable of when he swung forward and backward on the ring frame. We were caught off-guard when Bub suddenly lunged forward to volunteer himself for the wall bar challenge where one is required to reach for the balls placed on the highest bar. We beamed with pride as he manoeuvred his way up. It was also hilarious to see him struggling to lift up his body during the star jump activity. For a first-timer in a mini version of adults' gym environment, he seemed to be having lots of fun!
A quiet-down time ensued with bubbles chasing and popping. A huge parachute was then spread out and the young ones were seated in the middle as the adults moved and sang along. After more sing-alongs underneath the parachute, the class concluded with each child getting cartoon ink stamps on their hands.
For a weekly class, the programme costs RM450 per term of 12 weeks with a registration fee of RM75. There are also other classes for different age groups namely Junior Beans (12 to 20 months), Bees (30 months to 4 years), Frogs (4 to 6 years), Explorers (6 years and above) as well as Survivors (intermediate and by selection only). If you have an older child aged between three to 12 years, you may not want to miss the Adventure Maze. Priced at RM38 per entry, the enclosed maze structure features a flying fox, pyramid multi-net island, floating leaves, net tunnels and more.
In addition to the gymnastics gym, the Young Explorer also offers half-day and full-day programmes for Montessori playgroup on weekdays. There is also a function room available for birthday parties. To cater to its young crowd, the centre provides child-friendly mini toilets and basins for the budding Olympians to clean up after play.
By far the most well-equipped play centre we have visited so far, Young Explorer presents an integrated array of obstacles for kids to tackle and develop their intellectual as well as physical strengths without the fanfare of a kiddie playhouse. It is with no doubt that we will be making our way back again soon.
Young Explorer
1 Mont Kiara
Tel: 03-6411 0288/017-288 9938
Web: youngexplorergym.com
10am to 8.30pm daily