Thursday 14th March 2019 is World Kidney Day. It is perhaps the most appropriate time to talk about the growing prevalence of kidney disease in the country, especially among children.
Earlier this year, Nanyang Siang Pau and Sin Chew Daily reported that the incidence of kidney disease has risen 100% across the board. There are currently 45,000 nephrotic patients in Malaysia and the yearly increase is 7000 cases, added a China Press Report.
These numbers are expected to escalate to 106,249 by 2040 if the country's prevention and treatment methods remain at status quo, warned a recent study.
In February, Motherhood.com.my carried a story about a mother of two living and coping with haemodialysis due to end stage renal failure. Her story is typical of many of the patients currently on haemodialysis at the National Kidney Foundation (NKF). They will visit NFK three times a week for four hours each session for the rest of their lives for without dialysis, they cannot survive.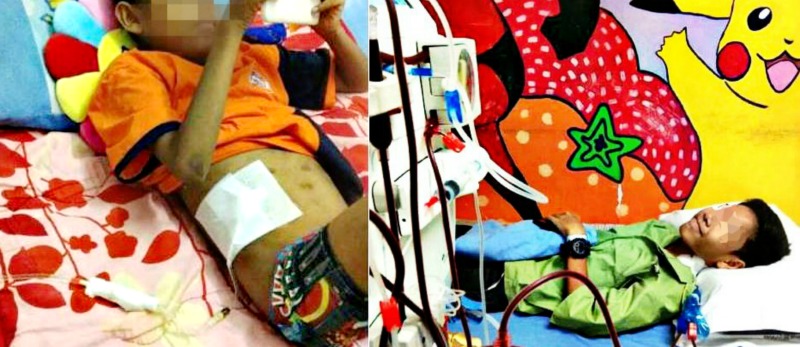 How Does It Get That Way?
According to NKF, kidney disease can be categorised as Acute Kidney Disease or Chronic Kidney Disease.
Acute Kidney Disease can be a sudden development due to a variety of reasons including injury, infection and obstruction (in the kidney) but the acute form is sometimes reversible if the underlying cause is removed on time.
Chronic Kidney Disease (CKD), on the other hand, is more insidious in that it takes its time to kill silently and without symptoms. This is why most people do not know they have CKD until it is too late.  CKD is not reversible and there is no cure.
CKD is almost always due to diabetes (61% of all cases) and those affected are usually above the age of 45.
Kidney Disease in Children

However, this is not a sigh of relief for those who are younger. Kidney disease also affects children and there is a high mortality rate. According to a study on paediatric patients in the 24th Report of the Malaysian Dialysis and Transplant Registry 2016 published on the website of the Malaysian Society of Nephrology (MSN), there were 1061 children under the age of 20 receiving dialysis as at end of 2015. In 2016, 100 new children entered the data.
Only those at end stage renal failure are put on dialysis.
Haemodialysis and Peritoneal Dialysis
Dialysis becomes necessary when the kidneys no longer function and a machine has to be used as a "substitute artificial kidney" to remove waste and fluids from the body in order that the patient is kept alive. While on dialysis, keeping fluid intake down by controlling drinks and fluid-rich foods is crucial. The same can be said about controlling phosphorus and potassium-rich foods.
There are basically two types of dialysis: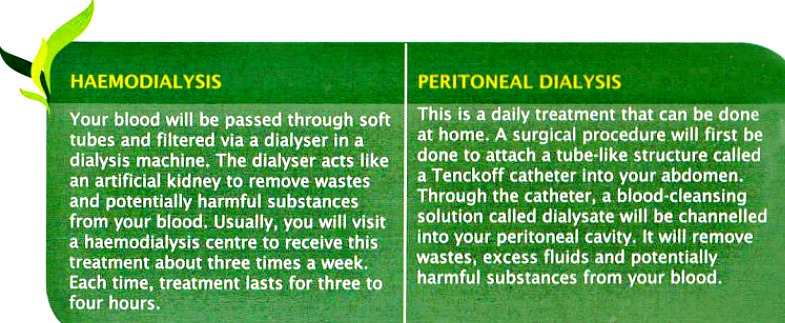 Parents Be Alert
"Kidney disease can affect children in various ways, ranging from treatable disorders without long-term consequences to life-threatening conditions," chairman of NKF Datuk Dr Zaki Morad Mohd Zaher was quoted as saying in a report in The Sun in 2016.
The onus, he said, is on parents to spot the disease on time, pointing out that the major cause of kidney problems in children is 'Glomerulonephritis' which can be acute or chronic.
Signs and Symptoms of Kidney Failure in Children
O

n this note, Motherhood.com.my interviewed Paediatric Nephrologist Dr Selva Kumar Sivapunniam from Hospital Selayang and eight of his young patients currently undergoing dialysis in the hospital. Some of his patients are as young as seven years old.

Motherhood.com.my also spoke to the parents of the children to take note of the signs and symptoms and how they and their affected children are handling the situation.

The questions and answer session are as follows below. Dr Selva's answers can be found in between his patients' interviews: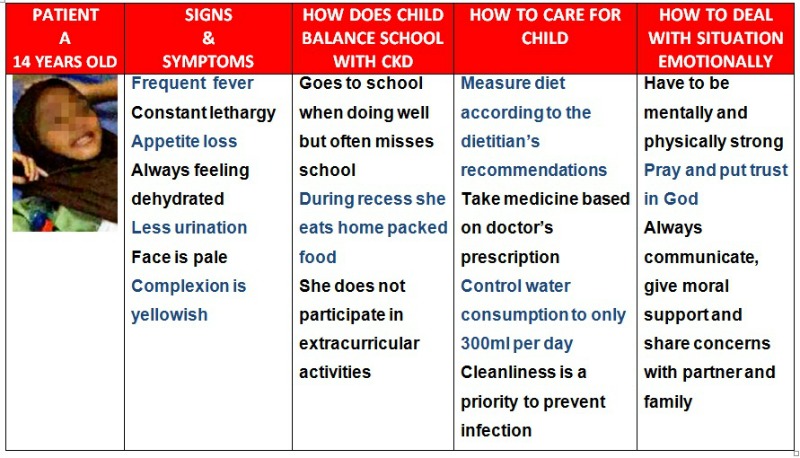 QUESTION 1:  Dr Selva, can you tell us the prognosis of your patients featured here?
Dr Selva: They are all in End Stage Renal Disease (ESRD) which means they need some form of renal replacement therapy that is either peritoneal dialysis or haemodialysis. The best would be renal transplant. They can only survive dialysis for five to 10 years, some go beyond that. If they are successfully transplanted and with medications, they can enjoy good long term survival.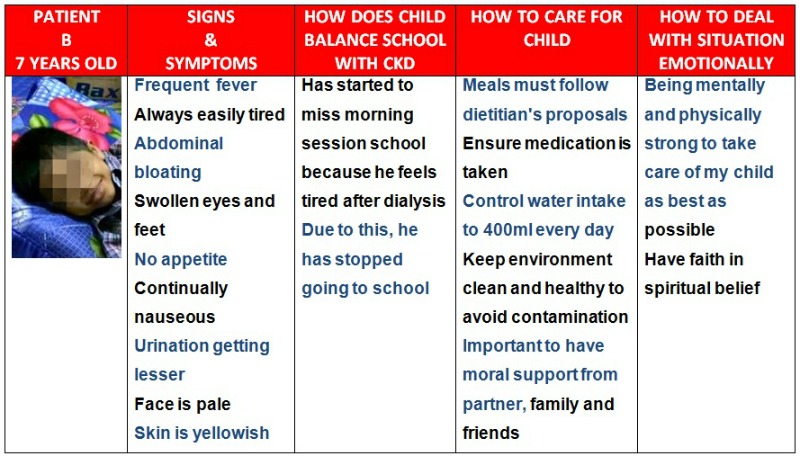 QUESTION 2:  What kind of observations should parents be putting on their children, what should they be looking for and what can they immediately do?
Dr Selva: Parents can detect early if their children are not growing as well as expected, having recurrent infections, or have facial puffiness or blood in the urine. They need to see a doctor immediately preferably a paediatrician who can then perform initial urine and blood tests. These children will then need to see a nephrologist depending on the type of kidney disease they have and at what stage so that they get treated accordingly.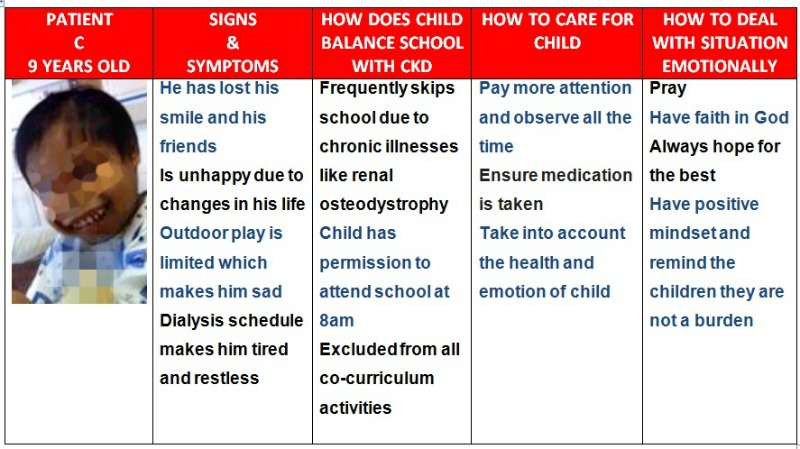 QUESTION 3:  As mentioned by Datuk Dr Zaki earlier in this article and also in the MSN study on the main cause of kidney disease in children ─ can you tell us about Glomerulonephritis?
Dr Selva:  Glomerulonephritis is also known as nephrotic syndrome. It is a group of diseases that injure the part of the kidney that filters blood (glomeruli). When the kidney is injured, it cannot get rid of wastes and extra fluid in the body. If the illness continues, the kidneys may stop working completely, resulting in kidney failure.
There are two types of glomerulonephritis ─ acute and chronic. The acute form develops suddenly. You may get it after an infection in your throat or on your skin. Sometimes, you may get better on your own. Other times, your kidneys may stop working unless the right treatment is started quickly.
The chronic form may develop silently (without symptoms) over several years. It often leads to complete kidney failure.


QUESTION 4:  How many children with kidney disease are being treated in Selayang Hospital at the moment?
Dr Selva: The paediatric nephrology unit of Selayang Hospital has constantly been treating a few hundred children with kidney disease of various forms. Most of them are under follow up with good kidney function.
There are about 20 to 30 children with chronic kidney disease (CKD) at different stages. They are being treated and followed up to prevent the progression of CKD. At the present time, we have 30 children with End Stage Renal Disease on dialysis, eight on haemodialysis and 22 on peritoneal dialysis. We have also successfully transplanted children with renal transplants over the last 15 years or so. Most of them are currently under adult care now. We have four patients currently under our follow up who have good renal function and they enjoy an active lifestyle.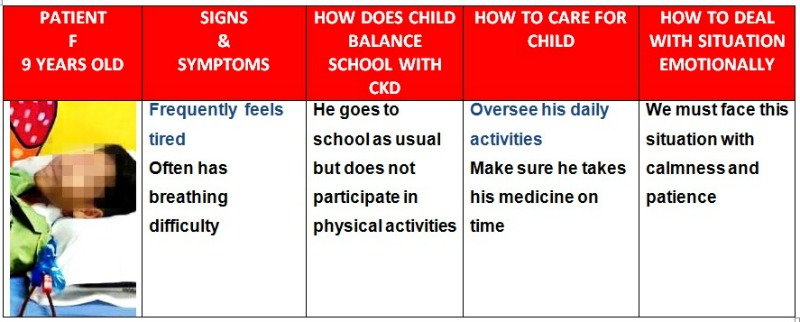 QUESTION 5: Could you share the latest statistics on child kidney disease?
Dr Selva: Based on the data on the National Renal Registry (NRR), there are currently about 1,000 dialysis patients who are under 20 years old with about 100 new patients every year.

QUESTION 6: Is dialysis carried out in Selayang Hospital (both adult and child)? How much does it cost? How often must it be done and what is the treatment duration?
Dr Selva: Dialysis treatment is being carried out for both adult and children at Selayang Hospital. There are two types of dialysis treatment:
Peritoneal dialysis: uses the abdominal cavity and dialysate (fluid used during dialysis to remove impurities) to do the therapy. It can be done at the comfort of your home. You need to do this four times per day. This is the preferred choice for children as it allows them to attend school. It costs approximately RM3000 a month.
Haemodialysis: uses a machine which cleans your blood. You need a vascular access via a catheter or a fistula. Each session is about four hours and it is done three times a week.
Most children will undergo temporary haemodialysis before they get into peritoneal dialysis, unless they are not suitable for some reasons. The cost for haemodialysis is approximately RM150 to RM200 per session. In Malaysia, both these treatments are free for school going children. Apart from undergoing dialysis, these children still need to be on lots of medication to treat anaemia, bone disease and growth.
QUESTION 7: Is kidney disease among children a rising trend alongside adult kidney disease? Why is that so and what can all of us do?
Dr Selva: Kidney disease among children is not rising as alarmingly as the adults, but with the current lifestyle ─ increasing obesity, hypertension and diabetes among children, we can expect a rise in incidence.
We advise to educate parents to adopt a healthy lifestyle for themselves and their children as early as possible to avoid obesity, hypertension and diabetes.