Certainly, many parents want the best for kids. Children's schooling expenses are invaluable to make them useful in the future.
Hong Kong is the country with the most average parental spending of $ 130,000, from primary to university level.
Next, in the UAE, average parents spend almost $ 100,000, followed by parents in Singapore with an average of $ 70,000.
In the US, most are spending $ 58,000 for children's schooling financing, half of Hong Kong's people's spending.
Highlighted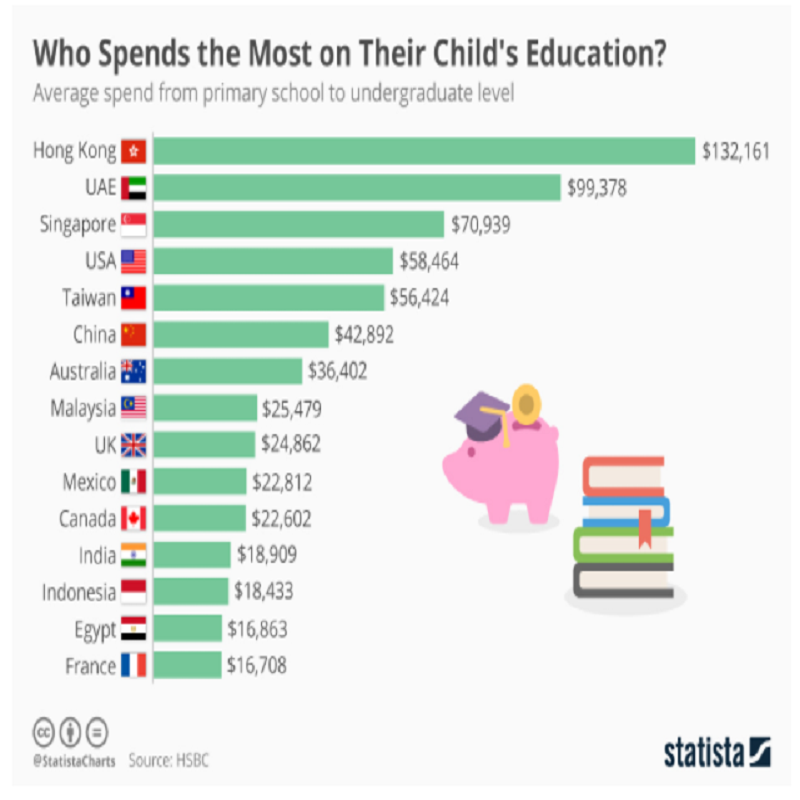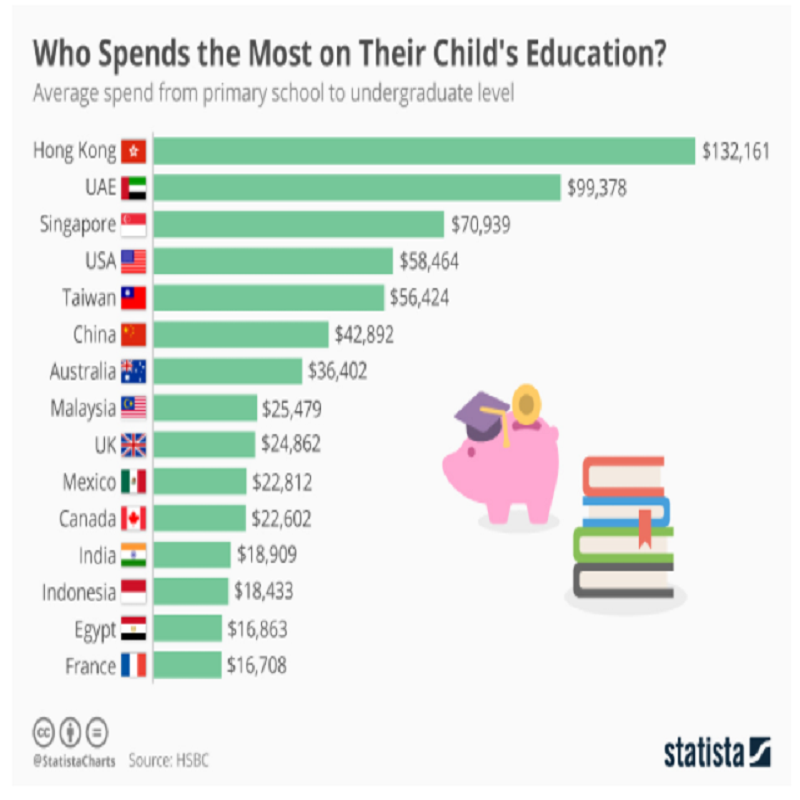 The study of HSBC also shows a lot of differences in parental spending in kids education in each country.
While in Asia, the average cost of Singapore's parents is $ 70,000, Taiwan is $ 56,000, parents in Malaysia only spend about $ 25,000 for children's education, India, and Indonesia about $ 20,000.
READ: HOW TO CHOOSE A PERFECT AND SECURE BABY CAR SEAT
France is the least spending country for child education, only $ 16,000 makes France the lowest country out of 15 countries.
French parents are also quite pessimistic about their child's Edu. Less than half (42%) are confident of a bright future for their children, compared to a global average of 75%. Those with the most optimistic view can be found in Asia, nearly one in nine parents in India (87%) are optimistic about their children's future, and 84% of Chinese parents say they feel the same.
This also includes school/university fee expenses, books, uniforms, transportation, and convenience. Parents are very concerned about the expenses of learning children for the future. Their sacrifices include leaving behind their hobbies or decreasing their leisure activities, and even holidays.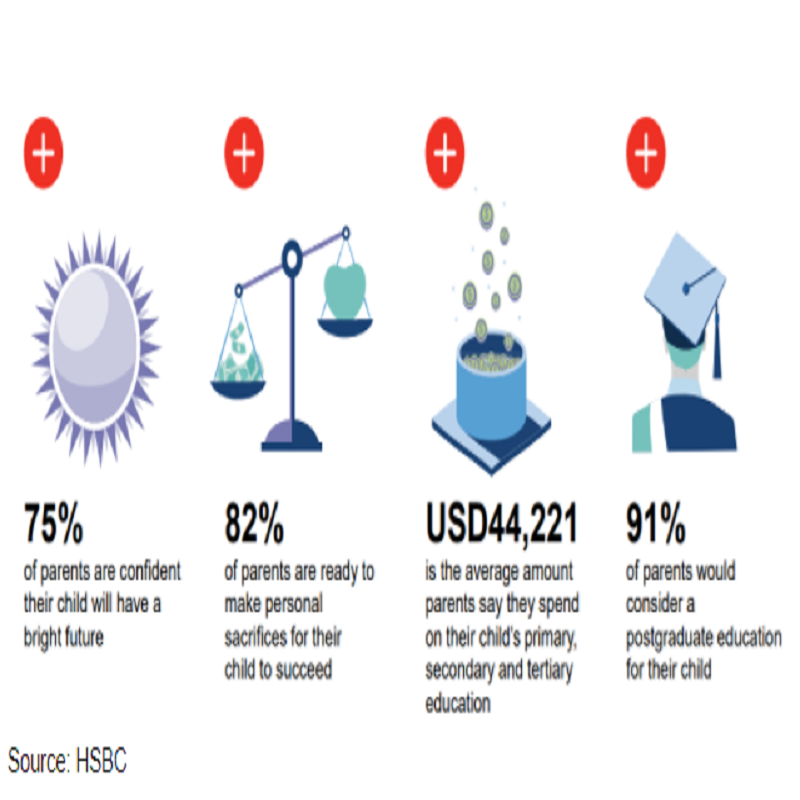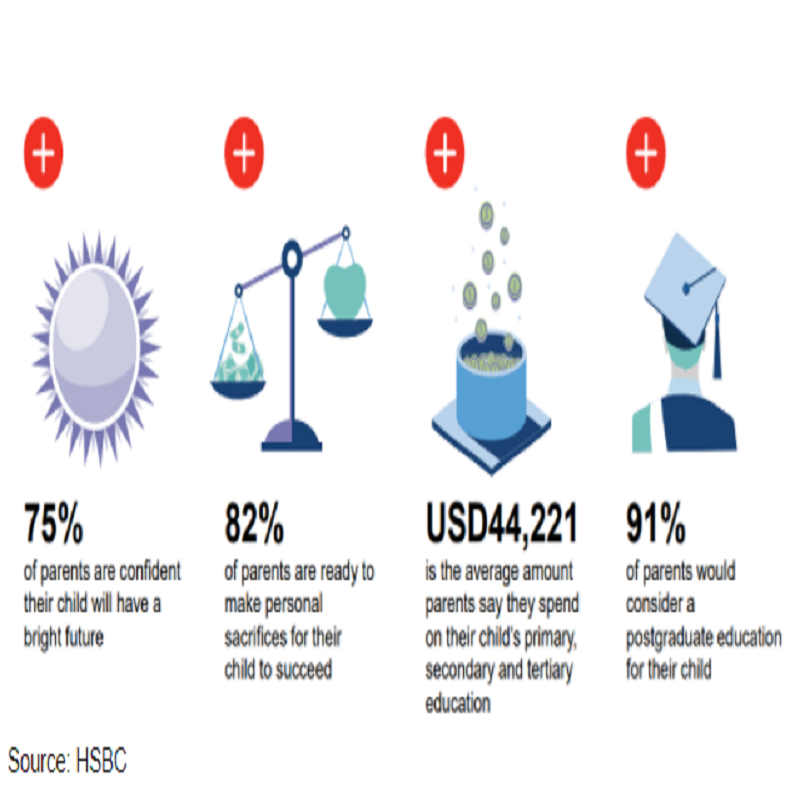 With the aforementioned average, most parents have a wise and orderly way of shopping.
They are very concerned about the development of children's learning. Over three-quarters of parents (78%) think that children who have finished studying to a degree more easily get a full-time job. Meanwhile, the same proportion (76%) expect to contribute to the cost of postgraduate education.
The study gathers 8481 parents in 15 countries and regions around the world: Australia, Canada, China, Egypt, France, Hong Kong, India, Indonesia, Malaysia, Mexico, Singapore, Taiwan, UAE, UK and the United States.
For all your parenting needs, visit Motherhood.com.my now to get the best for your child, with the best prices.