The Nuren Group, which runs the parenting e-commerce platforms of Motherhood.com.my, KelabMama.com, Mamahood.com.sg and Motherhood.co.th, held their annual Chinese New Year Dinner on Jan 31, 2019, at Armada Hotel, Petaling Jaya.
Some 40 staff and shareholders of the group's Malaysian headquarters attended the dinner. Said Nuren Group CEO Petrina Goh at the start of the 7pm event, "Today is our Annual Dinner or Shou Gong Yen. For those who don't know what Shou Gong Yen means, it is a closure dinner with fellow colleagues to mark the end of 2018 and to usher in achievements and success for the coming new year."
She asked everyone to give each other a big round of applause for good work done the year before and wished those celebrating Chinese New Year, a Happy Reunion, a safe trip back to their respective hometowns and a great celebration ahead with family and friends.
"For those who do not celebrate Chinese New Year, have a good rest, enjoy your holiday and come back next year recharged in order to achieve goals together in 2019."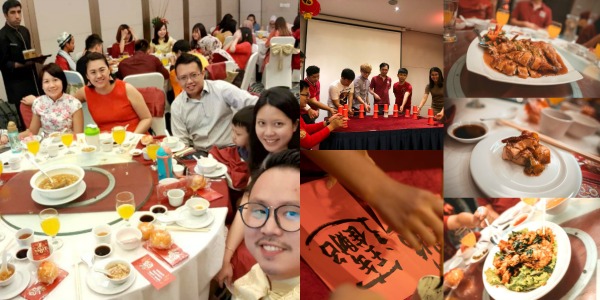 The celebration proceeded with Petrina giving everyone an Ang-Pow followed by a nine-course dinner complete with Yee Sang tossing, as well as many lively games and activities that came with prizes. Everyone participated with much laughter and merriment.
The evening ended on a high note for the Nuren Group, with everyone toasting and ushering in much positivity for the 2019 Chinese New Year of the Earth Boar.