With parents being more and more health conscious and worried about their babies' health, there has been a bigger emphasis on the ingredients present in baby products. One noteworthy and controversial ingredient commonly used in certain cosmetic, skincare and baby products are parabens.
What are parabens?
Parabens are a form of preservatives commonly used in a variety of products including food, cosmetics, skincare products and also baby products like baby shampoo and baby soap. They have a structure that mimics oestrogen, a hormone found in our bodies.
But what do they do? How do they work? It's simple. They are a type of preservative that prevents bacteria and mould from growing on the products, which makes them last longer. But here's the question that is on everyone's lips:
Is it bad for my baby?
It could be. "Of greatest concern is that parabens are known to disrupt hormone function, an effect that is linked to increased risk of breast cancer and reproductive toxicity," reports the non-profit Campaign for Safe Cosmetics (CSC). They also claim that "Parabens mimic estrogen by binding to estrogen receptors on cells", which could be potentially cancer-causing.
Since a baby's skin is much thinner than an adult's, this could definitely be worrying for parents. As such, Nivea has worked with paediatricians and dermatologists to create Nivea Baby which is a range of products that are free from parabens and colourants which could potentially irritate your baby's sensitive skin, in order to ensure your baby's health and comfort.
So what can you do?
Our skin plays a very important role as a barrier against heat and moisture loss and environmental irritants, allergens and germs. For babies, this protective barrier is still developing so baby's skin is thinner, more fragile and loses moisture easily. Furthermore, during the first few months of life, baby's skin has to slowly adapt from "water-based" environment in-utero to "air-based" environment ex-utero. Hence, a baby's skin is more sensitive and easily irritated so only the mildest ingredients should be used on their skin. Any skincare for babies should be free from known allergens and irritants.
For starters, cleansing products used on baby's skin should be pH-balanced and moisturising so that baby's skin does not dry out. After cleansing, replenish moisture to baby's skin by using creams, oils or lotions that are gentle and free from potential irritants.
Highlighted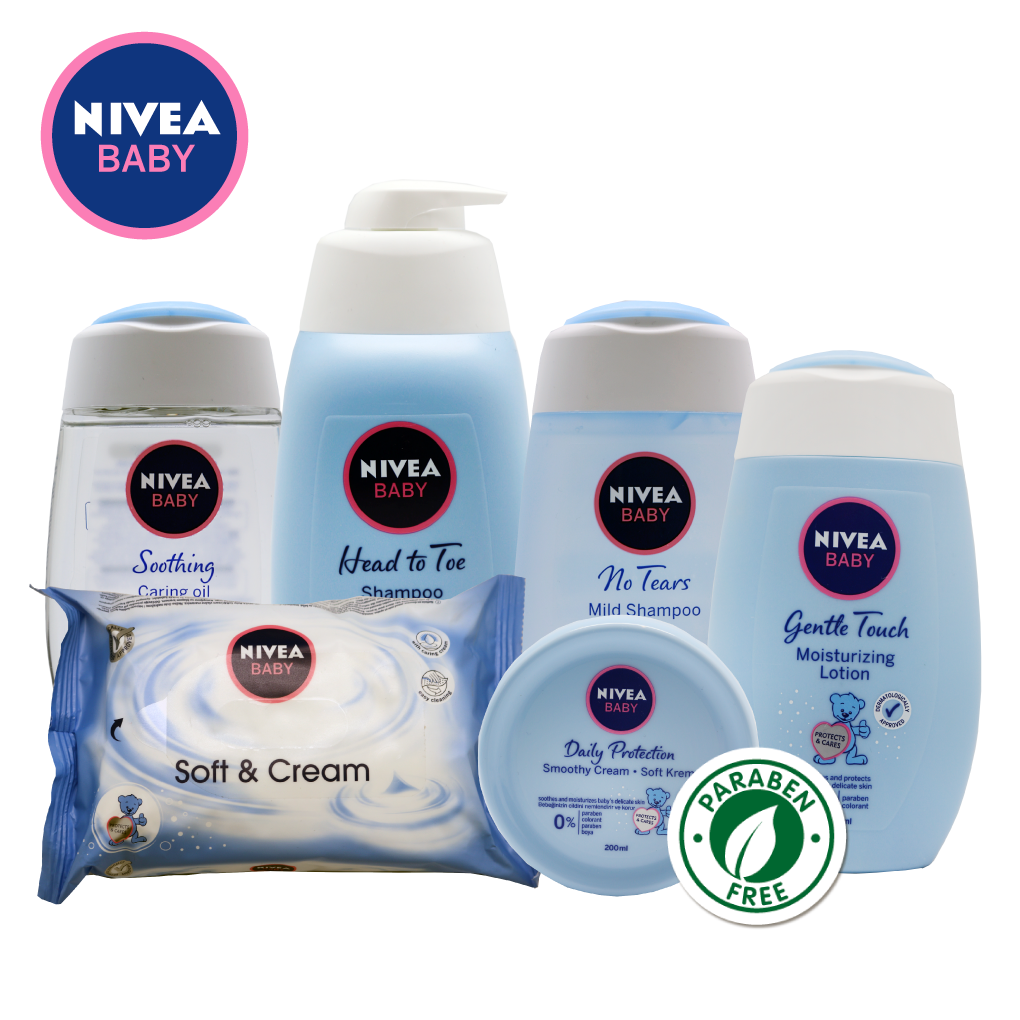 For daily cleansing
Nivea Baby Head To Toe Shampoo & Bath
Both gentle and moisturizing, this head to toe shampoo and body wash is suitable for babies of all ages. Not only does it gently cleanses and moisturizes your baby's delicate skin and hair, the product is also paraben-free and does not contain any potentially harmful artificial additives.
Nivea Baby No Tears Mild Shampoo
This no tears shampoo is made out of an ultra mild formula that is designed to not only cleanse your baby's hair but also ensures that it helps protect your baby's sensitive scalp. Containing only safe and gentle ingredients, there's no worry about your baby's sensitive skin being affected.
Keep skin hydrated and soft
Nivea Baby Daily Protection Smoothy Cream
For babies who require a little extra moisture and protection, this baby cream is for them. With an intensely moisturizing formula, this baby cream is designed to protect your baby's skin while ensuring that it stays healthy and balanced.
Nivea Baby Gentle Touch Moisturising Lotion
To keep your baby's skin smooth and supple, applying lotion is a must. Not only will it keep your baby's skin smooth, it will also help prevent dry skin and cracking that could cause discomfort. Nivea Baby Lotion is easily absorbed and is designed to keep your baby's skin protected for 24 hours.
Nivea Baby Soothing Caring Oil
In order to help calm and keep your baby comfortable, massages are sometimes required. With Nivea Baby Oil, you can not only use it to cleanse your baby's bum and skin folds but also use it as a massage oil to help relax and soothe your baby.
For quick and convenient cleansing
Nivea Baby Soft & Cream Wipes
Gentle on your baby's skin, these wet wipes are perfect for cleaning up your baby's messes. These baby wipes are also soothing on your baby's skin and are designed to bring maximum comfort for your baby.
For more product reviews or the best prices in baby products, visit Motherhood.com.my now!