We've all heard and read about super-foods. They are selected foods that are identified as packed with essential nutrients and have a wide range of health benefits. In short, super-foods are foods for the body that pack a powerful nutritional punch. Most of the time, when we talk about super-foods, we tend to focus on super-foods for adults, for pregnant women, for athletes and even for the elderly. In this 10 series article, the focus is on super-foods for babies, specifically six months of age and older.
While some fortunate parents find that their babies take to solids like fish to water, the fact remains for many parents that babies can turn out to be quite finicky eaters especially when new foods are concerned. Bottom line? Don't be too disappointed if junior snubs your gourmet creations at first. Just give the little diner some time! Even if you can only wrangle a small amount onto your child's plate, you're doing great.
In the first round of our nutrition topic, we turn our sights (and baby's tummy) to the amazing avocado.
Avocados are often called one of nature's perfect food. The reason behind this is because they are said to contain almost every nutrition a human needs to survive. While many might feel that appreciating the avocado requires an acquired taste, just as many beg to differ. In any case, avocados makes a great first food for baby, for who can ignore its lovely texture and creaminess? Furthermore, avocados are high in monounsaturated fats, which are the good fats for baby's brain and physical development, apart from the aforementioned  high nutrient content! Hence, if it IS an acquired taste, what better way to get littlies to acquire the taste than to introduce this amazing fruit into their diets from as young as possible!
Highlighted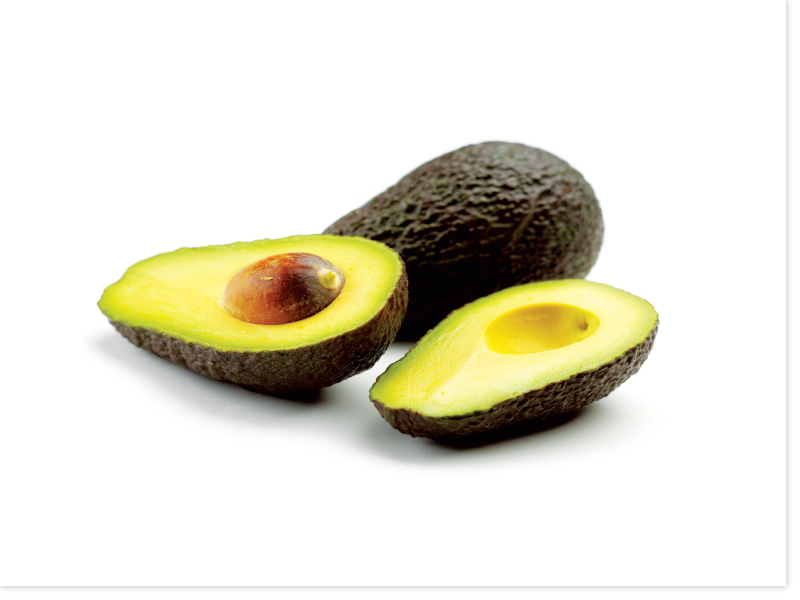 Avocado facts:
The avocado – also known as avocado pear, alligator pear (thanks to the appearance of the skin of some varieties) or butter pear
The avocado is, indeed, a fruit. In fact, according to Wikipedia, its botanical classification is a berry!
The avocado is native to tropical and subtropical parts of south and central America, but it's also grown in warmer regions of America, including Hawaii, Florida and California. The popular, creamy Hass variety is mainly grown in Mexico.
VITAMINS:
(one cup pureed)
Vitamin A – 338 IU
Vitamin C – 20.2 mg
Vitamin B1 (thiamine) – .2 mg
Vitamin B2 (riboflavin) – .3 mg
Niacin – 3.9 mg
Folate – 205 mg
Pantothenic Acid – 3.3 mg
Vitamin B6 – .6 mg
MINERALS:
(one medium)
Potassium – 1166 mg
Phosphorus – 124 mg
Magnesium – 67 mg
Calcium – 30 mg
Sodium – 18 mg
Iron – 1.4 mg
What about all the fat content?
First and foremost, babies should NOT be on a "low fat" diet.  Babies need fat in their diets for it is essential for proper growth and brain development and function. Unless the advice comes from your doctor,  there really is no excuse  not feed avocados to a baby solely based on the food's fat content!  However, avocados have been associated with Latex allergies and sensitivities so ask your pediatrician about introducing the fruit to your baby if there is a history of Latex issues.
Avocado just as it is
For a nutritionally complete and not to mention yummy meal for your little discerning diner, you only need to mash the flesh of a ripe avocado and feed to baby as a first food. You may puree it if you wish for an even smoother consistency. If a more watery or 'soupy' texture is preferred, you may add some breast milk or formula to the mashed or pureed avocado For older babies who could do with mild chewing practice, you need do no more than spoon the contents of a ripe avocado into your baby's mouth.
Avocado also makes a wonderful finger food for baby. It's soft enough to be easily gummed by a toothless infant and needs very little preparation – just cut it into manageable slices. The only thing about avocado is, it can very slippery to handle!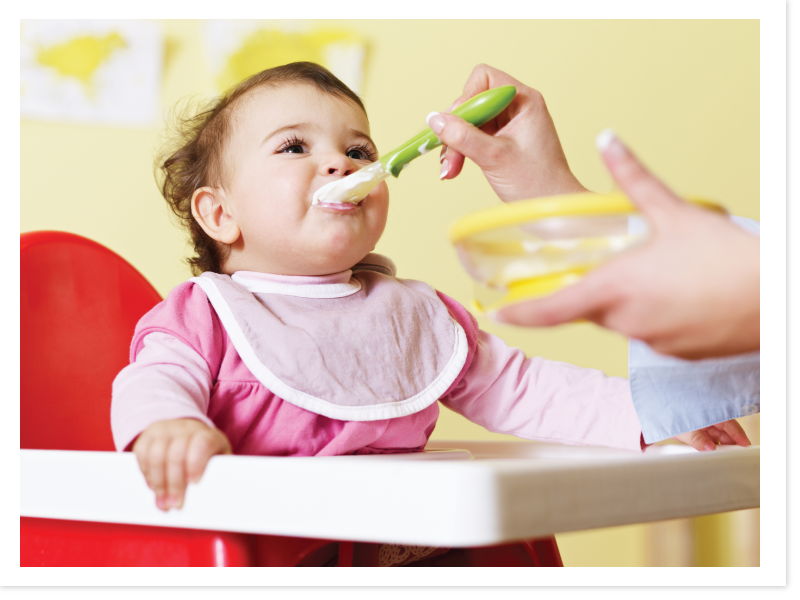 Some yummy meals to try
Recipe  1
Avocado & Pear Mash

 
(Weaning food)  
1 pear, peeled, cored and diced
½ avocado, flesh scooped
Water
Method:
Place pear into a small saucepan and add a little water to cover. Bring to a gentle simmer until the fruit is tender.
Puree or mash both fruits together until smooth. Serve!
Recipe  2
Sweet Potato & Avocado Super-meal
(Weaning food)
1 small sweet potato
1 peeled avocado
Method:
Bake the sweet potato with its skin for 45 – 60 minutes or till tender. Let cool, peel and mash together with the avocado. Serve.
Recipe  3
Avocado on baked potato

(6 months and above)
1 medium white potato
½ avocado, peeled and mashed
2oz (¼ cup) natural yogurt
1tsp fresh chives, finely chopped
Method:
Prick the potato. Bake in its skin for 1 – 1½ hours at 375 deg F.
Mix the avocado with the yogurt.
Split the potato and remove skin and allow to cool.
Top with the avocado mixture.
Sprinkle with the chives and serve!
Recipe  4
Creamy Avocado & Mango Mousse
(5 months and above)
1 cup peeled and cubed mango
1 ripe avocado – peeled, seeded
and cubed
Plain or Vanilla Yogurt or Water,
Apple or Pear Juice
Method:
Mash the mango with the avocado until smooth.
Add Yogurt or Water or Juice and whip with a whisk until a creamy mousse like consistency is created. Serve!
Recipe  5
Sweet Tropical Baby Treat
(for 6 months and above)
½ avocado, diced
½ small banana, sliced
½ papaya, peeled and diced
½ kiwi, peeled and sliced
2oz (¼ cup) unflavored natural yogurt
drop of pure maple syrup (optional)
Method:
Combine all the fruits in a bowl. Top the fruit with the yogurt (and a little maple syrup if you wish) and serve. Note: This treat can also be served to younger babies – just puree the fruits before serving.