Consider this: If PTPTN were to collapse due to defaulters not repaying their study loans, what would the consequences be to our children seeking funding for higher education in the future?  Not only that, how will we as tax payers continue to bear the burden of this shortfall to prop up the economy?
It does not matter if we have never borrowed from the National Higher Education Fund Corporation (PTPTN) or if we are just starting on the motherhood journey where tertiary education for our children may seem like a long way off ─ we are all a part of the bigger picture of the Malaysian economy.  It is us who make it work, and if we have children who will be looking at acquiring their degree in due time, then it is all the more reason why we need to be a part of the collective conversation to help solve an escalating national crisis.
What's The Crisis About?
Most people would have heard of PTPTN by now. It is a government agency under the Ministry of Education (MOE) that offers tertiary education loans with low interest rates to Malaysians seeking funds for higher studies. It is the most accessible study loan in Malaysia and there are many incentives. For instance, it is heavily subsidised by the government therefore interest is only at 1% and if a student graduates with First Class Honours, that student will have his or her PTPTN loan waived.
The government's aim in providing the PTPTN loan is to ensure financial access to higher education for all and to encourage its students to achieve excellence. This in turn, will power Malaysia into becoming a knowledge-based economy ready to take on the Fourth Industrial Revolution.
But…
Unfortunately, many borrowers have taken advantage of this loan. In fact, 51% of the total number of borrowers has defaulted in paying back the loan. Breaking it down to actual numbers, as at end of 2018, PTPTN has disbursed RM56 billion in study loans since its inception but only 32.5% of the total amount has been repaid to date and the outstanding has reached RM6.3 billion.
PTPTN Debt Forces it to Borrow to Give
Because of the shortfall, PTPTN is forced to borrow substantially from banks, financial institutions and institutional investors at high interest rates in order to keep on providing loans.  It is now RM40 billion in debt. At the same time, the total number of students needing these loans is rising. Today, there are 180,000 students requiring PTPTN loans. By 2040, there will be 250,000 students asking for higher education financing according to the enrollment growth projected in the Higher Education Blueprint.
PTPTN Student Loan Facility May Collapse
Because more funds are needed to support the growing number of borrowers while not enough borrowers are paying back, causing debt to rise from the current RM40 billion to RM76 billion in 20 years, PTPTN has to take another approach at moving forward.
One thing is clear. The status quo cannot remain.  PTPTN cannot be allowed to collapse as it will deny new students, especially promising ones, the opportunity of furthering their studies and costing them their future.
Furthermore:
The private sector will have to step in to provide study loans. Without government subsidies, they will certainly charge much higher interest rates that could go up to 7%.
Strict loan approvals and higher repayment schemes will automatically cut out loan eligibility for many students.
Tax payers may have to pay more as debt shifts to the government.
Unfair to those who have repaid or who are close to settling their loans.
---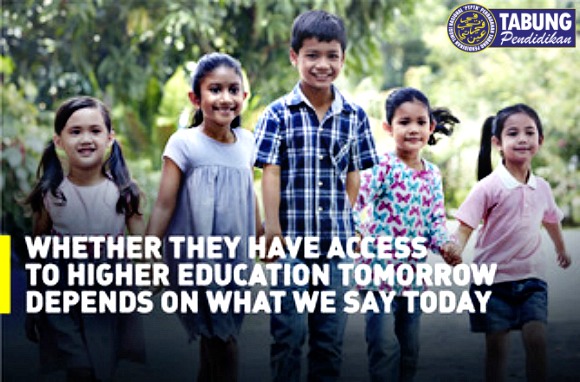 10 Proposed Ideas on How To Design a
New Affordable PTPTN Loan Repayment Scheme
T

o ensure the sustainability of the student loan facility for your growing children who will require a degree later on, PTPTN has compiled 10 ideas collected from a series of roundtable discussions with stakeholders, financial experts, Members of Parliament, as well as student groups held earlier in the year.

These ideas, called 10 Key Public Consultation Paper (PCP) Takeaways, are now open to the public and presented to you to mull over so you can give your informed feedback. PTPTN only wants your opinion because Your Voice will Help Shape the Future of Higher Education for your Children.
Complete the Survey

 
This public survey is open till June 13, 2019. Do give your feedback within the time frame or a decision will be made without your say in it. Your answers will be compiled and presented to the Minister of Education (MOE) by end June after which MOE will present to the Cabinet for approval to be gazetted as the new PTPTN Repayment Scheme.
---
Ideas from the Round Table
IDEA 1: DEFERMENT OF REPAYMENT FOR THOSE EARNING BELOW RM2,000 MONTHLY
Key takeaway: Should borrowers start to make repayments when salary reaches RM2,000?
IDEA 2: DEFERMENT OF REPAYMENT FOR THOSE EARNING BELOW RM4,000 MONTHLY
Key takeaway: Is waiting six to 15 years for fresh graduates to reach the salary of RM4,000 before they start to service their loan feasible for PTPTN? Will PTPTN still be able to provide loans to future borrowers during the waiting period?
IDEA 3: CHANGE THE REPAYMENT SYSTEM FOR NEW BORROWERS TO ONE THAT IS BASED ON INCOME LEVEL – INCOME BASED REPAYMENT (IBR)
Key takeaway: This automated system adapts to each borrower's financial situation and will defer repayment should a borrower become unemployed, or make adjustments for pay cuts and increases.
IDEA 4: MANDATORY SALARY DEDUCTION
Key takeaway: Mandatory salary deduction through the employer, like EPF and SOCSO contributions.
IDEA 5: EXERCISE FULL ENFORCEMENT
Key takeaway:

As a lending facility, PTPTN has the authority to enforce harsh restrictions such as bankruptcy declaration, writ or seizure and sale of assets, garnishment from a defaulter's bank account or Judgement Debtor Summons.
IDEA 6: STRICTER ENFORCEMENT MEASURES TARGETED AT HARDCORE DEFAULTERS: NEVER PAID, AND LONG OVERDUE
Key takeaway: PTPTN prefers to help defaulters repay their loans through negotiation and loan restructuring. However, new enforcement ideas have been suggested and these are said to be more effective. (Click here to find out what these new measures are)
IDEA 7: IMPLEMENT A GUARANTOR SYSTEM
Key takeaway

: Have a guarantor such as parents or relatives to guarantee the loan.
IDEA 8: REMOVAL OF FIRST-CLASS GRADUATES LOAN WAIVER, OR REPLACE WITH PARTIAL WAIVERS
Key takeaway: The issue of contention is the standard of the first class honours award. As opposed to standards applied for graduates with first class honours from higher standard institutions, lower quality institutions tend to be less stringent in awarding first-class honours. This raises the question as to why a blanket waiver of the loan should be applied to all graduates with first class honours when standards vary so much.
IDEA 9: REDUCE LOANS AND WITH SUFFICIENT NOTICE, DISCONTINUE LOANS TO LOW-RATED AND NON-RATED PRIVATE INSTITUTIONS AND COURSES
Key takeaway: This idea aims to direct students to courses and higher education institutions that have better ranking and employability rate in line with Malaysia's Education Blueprint. PTPTN may choose to only disburse loans that fulfil benchmarks set by the Ministry of Education.
IDEA 10: INCREASE THE CURRENT 1% UJRAH FOR STUDENT LOANS OF NEW BORROWERS
Key takeaway: It is not financially viable for PTPTN to borrow from financial institutions at 5% and lend at 1% to students. The consideration is to increase the 1% Ujrah but still maintain it at a much lower interest rate than commercial banks.