Autism awareness in Malaysia has witnessed a breakthrough. On 26 March 2019, seven days before World Autism Awareness Day celebrated on April 2 every year, Police Diraja Malaysia (PDRM) launched the standard operating procedure (SOP) on handling cases involving autistic individuals.
The turnaround, lauded by the nation and spearheaded by the launch of the SOP, was actually triggered by the arrest of the then 22-year old Ahmad Ziqri Morshidi last year. Ahmad Ziqri is an individual afflicted with Autism Spectrum Disorder (ASD). He was accused of molestation when he touched the chest of a woman at a restaurant after his birthday celebration in Subang Jaya.
Public outcry following Ahmad Ziqri's remand in police lockup forced a rethink of police SOP when dealing with persons with disabilities. As Inspector-General of Police, Tan Sri Mohamad Fuzi Harun said at the press conference, "In order to overcome such problems and that it does not recur, I have directed a committee to be set up…for cases involving autistic children in future, the SOP must be complied with."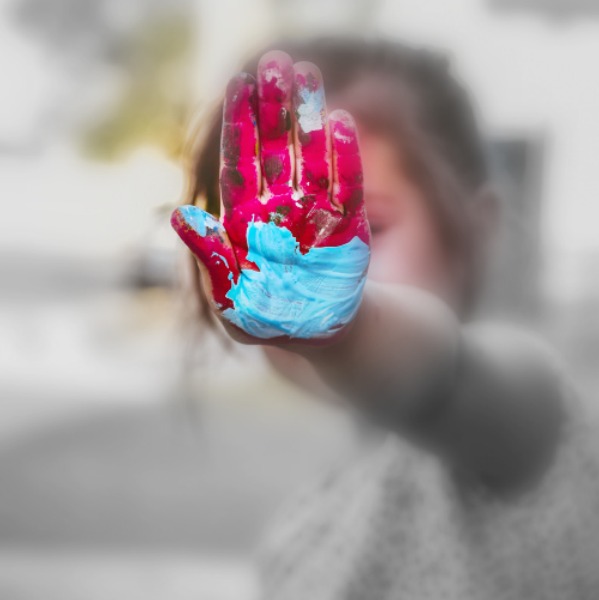 With the SOPs's release and the concurrent setting up of two centres on understanding and handling autism at the Police Training Centre (PULAPOL) and the Royal Malaysian Police College in Cheras alongside an Autism Guideline book launched earlier by Home Minister Tan Sri Muhyiddin Yassin, the nation is now cognizant of the effects of the developmental disorder and the behavior of those with ASD.
A Step in The Right Direction
Motherhood asked Bob Morshidi, the elder brother of Ahmad Ziqri about his thoughts on the encouraging turn of events. Somewhat relieved that public eyes are now open to the plight of those with ASD as well as families dealing with these difficulties, he says, "We are of course happy with any bureaucratic changes that would help bring equality to those who have challenges, be it mental, physical or both. It is a wonderful thing to happen so close to World Autism Awareness Day and brings Malaysians one step closer to the understanding and acceptance of anybody with challenges in our society."
NASOM
It is a step in the right direction, says Feilina Muhammad Feisol, Chairman of the National Autism Society of Malaysia (NASOM) who was interviewed on BFM on NASOM's role in the formulation of the SOP and guidelines.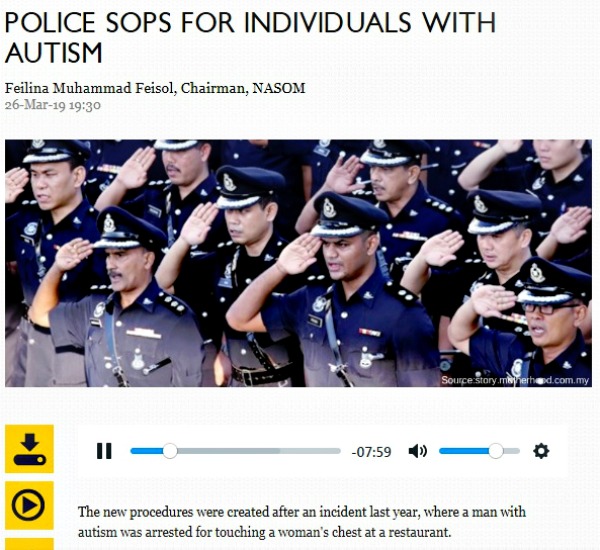 NASOM was part of the committee involved in the setting up of the SOP says Feilina in an interview with Motherhood. The SOP which follows the SOP of the British police is divided into three circumstances of police engagement: How to approach an autistic person if he is 1) the victim 2) the accused 3) the witness.
"We are training the police to first be aware of autism and what to expect if the person has autism. Autistic people have a different way of seeing things. When approached, they may not look you in the eye or look at you at all; they may be shaking, moving, not sitting still and not understand or listen to instructions.
"Autistic people have no defining physical features that differentiate them from any other person. Therefore, for the police, the first thing to do is to ascertain whether or not he is autistic."
Police should not approach with sirens and flashing lights, she continued to say as those on the spectrum are sensitive and will react negatively to bright lights and loud sounds. Once ascertained that the individual has autism, the police should then call for a professional therapist or a group called Rakan Autism.
"Rakan Autism," she explains, "is a group of volunteers of professional therapists, teachers and parents nationwide who have given their numbers to the police to be called whenever the need arises. The police also has in-house psychologists."
What is Autism?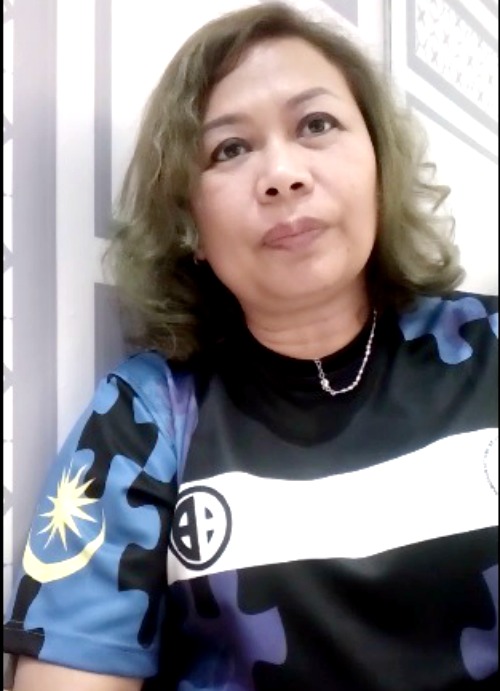 Adapted from NASOM ─ the country's main autism NGO set up by parents and professionals to assist people living with autism especially children and their immediate families ─ the excerpt below provides a general outline of the disability.
"Autism is a complex developmental disability that typically appears during the first three years of life due to a neurological disorder that affects the functioning of the brain. It is four more times prevalent in boys than girls. Autism shows no racial, ethnic or social boundaries, and cuts across family income, lifestyle and educational levels. Autism and its associated behaviors have been estimated to occur in as many as one in 68 newborns.
Parents usually see the symptoms in the children between the ages of two and six. Some of the symptoms most often found to be associated with autism are:
Not being scared of danger

Either being too sensitive or not sensitive at all to pain

Avoiding eye contact

Has difficulty expressing what they want or need

Routine has to always be the same

May show an overall difficulty interacting with others.
Autism affects the normal development of the brain in the areas of social interaction and communication skills. Children and adults with autism have difficulties in verbal and non-verbal communication, social interactions and leisure or play activities. This disorder makes it hard for them to relate to the outside world. It is hard for them to communicate with others. Aggressive and/or self-injurious behavior may be present in some cases. They may exhibit repeated body movement, such as hand flapping or rocking, unusual responses to people or attachments to objects and resistance to changes in routines. They possibly will experience sensitivities in the five senses of sight, hearing, touch, taste and smell.
Some children with autism do not speak at all, but most do develop speech although speech is usually delayed, limited or inappropriate. Some may repeat words or mimic sentences or phrases they have observed from someone else."

NASOM is 31 years old today and is the oldest, largest and only society that provides services for the whole lifespan of a child with autism. "Our youngest is three and a half years old," reveals Feilina, "while the oldest is 29, mainly because people with autism have no other place to go."
She advices that as soon as a child is diagnosed and has a formal OKU card, they can come to any one of NASOM's 20 centres nationwide, including Sarawak, where they will be given the most appropriate programme to assist in their development, including Early Intervention which is of crucial importance. NASOM's One Stop Centre providing Assessment/Diagnosis/Creative Arts/Therapy/Intensive Intervention Program on Autism is situated in Setia Avenue, Shah Alam. The centre can be reached at Tel: 603-3359 0988 or through its website here.
World Autism Awareness Day 2019 on Tuesday, April 2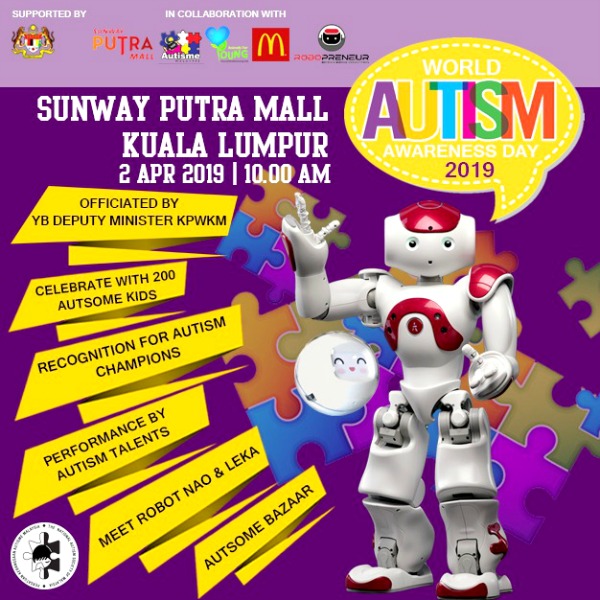 The world will commemorate World Autism Awareness Day on Tuesday and in Malaysia, it will be celebrated in Sunway Putra Mall, Malaysia's first autism-friendly shopping centre. In an effort to educate everyone about the disability, the mall recently launched its autism campaign called "Autsome" (Autism is Awesome) to advocate as well as celebrate the autism community.
To this end, Sunway Putra Mall is making every Tuesday an autism-friendly shopping day where families with autistic children can all come out to enjoy the special privileges set up by the mall such as reserved parking, shopping assistance, dimmed lights and sound to accommodate the sensitivity of those with autism, as well as autism-empathetic facilities such as a Calm Room to provide for meltdowns and emergencies should they occur.